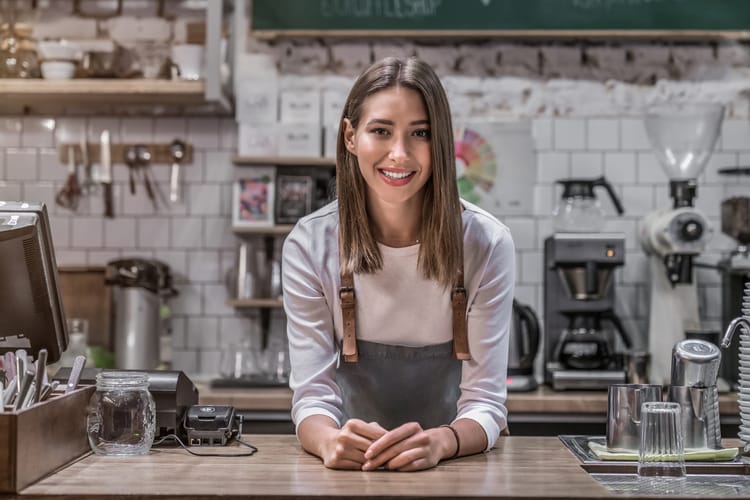 Often, people believe that the application process for a summer job is different from that of a regular, long-term job. But it isn't! Like in a standard recruiting process you are required to send a resume and a cover letter.
The only way summer or other seasonal jobs are different tends to focus on a couple of criteria. You will have a set date for termination, varying hours — and likely no vacation time.
Your cover letter plays an important role here: it helps how that you are taking the summer job seriously and eager to help during the busy season. Use our example letter for a summer job to convey that sentiment and prove that you are a stellar candidate for the job.
Summer Job Cover Letter Sample – Word Format
This sample letter was written for a job applicant with a background in maintenance who is looking for a summer gig.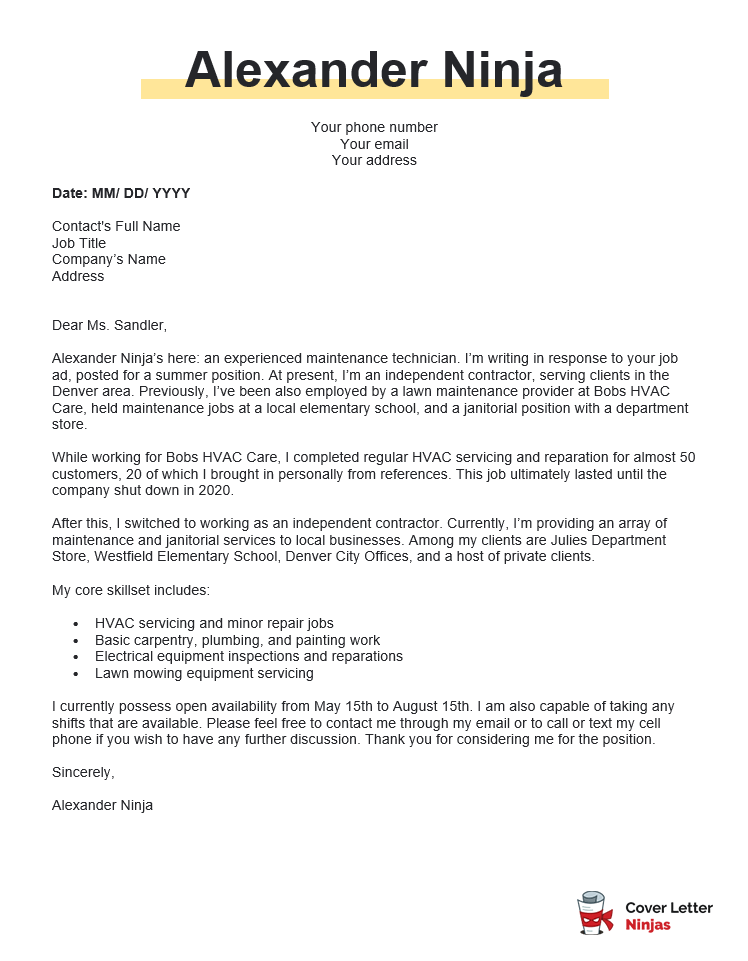 Cover Letter For a Summer Job – Text Format
Dear Ms. Sandler,
Alexander Ninja's here: an experienced maintenance technician. I'm writing in response to your job ad, posted for a summer position. At present, I'm an independent contractor, serving clients in the Denver area. Previously, I've been also employed by a lawn maintenance provider at Bobs HVAC Care, held maintenance jobs at a local elementary school, and a janitorial position with a department store.
While working for Bobs HVAC Care, I completed regular HVAC servicing and reparation for almost 50 customers, 20 of which I brought in personally from references. This job ultimately lasted until the company shut down in 2020.
After this, I switched to working as an independent contractor. Currently, I'm providing an array of maintenance and janitorial services to local businesses. Among my clients are Julies Department Store, Westfield Elementary School, Denver City Offices, and a host of private clients.
My core skillset includes:
HVAC servicing and minor repair jobs
Basic carpentry, plumbing, and painting work
Electrical equipment inspections and reparations
Lawn mowing equipment servicing
I currently possess open availability from May 15th to August 15th. I am also capable of taking any shifts that are available. Please feel free to contact me through my email or to call or text my cell phone if you wish to have any further discussion. Thank you for considering me for the position.
Sincerely,
Alexander Ninja
How to Write a Cover Letter for a Summer Job
Summer jobs are available in an array of industries, not just maintenance! You might look for gigs in the retail space, warehouse industry, serving, or apply for hotel front-desk jobs. In each case, however, you must clearly articulate:
Your experience in the industry
Availability (start date + hours)
You don't have to recount all the full-time and part-time jobs you did. Bring up only the most relevant ones. Also, do apply these tips!
Know What to Add to a Cover Letter
The point of a cover letter is to give a quick preview of your usefulness. Remember: you are likely talking to a busy person, looking to get the much-needed help for peak season. So cut straight to the chase: state your main experience upfront. Then elaborate on other relevant work experiences. Round it up by stating that you are a responsible person to hire and deal with.
Personalize a Cover Letter To Each Job
Your first step is to make a list of marketable skills you have. Next, you should pull three to four points from this list for each cover letter you write. After all, you likely wouldn't highlight the same skills for a job at a restaurant as you would at a library (even if you worked at both places). What you must do is personalize your skills to the job you are pitching for. If you write a generic letter and send it out to everybody, you won't get as many interview callbacks.
Use Data and Examples
An excellent way to make sure that your cover letter stands out is to show how much of an impact you have made. For example, did you happen to personally bring new clients into your previous jobs? Or perhaps you managed to find ways to make certain processes more efficient.
If you are able to provide examples and proof of how you were able to accomplish these feats. Here's another sample snippet a bartender might add:
"During my last summer position at Walleys Resort, I was voted as the "best bartender" by the customers. I've also managed to increase food up-sales at the beach bar by 10% during my shifts."
Final Tip: Know When To Stop Writing
Remember that the most important part of the cover letter is its relevance to the job. The hiring manager does not want to read your life story. If you are applying for a job at a deli the owner probably doesn't want to hear about your music gigs or cool graphic design skills.
The cover letter is also no place to make demands or negotiations of the company, whether that be potential benefits or salary. Keep this part until the face-to-face interview.