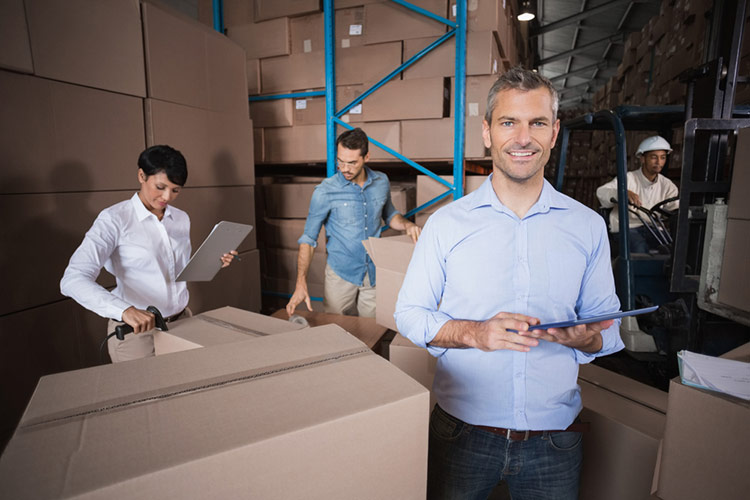 As the grand majority of people shop online these days, warehouse associates are more in-demand than ever. Even better, this job can evolve from an entry-level position to a managerial one in the long-term perspective.
Have you ever been interested in pursuing a career in logistics and distribution, operations management, warehouse management, or becoming a certified forklift driver? As a warehouse associate, all of these career paths are open to you. So are many others. All you have to do is land that first job.
We're here to help you by showing you how to write a cover letter. To do this, we've put together a list of helpful tips and included a sample cover letter for warehouse associate.
ADVICE FROM OUR EXPERT
---
Do you have experience entering inventory or data into computer systems? Managers like to see if you have tech skills and this tiny detail in your cover letter may set your application materials apart from all the others.

Debi Douma-Herren
Senior Certified HR Professional & Career Coach
Demonstrate That You Work Well in a Team Environment
In a warehouse, pertinent information must travel to the right people quickly. In addition to this, every team member must work together to meet the productivity goals, set by the supervisor. Consider sharing a brief example of your using teamwork and communication to resolve an issue. Something like this can serve the purpose well:
"Recently a technical issue shut down the computer system we used to locate products in the warehouse. Fortunately, my team was able to work cooperatively with the freight management team to borrow some extra staff to locate and pull items manually."
Emphasize Safety
Show that you understand the safety requirements of working in a warehouse and that you are dedicated to following those. Mention any safety precautions that you are familiar with and demonstrate how well you follow the instructions in a previous position:
"One of the most important duties that I carried out as an order picker was to monitor for unsafe conditions. There were multiple occasions where I pointed out spills, poor lighting, and equipment that was in disrepair. When I worked as a line leader, our safety evaluations were always passed with flying colors. I have my own pair of steel-toed boots, reflective vest, and back support belt"
Make it Clear You Understand The Physical Demands of the Job
Warehousing is no office job! You'll need to be prepared to work on your feet and do strenuous work. To make things even more intense, warehouse schedules often demand 10-to-12-hour workdays. Prove that you aren't going to succumb to exhaustion after a few hours. Let the hiring manager what you're capable of physically:
"I can lift 40 or more pounds repeatedly. In my current job, I regularly work in temperature conditions exceeding 85 degrees. I can also bend, stoop, and cover ground quickly."
Mention Certifications and Training Early in Your Letter
The more you can do on your first day of the job – the better. Let the hiring manager know that you already have a set of requested qualifications by mentioning any relevant training or certifications you have received. Here's an example:
"I am an experienced order picker and certified to drive a forklift and a walkie rider. I successfully completed my OSHA warehouse safety course in 2019 as well. If hired, I am ready to be a productive member of the team from day one."
Warehouse Associate Cover Letter Sample in .docx Format
We've written an example letter that you can use for a bit of inspiration. Once you've composed the ideal letter for the position you want, consider taking a look at one of our modern cover letter templates to make your letter as attractive as possible. Meanwhile, here's that letter we promised: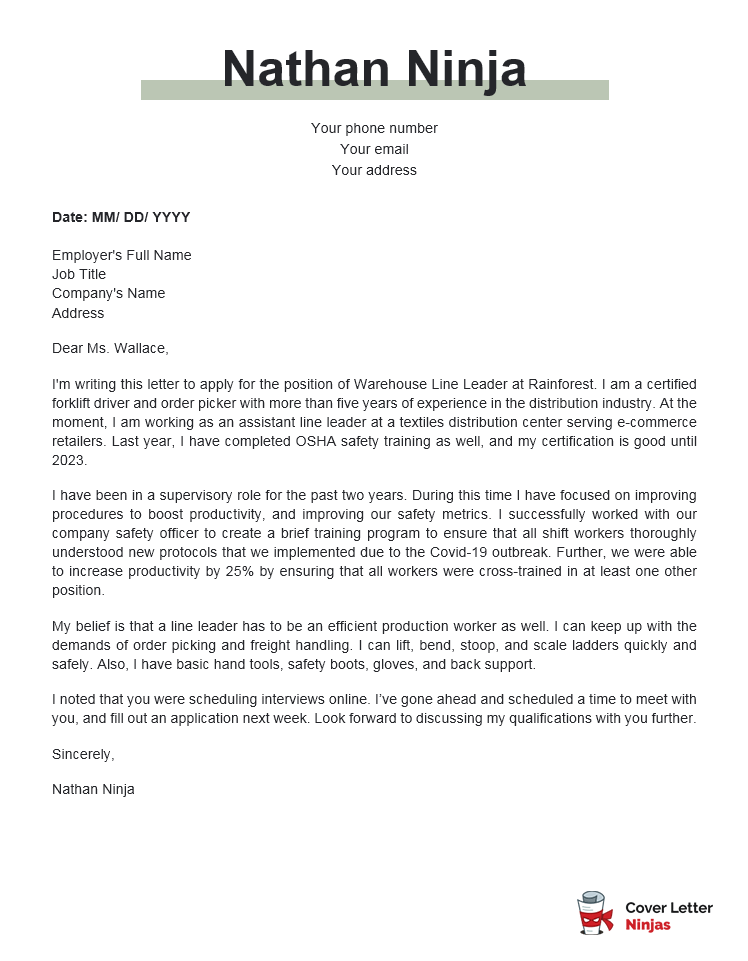 Download example (Word version)
Cover Letter Example For Warehouse Associate – Text Format
Dear Ms. Wallace,
I'm writing this letter to apply for the position of Warehouse Line Leader at Rainforest. I am a certified forklift driver and order picker with more than five years of experience in the distribution industry. At the moment, I am working as an assistant line leader at a textiles distribution center serving e-commerce retailers. Last year, I have completed OSHA safety training as well, and my certification is good until 2023.
I have been in a supervisory role for the past two years. During this time I have focused on improving procedures to boost productivity, and improving our safety metrics. I successfully worked with our company safety officer to create a brief training program to ensure that all shift workers thoroughly understood new protocols that we implemented due to the Covid-19 outbreak. Further, we were able to increase productivity by 25% by ensuring that all workers were cross-trained in at least one other position.
My belief is that a line leader has to be an efficient production worker as well. I can keep up with the demands of order picking and freight handling. I can lift, bend, stoop, and scale ladders quickly and safely. Also, I have basic hand tools, safety boots, gloves, and back support.
I noted that you were scheduling interviews online. I've gone ahead and scheduled a time to meet with you, and fill out an application next week. Look forward to discussing my qualifications with you further.
Sincerely,
Nathan Ninja
Final Tip: Make it Relevant
Find a way to make your skills and experience dovetail with the requirements of the new job. For example, if you're applying at an auto parts distributor, mention that you've worked at a car dealership and understand the shipping code system used in the industry.