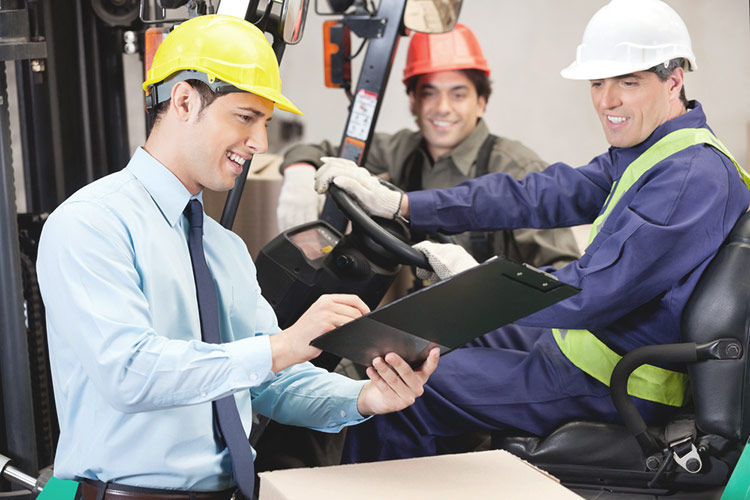 The advantage of being a supervisor is that you can find employment in pretty much any industry! As long as you know how to manage people, enforce compliance with policies and regulations, ensure proper shift coverage, provide training and mentorship, you'll always be in-demand. Plus, if you are a good supervisor, you also enjoy the respect of the workers you lead, and the appreciation of management. So, how do you land a supervisor?
One important step is to create a great cover letter. You'll need to introduce yourself to each potential employer and share how your talents could benefit their business. Below are your tips for crafting that ideal cover letter, followed by a sample supervisor cover letter.
Focus On Three Top Skills That You Have
Supervisors need to employ a wide range of soft and hard skills to get the job done. Of course, all your expertise is important. But you won't have the time or space to address all of them in your cover letter. Instead, focus on three of the most relevant skills you have. To identify these, read the job listing as well as on-site job description carefully. Pick up the most desirable qualifications from there that also match your skillset and emphasize them in your cover letter.
ADVICE FROM OUR EXPERT
---
Simply stating you are a leader isn't going to be enough when applying for supervisor positions. Instead, share specific examples of your leadership abilities including quantifiable results such as how you reduced employee turnover, increased employee retention or improved a process.

Debi Douma-Herren
Senior Certified HR Professional & Career Coach
Share Your Value Proposition
What is it that you can do to help your employer? How can you add value to the organization starting from day one? Answer these questions with your value proposition — a quick statement at the beginning of your cover letter. A clear value proposition can help you convince the hiring manager that you are their best bet a.k.a. you can come in and get the job done immediately.
For example, if you find that budget management is a key concern for an employer, you might say:
"I have a stellar track record of managing personnel so that tasks are completed on time without the need for excess money spent on overtime or temporary staff."
How do you find what each potential employer really needs? Sometimes, you can get that information directly from the job listing. In other cases, you'll need to do a bit of detective work. Research the company online to learn about recent projects or initiatives, and determine how your skills are needed.
Always Provide Relevant Personal Examples
Consider providing a brief example of your work as a supervisor or manager. Focus on something you did that either helped your employer reach their goals or that assisted an employee in their development. Here's a quick example:
"I recently worked with a trainee employee with great potential, but significant attendance issues. I discussed their situation with them and identified that they had unreliable transportation. Rather than lose such a valuable employee, I helped them to secure a regular ride to work through a rideshare program. I pride myself on helping employees thrive."
Prove You're a Cultural Fit
A traditionalist who's used to a vertical management structure and lots of regulations won't do well in a casual workplace. Likewise, someone who prefers an open-door style with a casual approach to supervising warehouse associates won't fit well in an extremely structured work environment.
Share a bit about your style, and how it will fit in well with the organization. As mentioned above, you'll have to do some research to learn about workplace culture.
Cover Letter Sample for a Supervisor Role – .docx Format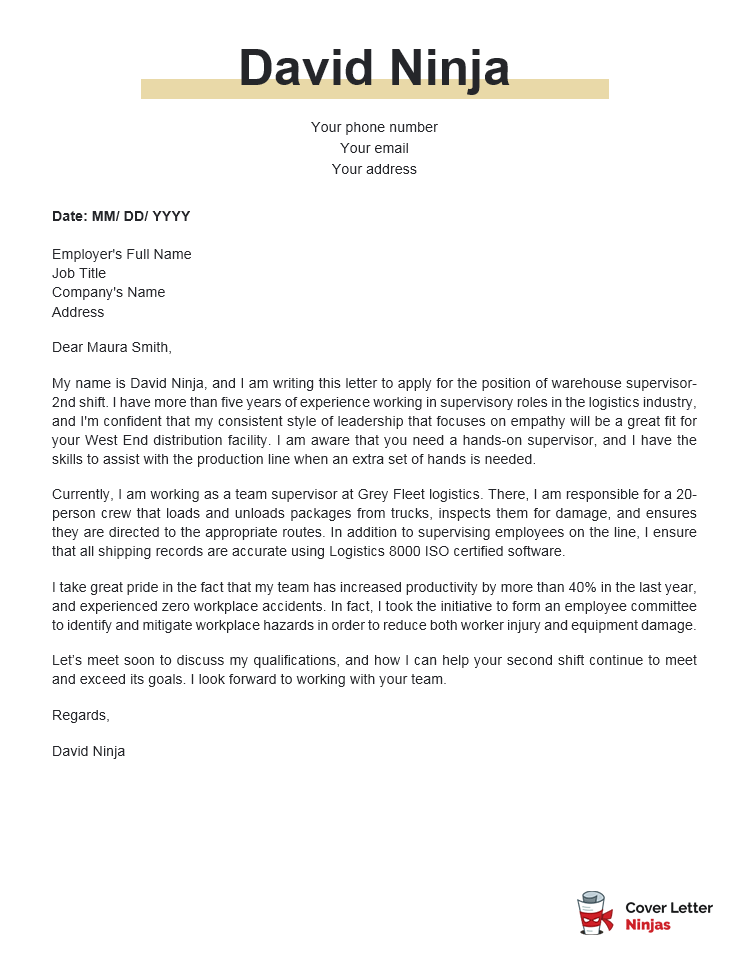 Download example (Word version)
Supervisor Cover Letter Example – Text Format
Dear Maura Smith,
My name is David Ninja, and I am writing this letter to apply for the position of warehouse supervisor-2nd shift. I have more than five years of experience working in supervisory roles in the logistics industry, and I'm confident that my consistent style of leadership that focuses on empathy will be a great fit for your West End distribution facility. I am aware that you need a hands-on supervisor, and I have the skills to assist with the production line when an extra set of hands is needed.
Currently, I am working as a team supervisor at Grey Fleet logistics. There, I am responsible for a 20-person crew that loads and unloads packages from trucks, inspects them for damage, and ensures they are directed to the appropriate routes. In addition to supervising employees on the line, I ensure that all shipping records are accurate using Logistics 8000 ISO certified software.
I take great pride in the fact that my team has increased productivity by more than 40% in the last year, and experienced zero workplace accidents. In fact, I took the initiative to form an employee committee to identify and mitigate workplace hazards in order to reduce both worker injury and equipment damage.
Let's meet soon to discuss my qualifications, and how I can help your second shift continue to meet and exceed its goals. I look forward to working with your team.
Regards,
David Ninja
Final Tip: Show Your Tech Skills Are up to Date
Your letter should focus mainly on your ability to lead people, but don't forget to speak to your other capabilities as well. If you have relevant technical skills, be sure to mention those in your cover letter. In particular, talk about any management software suits that you are familiar with or other operational software or operations management best practices. After all, modern workplaces demand supervisors with high digital literacy. So show that you are up for the task!