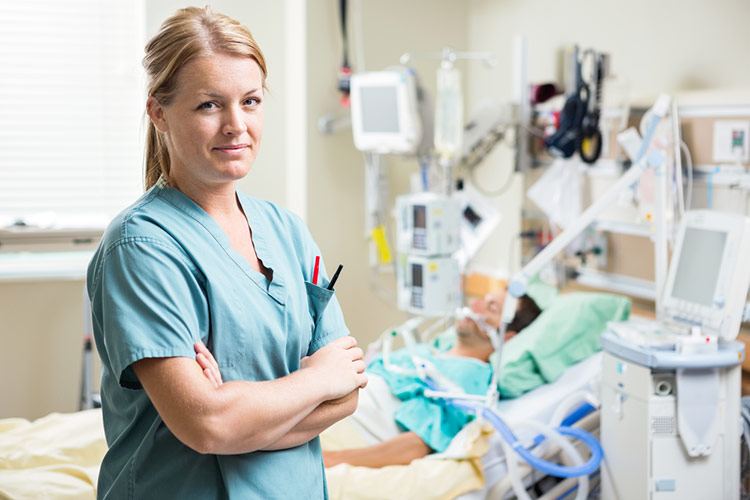 Now more than ever, there's a worldwide demand for skilled healthcare workers. Nurses in particular are in high demand. If you can handle the demands of the ICU, there's a rewarding career ahead of you. First, you'll need to find a way to stand out in a pool of very talented applicants. Why not lead off with a great cover letter? Here, we'll share some useful tips along with an ICU nurse cover letter sample.
Write a Customized Letter For Each Medical Center
Every hospital has unique needs, and a slightly different base of patients to serve. These disparities are especially magnified in the ICU. So if you are applying for a nursing job in this niche, you should clearly communicate that you understand the organization's mission and can administer the exact type of care that patients need. Here's how you can do it on your cover letter:
"I have more than five years of experience working as a lead nurse in the ICU unit of a small rural hospital. I understand the challenges that patients face when it comes to obtaining preventative care. That's why I believe my role should include care and treatment, as well as patient education."
Be Concise
Even if you have a significant amount of experience to speak of, your letter should be relatively short — one-page max. If you find that your cover letter is more than a page long, it's time for some pretty ruthless editing. Be on the lookout for sentences that are too wordy, and for any information that would be better left in your resume. One particularly useful trick is to turn a paragraph into a list of bullet points.
ADVICE FROM OUR EXPERT
---
As a medical professional, prospective employers will likely be most interested in your qualifications, trainings, and previous experience. However, often healthcare groups will also seek to understand why you entered into your specific field. A compelling cover letter is an excellent platform to advocate for your commitment to quality patient care, industry compliance, and hospital operations.

Claire Webber
Career Consultant, CPCC, CPRW
Demonstrate Your Commitment to Patient Care
Your hard skills are important for sure. Still, a great ICU nurse will provide empathetic, attentive care to patients who are in medically fragile states. Consider sharing a brief anecdote that showcases your commitment to providing the best possible patient care. Here's a quick example:
"Every ICU nurse knows that unpredictability, challenging cases, and a demanding schedule is a norm. However, no matter how intense things get for us, there's no comparing that to each patient's struggles. That's why I am committed to providing attentive, nurturing care during every shift I work."
List Your Most Relevant Experience and Skills
The skills section of your resume should contain a complete list of the treatments, techniques, and specializations you've mastered. For your cover letter, pull out a handful of the most relevant of these. Then, expand on them. Consider the needs of the hospital, and any specific requirements in the job listing before you choose. Here's an example:
"As a Certified Critical Care Nurse (CCRN), I am familiar with expected protocols when dealing with medically unstable patients. In addition to this, I have significant experience in-patient surgery prep as well as post-recovery monitoring. This includes providing detailed reports attending physicians and patient case managers."
Looking for even more ideas? Browse other medical cover letter examples on our website such as:
ICU Nurse Cover Letter Sample in .docx Format
So, how do you put all of these ideas together into a great cover letter? Our ICU nursing cover letter demonstrates a few of these techniques in action. We encourage you to use this as an example the next time you apply for a new position!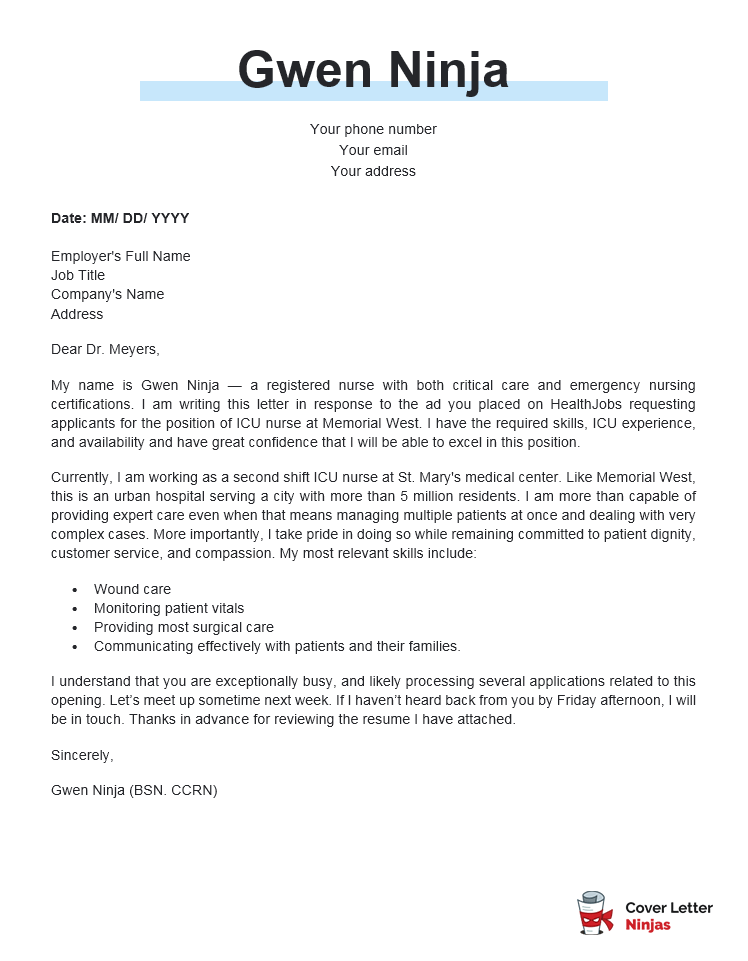 Download example (Word version)
ICU Nurse Cover Letter Example – Text Format
Dear Dr. Meyers,
My name is Gwen Ninja — a registered nurse with both critical care and emergency nursing certifications. I am writing this letter in response to the ad you placed on HealthJobs requesting applicants for the position of ICU nurse at Memorial West. I have the required skills, ICU experience, and availability and have great confidence that I will be able to excel in this position.
Currently, I am working as a second shift ICU nurse at St. Mary's medical center. Like Memorial West, this is an urban hospital serving a city with more than 5 million residents. I am more than capable of providing expert care even when that means managing multiple patients at once and dealing with very complex cases. More importantly, I take pride in doing so while remaining committed to patient dignity, customer service, and compassion. My most relevant skills include:
Wound care
Monitoring patient vitals
Providing most surgical care
Communicating effectively with patients and their families.
I understand that you are exceptionally busy, and likely processing several applications related to this opening. Let's meet up sometime next week. If I haven't heard back from you by Friday afternoon, I will be in touch. Thanks in advance for reviewing the resume I have attached.
Sincerely,
Gwen Ninja (BSN. CCRN)
Final Tip: End With a Great Call to Action
You could end your cover letter with a simple request to meet for an interview. After all, that's what most applicants will do. Your other option is to stand out, show your enthusiasm, and push things in the right direction. Close with a call to action that indicates your interest, and pinpoints an exact period for following up. Then, if you haven't heard anything, do just that. Hiring staff at hospitals are quite busy. Your initiative will help ensure that you stay on their radar!