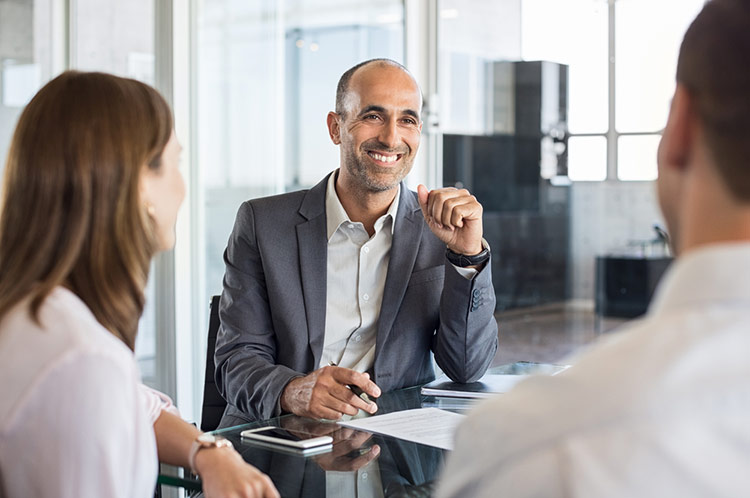 If you want to work in the financial sector, you are up for some good times. Most positions come with a healthy median salary and stability. Besides, the banking industry has plenty of opportunities for both vertical and horizontal growth.
In addition, you have plenty of roles to explore. A mid-sized bank employs:
retail banking experts
loan officers
investment advisors
mortgage processors
tellers
and other professionals.
If you've got a degree in finance or a related field, you can get your career off to a great start as a general clerk or a teller. Over time, you can "niche down" to a more specific field such as lending, mortgages, financial advising, personal wealth management and more.
In this post, we offer several actionable job search tips for financial professionals. Plus, a persuasive banking cover letter sample you can use as a reference.
Take Time to Learn About The Bank You Are Applying To
Before you send out your resume and cover letter, do a bit of preliminary research. What is the history of the financial institution? Have they been involved in some major projects? Who is on the board of directors? The more information you have, the better able you will be to personalize your resume and cover letter.
And as we showcased in other cover letter examples, personalization is key to putting that foot into the door.
ADVICE FROM OUR EXPERT
---
No matter what position you want at a bank, it is important to show your ability to manage relationships. You will be working many hours with either internal or external stakeholders, so highlight your ability to build rapport and work collaboratively with a team.

Debi Douma-Herren
Senior Certified HR Professional & Career Coach
Get Any Licensing in Order
Depending on the specific position you are seeking, there may be licenses or certifications you are required to have.
For instance, one industry survey suggests that most bank employees try to get certified in the following fields:
Life Insurance: This makes you qualified to offer advice on this particular type of investment, as well as sell life policies on behalf of the bank.
Internal controls auditing: Obtaining a CICA (Certified Internal Controls Auditor) increases your chances of getting a job with a bank that is owned by a separate holding company entity.
Financial Advising: This qualification could help you land a position in which you could earn a commission in addition to your salary.
Prolific, certified financial professionals can secure a higher base salary, so your investment in certifications will pay off pretty quickly.
Detail Your Regulatory Compliance Training
If you are pursuing a job in banking, you understand the importance of regulatory compliance training as well as other corporate education related to operations and security. If you have undergone training through the American Bankers Association (or a similar institution), consider mentioning that in your cover letter.
Specifically, "brag" the following:
Reg P Training
KYC Compliance Training
CRCM (Certified Regulatory Compliance Manager)
Certified Trust And Financial Advisor
Certified IRA Services Professional
Certificate in Business And Commercial Lending
Create a Professional Social Media Presence
There is a very good chance that is part of the hiring process somebody will check out your social media profiles.
While an established social media presence may not be important for entry-level positions, financial advisors, lending officers, and other bankers in positions of authority are often sought out as subject matter experts. If you are seeking out a position where your personal knowledge of matters such as investing, financial planning, and regulatory compliance, invest more time in your LinkedIn profile.
Start sharing industry updates, personal commentary and perhaps even short educational blog posts to your network. Not only will this impress hiring authorities, but the attention you receive for your content could also help you expand your clients' network.
Cover Letter Sample for Banking in .docx Format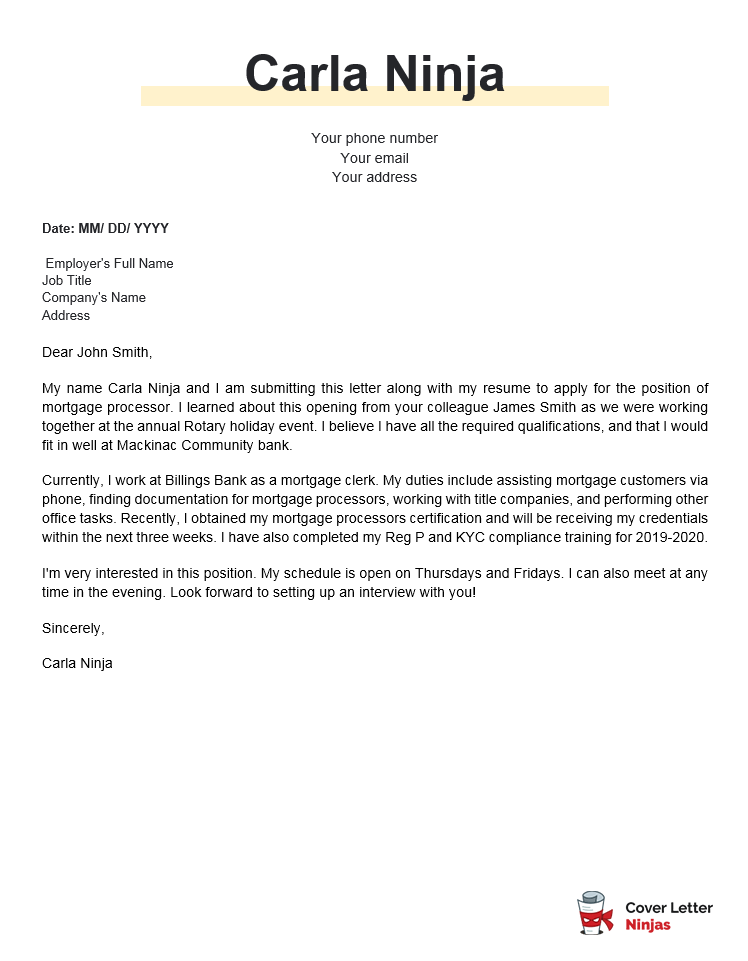 Download example (Word version)
Banking Cover Letter Example – Text Format
Dear John Smith,
My name Carla Ninja and I am submitting this letter along with my resume to apply for the position of mortgage processor. I learned about this opening from your colleague James Smith as we were working together at the annual Rotary holiday event. I believe I have all the required qualifications, and that I would fit in well at Mackinac Community bank.
Currently, I work at Billings Bank as a mortgage clerk. My duties include assisting mortgage customers via phone, finding documentation for mortgage processors, working with title companies, and performing other office tasks. Recently, I obtained my mortgage processors certification and will be receiving my credentials within the next three weeks. I have also completed my Reg P and KYC compliance training for 2019-2020.
I'm very interested in this position. My schedule is open on Thursdays and Fridays. I can also meet at any time in the evening. Look forward to setting up an interview with you!
Sincerely,
Carla Ninja
Final Thoughts
When you land your interview, take a paper copy of your resume along. It's good form to have this to give to the HR team. To make an even better impression, print the resume out on a good quality paper stock, and use a heavily readable font such as Arial or Times New Roman.
Are You After a Specfic Banking Role? Check More Samples!