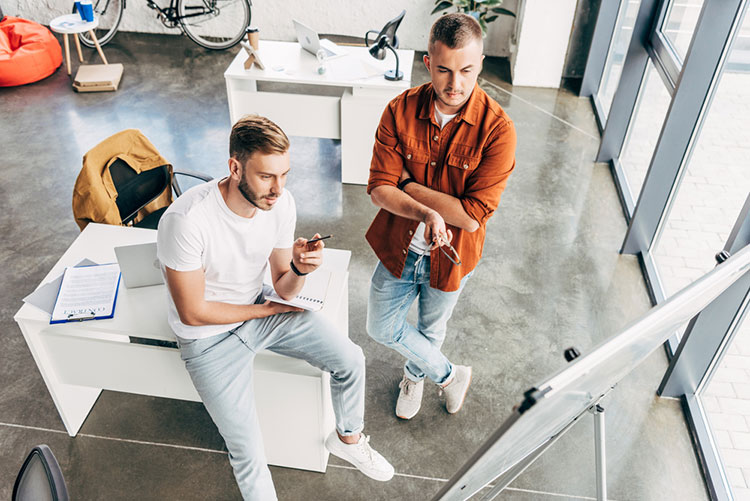 As a marketer, your job is to present your company in the best light to customers, and help salespeople achieve their goals of increasing the bottom line. But as we all know, it's much easier to promote others rather than yourself. So if you are a marketing ninja in need of a bit of help, here are your tips for proving yourself as a great hire, plus a great marketing cover letter sample for your review.
Open With a Clever Hook
You know that the best way to grab someone's attention with great, digital marketing content is with an opening hook. You should do the same with your cover letter. Compose an opening sentence that says something compelling about your talents. Ideally, this will cause the reader's ears to perk up a bit, and convince them to learn more about you.
For example, you might open with, 'I am the recipient of the 2019 award for best social media campaign for a small business.' Not only is something like that impressive, it's unique enough to set you apart from the other candidates.
ADVICE FROM OUR EXPERT
---
Grab words and phrases from the company website and sprinkle them throughout your cover letter. You will let your marketing expertise speak for itself!

Mary Ford
Executive Career Coach
Address Your Letter to a Person
Marketing is all about personalization. You use the data you gather to personalize recommendations, and provide your audience customized content. You should do the same with your cover letter.
Take the small, but important step of finding the name of the person who will be reading your resume and cover letter. Address your letter to them, and avoid impersonal and generic salutations like 'to whom it may concern'.
Share a Personal Connection
'Six degrees of separation' is a philosophy that states that everyone on earth is connected within six degrees or less. If you work in the same industry, or same location as the person reviewing your cover letter, you've probably got some connection to mention. Do a bit of research. Is there a coworker in common? Perhaps you share a hobby or interest, or are fans of the local sports franchise.
Chances are, there's a personal connection that you can make with the hiring manager. Find it, even if you have to exaggerate a bit. Then, use that connection in your letter to establish a rapport.
Give Your Contact Information a Boost
Name, address, phone number, and email are all expected items in your letter. Now, take things a step further. Share links to your professional social media pages. Start with LinkedIn. If you have a professional presence on other platforms, share those as well. If you've been sharing about your industry knowledge and accomplishments, a hiring manager would love to know what you have to say.
Show Off Your Work
Data is an important marketing tool. You should use it to your advantage when you write your cover letter. Start with sharing some great examples of your accomplishments as a marketer. Then, move the barometer up even further by providing specific numbers and other statistics to back your claim.
Have you managed a campaign that increased sales revenue for your current employer? Share the story of that campaign, then show exactly how much those sales went up.
Customize Your Letter
Every company to which you apply has unique needs, and its own set of problems that it will need you to solve. That's why it is imperative that you customize each cover letter for the position you are interested in. As you write your cover letter, address specific challenges the company is facing, and share how you can help them thrive.
Cover Letter Sample For Marketing in .docx Format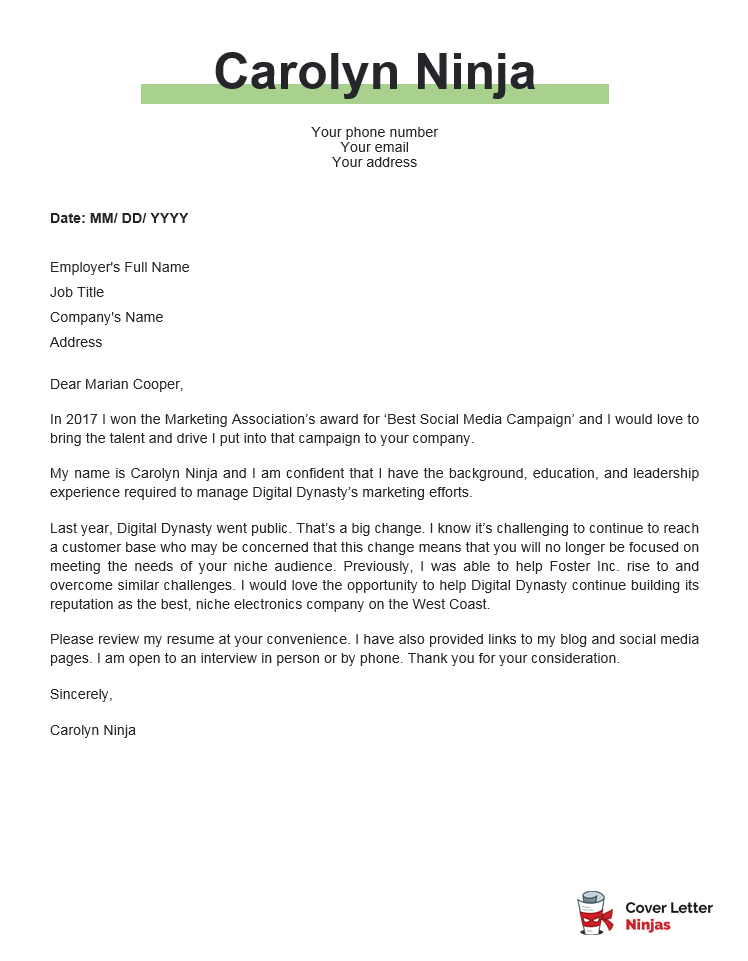 Download example (Word version)
Marketing Cover Letter Example – Text Format
Dear Marian Cooper,
In 2017 I won the Marketing Association's award for 'Best Social Media Campaign' and I would love to bring the talent and drive I put into that campaign to your company.
My name is Carolyn Ninja and I am confident that I have the background, education, and leadership experience required to manage Digital Dynasty's marketing efforts.
Last year, Digital Dynasty went public. That's a big change. I know it's challenging to continue to reach a customer base who may be concerned that this change means that you will no longer be focused on meeting the needs of your niche audience. Previously, I was able to help Foster Inc. rise to and overcome similar challenges. I would love the opportunity to help Digital Dynasty continue building its reputation as the best, niche electronics company on the West Coast.
Please review my resume at your convenience. I have also provided links to my blog and social media pages. I am open to an interview in person or by phone. Thank you for your consideration.
Sincerely,
Carolyn Ninja
After a Specific Marketing Role? We Have More Tips and Examples!
Final Tip
Think about your cover letter as a new landing page. It should have a clear purpose, well-defined structure and coherent narrative that gradually builds up the interest and leads up to the final CTA – your closing statement suggesting a further interview.