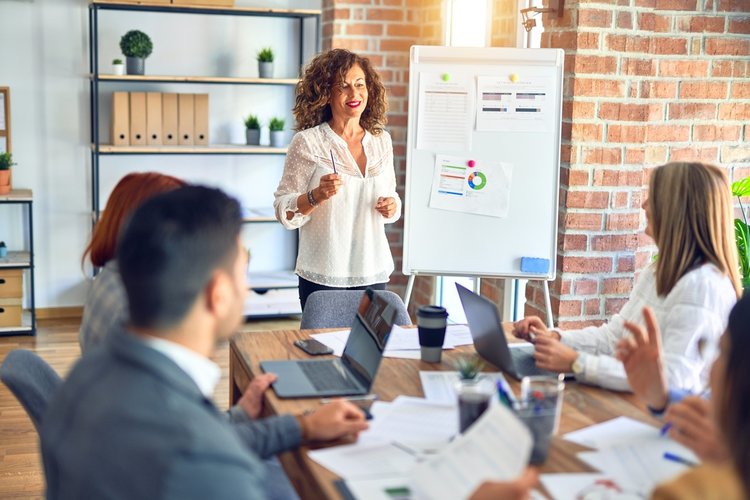 Most successful companies rely on the strength of a creative and capable marketing team, driving the buzz and the conversation around their products or services. A marketing manager is in charge of leading those promo efforts. To land a job as the leader of a marketing department, you must bring experience, up to date skills, and energy to the table. You'll also need a great cover letter to accompany your job application package. Before you begin, take a look at our tips below, and our marketing manager cover letter sample.
Lead Off With a Strong Hook
As Seth Godin, one of the greatest people in digital marketing, once said: "words are hooks, words are levers". There are many ways to describe what you are doing and your exact word choice will have different emotional meanings and convey a different perspective.
That's why it's important to set the right tone within the first paragraph of your cover letter. Hook the reader with a narrative they subconsciously want to hear! Start off by sharing a big accomplishment, your leadership philosophy, or another compelling statement. Remember, your goal is to make the hiring manager think, 'I've got to learn more about this person!'
Use Your Resume as a Guide
Your cover letter should never be a repeat of your resume. Both documents serve very different purposes. That said, your customized resume has very useful information. Use it as a reference when you write your marketing cover letter. Pick out the elements that are most relevant to the job. Then, expand on them in your cover letter.
Let's say the job listing indicates the company is looking for a manager with significant experience in handling commercial accounts. In that case, you would mention the work you'd done running B2B marketing campaigns.
ADVICE FROM OUR EXPERT
---
Within the field of marketing, compelling storytelling is vital to position brands, products, and services. When creating your own "elevator pitch" in the form of a cover letter, consider your target audience and translate your unique story into a marketing pitch highlighting your candidacy as a valuable asset.

Claire Webber
Career Consultant, CPCC, CPRW
Show You Fit The Culture
Marketing teams really set the tone when it comes to the voice and overall culture of a brand. So to be a successful leader, you'll have to show that you are a perfect fit. The best way to approach this is to research the company and learn as much as possible about the work environment. Skim through Glassdoor reviews, hop on social media, review the company's LinkedIn page.
Then, write about your communication and management style in a way that proves you will integrate nicely into the team. Imagine that you learn the company values initiative and independence. Try something like this:
"As a manager, I believe the best thing I can do is empower my team. Whenever I am able to, I offer team members opportunities to build leadership skills, show innovation, and take part in projects that allow them to work towards their goals."
Talk About Results
The best proof of your management skills is in your accomplishments. Rather than simply writing about what you've done, focus on the results you've achieved across different marketing verticals e.g. social media marketing, PR, SEO, or paid advertising.
Here are a few examples of this technique:
Made changes that resulted in an increase of 20% ROI for paid advertising campaigns.
Managed the creative team that won the Webby award in 2020 for Advertising Media And PR.
Decreased marketing staff turnover by 75%.
Supervised the creation of a digital assets library that boosted content production by 30%, and brand recognition by 15%.
Close With a Specific Offer of Help
End your letter with a reminder that you can provide the company with the help they need right away. Do this by mentioning a particular need, and sharing how you can assist. Check out this brief example:
"I look forward to meeting with you for an interview. When we do, I'd love to speak with you about your new presence on TikTok. I have some great ideas for really maximizing your reach there!"
Cover Letter Sample for a Marketing Manager in .docx Format
Now for the most important piece! Take a look at this cover letter sample. Feel free to use it as a guide or inspiration for your own letter. Also, don't forget that a great cover letter template can really add a new level of professionalism and style.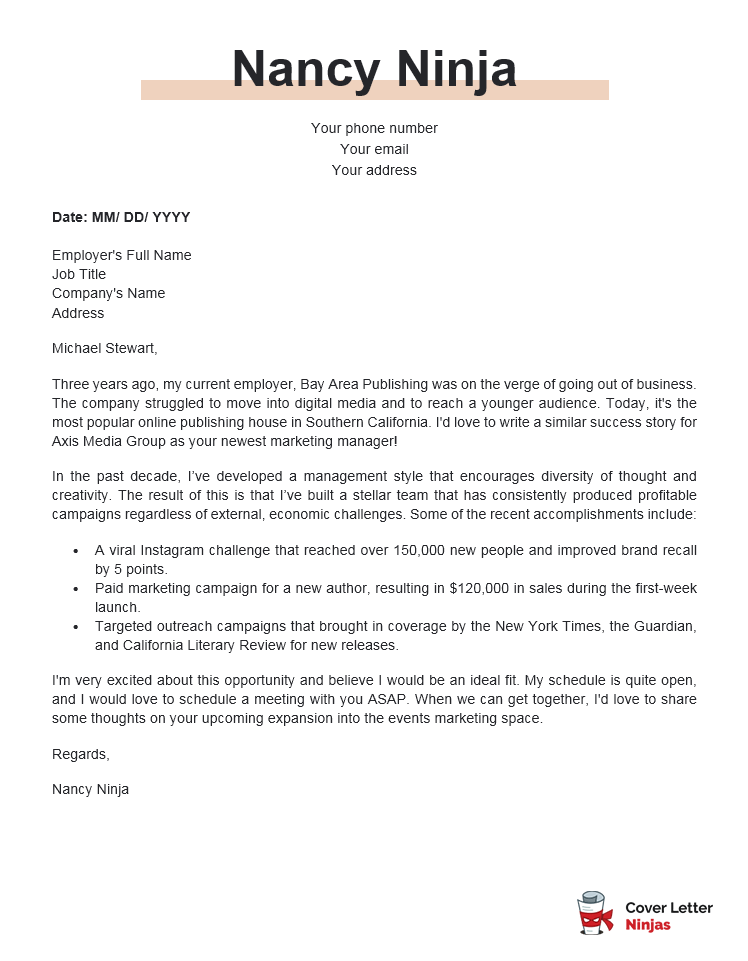 Download example (Word version)
Marketing Manager Cover Letter Example – Text Format
Michael Stewart,
Three years ago, my current employer, Bay Area Publishing was on the verge of going out of business. The company struggled to move into digital media and to reach a younger audience. Today, it's the most popular online publishing house in Southern California. I'd love to write a similar success story for Axis Media Group as your newest marketing manager!
In the past decade, I've developed a management style that encourages diversity of thought and creativity. The result of this is that I've built a stellar team that has consistently produced profitable campaigns regardless of external, economic challenges. Some of the recent accomplishments include:
A viral Instagram challenge that reached over 150,000 new people and improved brand recall by 5 points.
Paid marketing campaign for a new author, resulting in $120,000 in sales during the first-week launch.
Targeted outreach campaigns that brought in coverage by the New York Times, the Guardian, and California Literary Review for new releases.
I'm very excited about this opportunity and believe I would be an ideal fit. My schedule is quite open, and I would love to schedule a meeting with you ASAP. When we can get together, I'd love to share some thoughts on your upcoming expansion into the events marketing space.
Regards,
Nancy Ninja
Final Tip: Represent Your Education The Right Way
Do you have a BA in marketing, maybe even your MBA? That's great, but so do most other applicants. Save your degree information for your resume. If you do choose to mention your education or training on your resume, stick to what's current and relevant. For example, a certificate you've earned in digital marketing is going to earn more attention than your university degree.