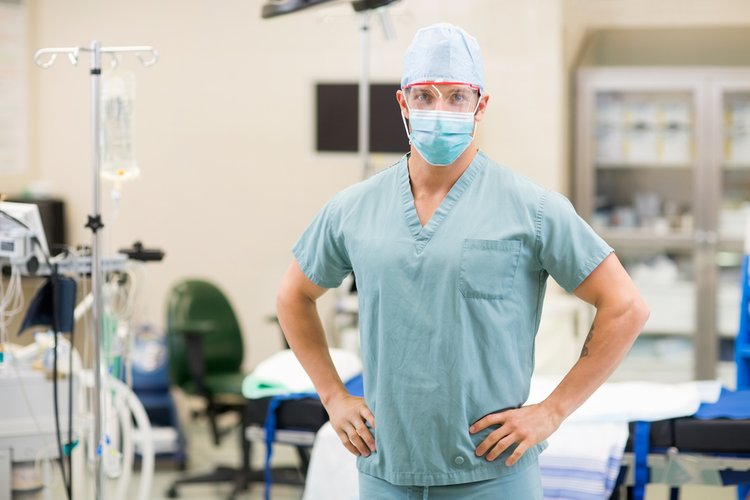 A surgical tech is a trusted companion of professional surgeons. They clean, prep, and sanitize operating rooms as well as assisting during surgeries. Unlike other medical jobs, surgical technologists do not need to go to med school. So as long as you have the relevant certification and an associate degree, you are job-market ready material!
But you still need to pen that cover letter. Fret not, you've got some help here. Check out our quick tips first and then swipe a surgical tech cover letter sample at the end of the post.
Start With Your Most Marketable Skills
If you've already worked in the field for several years, you have a host of valuable skills under your belt. That's wonderful and you should mention all of these in your resume! But reserve only two or three skills of your most marketable skills for your cover letter. Make your choice based on the specific needs of the hospital or medical center you're interested in. For example, if you are applying to work in an ER, your 'pitch' can look like this:
"At Sordridge Hospital, I have learned to prep surgical areas quickly and in line with all sanitary protocols. This allows surgeons to quickly begin important and often life-saving procedures on patients who are in crisis. Also, I possess the knowledge for prepping for robot-assisted surgeries."
Pick Your Letter Wording, Based on The Job Listing
A job listing is your best helper! They essentially tell you how the employer pictures the ideal candidate. All you have to do is pick out those helpful describers and incorporate them in your letter. Specifically, look into the "Candidate Requirements/Qualifications" section, plus anything else marked as "extra skills", "nice to have". Doing so will help you appear like the optimal hire.
More importantly, larger hospitals may use applicant tracking software. This means every application package is scanned for relevant keywords by an algorithm. If those keywords aren't found, the application is discarded before it is ever read by a human. To ensure that doesn't happen, use the keywords from the job listing in both your cover letter and resume.
ADVICE FROM OUR EXPERT
---
Great surgical techs are team players in the healthcare setting. When drafting your cover letter, demonstrate your ability to work well with others through effective communication and listening skills. You can even cite specific examples where your interpersonal skills benefited a team.

Debi Douma-Herren
Senior Certified HR Professional & Career Coach
Emphasize Your Ability to Communicate
Every surgical tech needs top-tier communication skills. They must be able to communicate their activities and observations to the rest of the surgical team and oftentimes other medical professionals too like pharmacy technicians, physician assistants, or physical therapists in charge of the patients' recovery. Also, surgical techs should be able to follow and act on instructions even in a chaotic environment.
Use your cover letter to illustrate that you are easy-to-work-with and can be relied upon in a critical situation. You can add a quick story from your day-to-days to illustrate that. Check other cover letter examples from our team to see how that's done.
Include a Clear Subject Line
If you send your cover letter as an email, be certain to write an attention-grabbing subject line. It should make it clear that the contents of your email are part of a job application. Be sure to read the job listing carefully, many will contain instructions for your email subject line. The last thing you'd want is to appear as someone who cannot follow the most basic instructions.
Surgical Tech Cover Letter Sample in .docx Format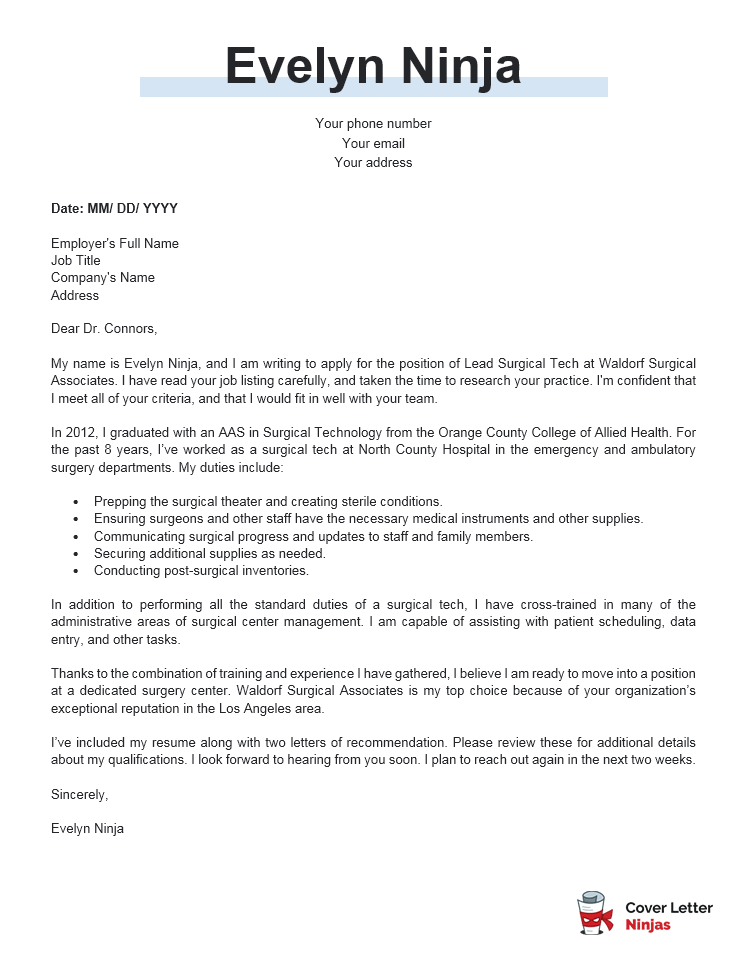 Download example (Word version)
Surgical Tech Cover Letter Example – Text Format
Dear Dr. Connors,
My name is Evelyn Ninja, and I am writing to apply for the position of Lead Surgical Tech at Waldorf Surgical Associates. I have read your job listing carefully, and taken the time to research your practice. I'm confident that I meet all of your criteria, and that I would fit in well with your team.
In 2012, I graduated with an AAS in Surgical Technology from the Orange County College of Allied Health. For the past 8 years, I've worked as a surgical tech at North County Hospital in the emergency and ambulatory surgery departments. My duties include:
Prepping the surgical theater and creating sterile conditions.
Ensuring surgeons and other staff have the necessary medical instruments and other supplies.
Communicating surgical progress and updates to staff and family members.
Securing additional supplies as needed.
Conducting post-surgical inventories.
In addition to performing all the standard duties of a surgical tech, I have cross-trained in many of the administrative areas of surgical center management. I am capable of assisting with patient scheduling, data entry, and other tasks.
Thanks to the combination of training and experience I have gathered, I believe I am ready to move into a position at a dedicated surgery center. Waldorf Surgical Associates is my top choice because of your organization's exceptional reputation in the Los Angeles area.
I've included my resume along with two letters of recommendation. Please review these for additional details about my qualifications. I look forward to hearing from you soon. I plan to reach out again in the next two weeks.
Sincerely,
Evelyn Ninja
Final Tip: Have a Concrete Follow Up Plan
You may be tempted to simply ask the hiring manager to contact you at their convenience. Unfortunately, this can make you seem a bit wishy-washy. Why would they choose you when there might be another applicant who's a bit more assertive and motivated? Instead, write that you look forward to hearing from them. Then, close with a statement that you will be contacting them to follow up within a specific period. This will make you appear to be an active applicant rather than a passive one.