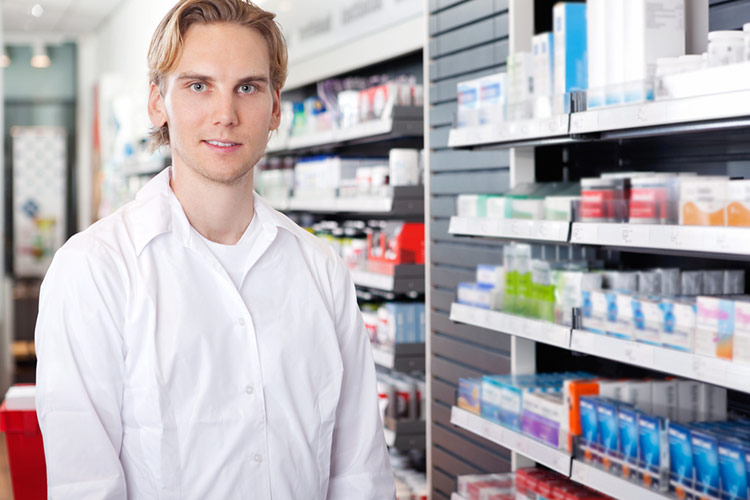 Pharmacies, hospitals, and clinics need pharmacy technicians to better serve their customers. It can be a complicated job as much attention to detail is required. But it's also a rewarding and well-paid one.
You've worked hard to gain the education and experience required to become a pharmacy technician. Now, it's time to find the job you deserve. To do that, you need a cover letter that proves you are the best choice for the announced position. Keep reading for some important tips, then take a look at the cover letter sample for a pharmacy technician below.
Mention Your Certifications Early On
Did you know that some pharmacies will train pharmacy technicians in-house? That means you can get hired as an entry-level staff member, then earn your certification on the job.
Of course, if you are already certified as a pharmacy tech, that is one less thing that your potential employer has to worry about. It could give you a leg up in comparison to other less-qualified candidates. If you are a certified tech, mention this in your cover letter, and do so in the first two paragraphs.
Use Bullet Points When Quantifying Your Experience
Don't just list your day-to-day duties. Instead of saying that "you've provided customer service", use real facts and figures to really drive that information home. Then, make it stand out by using bullet points.
Here's what you may include in your letter:
Led pharmacy techs and support staff through a two-week customer service training program.
Achieved a 95% customer overall satisfaction rating.
Find The Name of The Pharmacy Manager
Personalized cover letters always make a better impression. Unfortunately, it can be difficult to determine who will be reading your letter.
As a pharmacy tech, you may not have this problem. If your future employer is a retail grocery store or drug store, there's a good chance that the name of the pharmacy manager is proudly displayed on the door. Make the effort to find this information, then use it to personalize your cover letter.
Show That You Can Support Their Customer Service Mission
Different pharmacies often service different customer groups. Before you are hired, the pharmacy manager will want to know that you understand who they are trying to serve, and how to meet the needs of that group.
For example, a hospital pharmacy tech at a busy hospital in an urban area is going to be meeting with different patients than one at a rural pharmacy. Mention skills that specifically show you understand the people who will be using your services.
ADVICE FROM OUR EXPERT
---
Applicants for pharmacy technician positions should pay close attention to the job description. Does it mention the software being used or if the pharmacy has a specialty? Take time to outline your skills in those specific areas to stand out among the candidates.

Debi Douma-Herren
Senior Certified HR Professional & Career Coach
Let Them Know You've Been Cross-Trained
In a large pharmacy, your duties may be limited to filling prescriptions and other related tasks. However, in many cases, the manager will also expect you to step in and help out elsewhere. That's why any cross-training you have received is worth mentioning. Let hiring managers know if:
You can stock shelves.
You have a POS experience.
Answering a multi-line phone system.
These skills and others show that you are capable of stepping up and helping out wherever you might be needed.
Cover Letter Example For Pharmacy Technician in .docx Format
Here is a sample letter that you can use either for an example or inspiration. Don't forget to pair great cover letter content with a great cover letter template.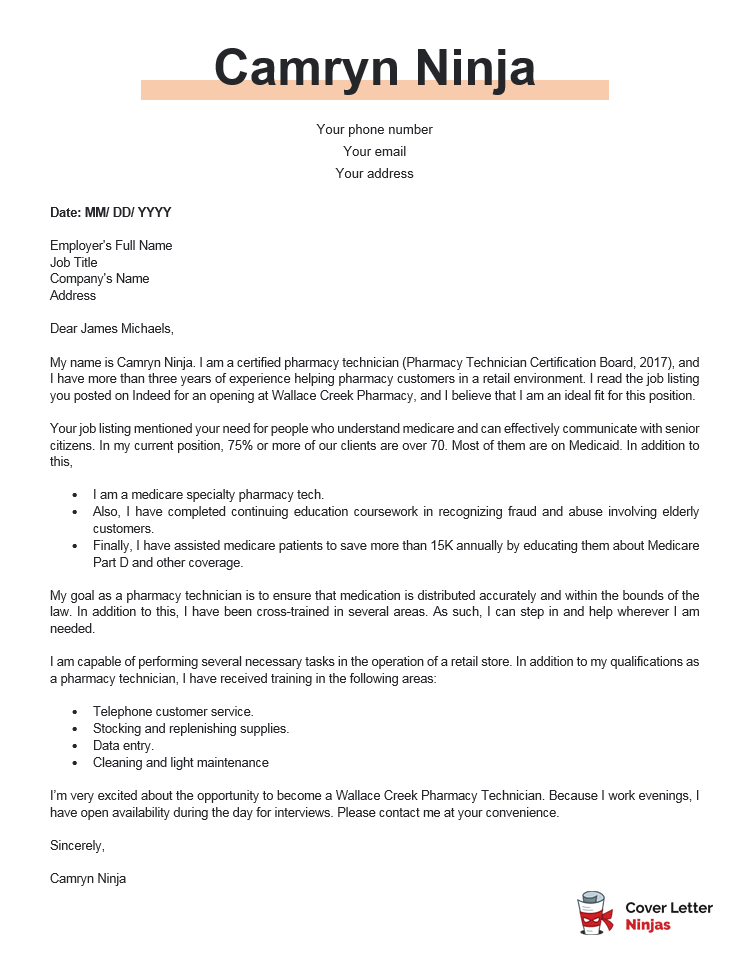 Download example (Word version)
Sample Cover Letter For Pharmacy Technician – Text Format
Dear James Michaels,
My name is Camryn Ninja. I am a certified pharmacy technician (Pharmacy Technician Certification Board, 2017), and I have more than three years of experience helping pharmacy customers in a retail environment. I read the job listing you posted on Indeed for an opening at Wallace Creek Pharmacy, and I believe that I am an ideal fit for this position.
Your job listing mentioned your need for people who understand medicare and can effectively communicate with senior citizens. In my current position, 75% or more of our clients are over 70. Most of them are on Medicaid. In addition to this,
I am a medicare specialty pharmacy tech.
Also, I have completed continuing education coursework in recognizing fraud and abuse involving elderly customers.
Finally, I have assisted medicare patients to save more than 15K annually by educating them about Medicare Part D and other coverage.
My goal as a pharmacy technician is to ensure that medication is distributed accurately and within the bounds of the law. In addition to this, I have been cross-trained in several areas. As such, I can step in and help wherever I am needed.
I am capable of performing several necessary tasks in the operation of a retail store. In addition to my qualifications as a pharmacy technician, I have received training in the following areas:
Telephone customer service.
Stocking and replenishing supplies.
Data entry.
Cleaning and light maintenance
I'm very excited about the opportunity to become a Wallace Creek Pharmacy Technician. Because I work evenings, I have open availability during the day for interviews. Please contact me at your convenience.
Sincerely,
Camryn Ninja
Final Tip: Follow Up!
This is a competitive field, and you should take every advantage you can. If you haven't heard back from the pharmacy within 48 hours, follow up with a quick email affirming your interest.