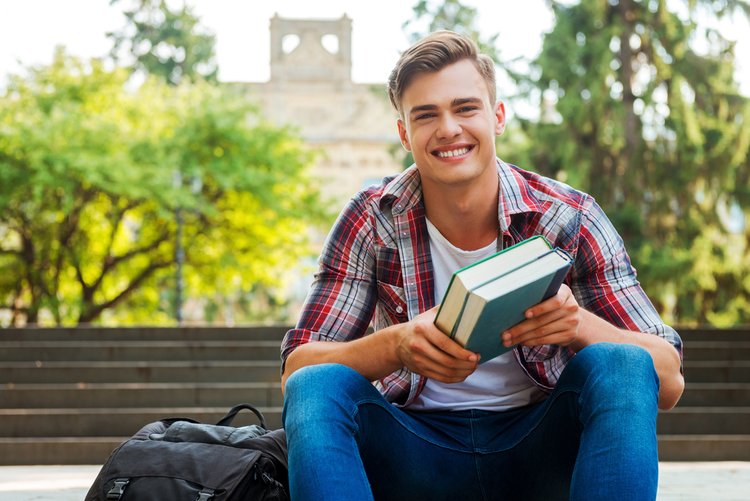 For many high school students getting a job is a rite of passage. More importantly, it's the first step towards financial independence, skills development, and some new life experiences. Whether you need a job to help your family financially, or just for some fun money, you must put together an impressive application package.
One of the most important elements of that package will be your cover letter. It's your way to introduce yourself to a potential employer. You can really help yourself out by leaving a great first impression. Before you sit down to type out your next cover letter, read the paragraphs below. We've included some helpful tips and a sample cover letter for a high school student.
Do High Schoolers Need a Cover Letter?
As a rule of thumb, yes. If you are going through a formal job application process (think applying online for a waitressing job over being asked to babysit by a parent's friend), it's best to attach a cover letter. In fact, since you probably don't have much work experience, a cover letter may be your only application document aka a piece of information the hiring manager will use to form their opinion about you and decide on hiring. So don't skim on this step!
How Do you Write a High School Cover Letter?
All cover letters, regardless of your age or work experience, have the same structure:
Introductory paragraph, detailing who you are and what job you are after
Cover letter body, providing more context about your motivation, personal attributes, and possible qualifications
Closing paragraph, reiterating your interest and availability, plus prompting the next steps.
This is the basic structure to follow when writing your first cover letter as a high school student.
Below are some extra helpful tips to help you shape your letter into a professional-sounding employer magnet!
Focus on Your Skills
Presumably, you don't have much work experience. That's fine. Employers who hire students expect that to be the case. Still, you want your cover letter to highlight how you can be of service to a potential boss. You can do this by emphasizing your skills.
Think of it this way. There are so many ways that you can pick up skills. You don't simply learn them at work. For example, you may have learned how to use Microsoft Word and Excel through business classes in high school. Maybe you started a YouTube channel with friends, and now you've got great video editing skills. Even doing regular school assignments has helped you to learn how to use a computer, conduct research, and develop great writing skills.
ADVICE FROM OUR EXPERT
---
Particularly when early in your professional career, it's valuable to use your cover letter as an opportunity to speak transparently about your experience, with an underlying theme of eagerness to learn, develop, and grow. Leverage any education, work experience, or extracurricular involvement you have that target specific employer needs, clearly outlining the potential you can contribute to their team.

Claire Webber
Career Consultant, CPCC, CPRW
Write a Self-Assured Intro
Use your introduction paragraph to tell the hiring manager exactly who you are, your purpose for applying, and share your top selling point. This is the single skill, experience, or personality trait you think is most likely to help you get an interview.
Check out this example:
"My name is James Evans, and I am a senior at Wilson Academy. I am an eagle scout with extensive experience leading groups during camping and hiking outings. This, I believe, makes me a great fit for this job, and I'm grateful for the opportunity to share more about myself."
Show That You've Done Your Research
Learn as much as you can about each company, and the available position before you write your cover letter. The more you know, the better you can personalize each cover letter to the employer.
Start with a name. It's always a good practice to address your cover letter to the hiring manager. That's the person who will read and decide if they want to interview you or take a pass on your application. Address your letter to the person directly, and avoid using generic greetings (e.g. 'dear sir or madam').
Finally, by doing a bit of research, you can do a better job of showing an interest in the company. For example, you could note a special project or undertaking. Something like this:
"I noticed that you are opening a new store at the corner of 5th and Main St. That's walking distance from my home. I'd be excited to be part of the sales team at this brand-new location."
Talk About Your Accomplishments
Without much experience, you may find it difficult to fill up a written page. One thing that you can do is create a bullet list with between three and five accomplishments that you think will make you stand out. These should be meaningful to employers.
For instance, winning a graphic design competition if you are applying for a trainee position at a development firm would be perfect. Earning the first chair in violin when applying for a job at a call center is something you should probably leave off of your cover letter.
High School Student Cover Letter Sample in .docx Format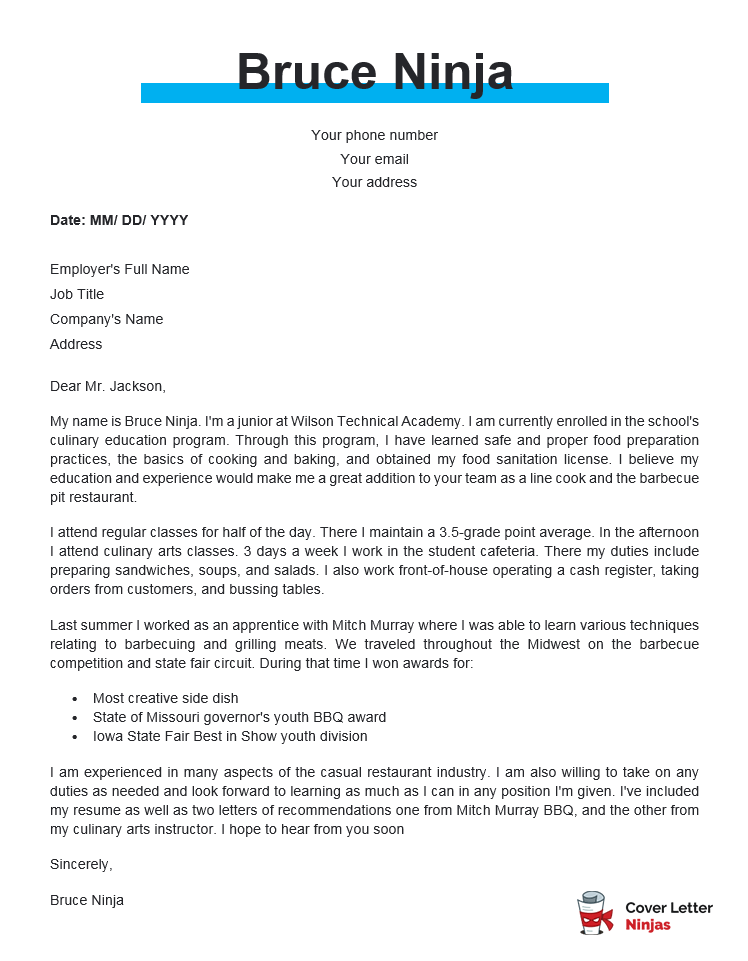 Download example (Word version)
Cover Letter Example For High School Students – Text Format
Dear Mr. Jackson,
My name is Bruce Ninja. I'm a junior at Wilson Technical Academy. I am currently enrolled in the school's culinary education program. Through this program, I have learned safe and proper food preparation practices, the basics of cooking and baking, and obtained my food sanitation license. I believe my education and experience would make me a great addition to your team as a line cook and the barbecue pit restaurant.
I attend regular classes for half of the day. There I maintain a 3.5-grade point average. In the afternoon I attend culinary arts classes. 3 days a week I work in the student cafeteria. There my duties include preparing sandwiches, soups, and salads. I also work front-of-house operating a cash register, taking orders from customers, and bussing tables.
Last summer I worked as an apprentice with Mitch Murray where I was able to learn various techniques relating to barbecuing and grilling meats. We traveled throughout the Midwest on the barbecue competition and state fair circuit. During that time I won awards for:
Most creative side dish
State of Missouri governor's youth BBQ award
Iowa State Fair Best in Show youth division
I am experienced in many aspects of the casual restaurant industry. I am also willing to take on any duties as needed and look forward to learning as much as I can in any position I'm given. I've included my resume as well as two letters of recommendations one from Mitch Murray BBQ, and the other from my culinary arts instructor. I hope to hear from you soon
Sincerely,
Bruce Ninja
First Job Cover Letter Example for a High School Student – .docx Format
This sample was written for a high school student, looking to secure their first-ever job in retail.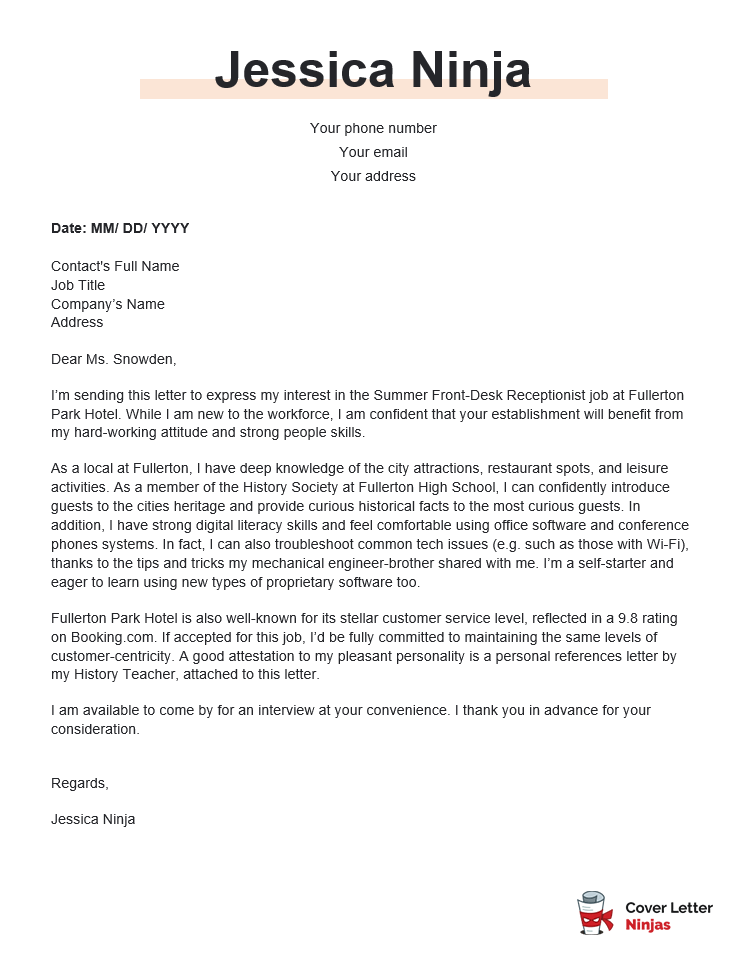 Download example (Word version)
Cover Letter for High School Student First Job Sample – Text Format
Dear Ms. Snowden,
I'm sending this letter to express my interest in the Summer Front-Desk Receptionist job at Fullerton Park Hotel. While I am new to the workforce, I am confident that your establishment will benefit from my hard-working attitude and strong people skills.
As a local at Fullerton, I have deep knowledge of the city attractions, restaurant spots, and leisure activities. As a member of the History Society at Fullerton High School, I can confidently introduce guests to the cities heritage and provide curious historical facts to the most curious guests. In addition, I have strong digital literacy skills and feel comfortable using office software and conference phones systems. In fact, I can also troubleshoot common tech issues (e.g. such as those with Wi-Fi), thanks to the tips and tricks my mechanical engineer-brother shared with me. I'm a self-starter and eager to learn using new types of proprietary software too.
Fullerton Park Hotel is also well-known for its stellar customer service level, reflected in a 9.8 rating on Booking.com. If accepted for this job, I'd be fully committed to maintaining the same levels of customer-centricity. A good attestation to my pleasant personality is a personal references letter by my History Teacher, attached to this letter.
I am available to come by for an interview at your convenience. I thank you in advance for your consideration.

Regards,
Jessica Ninja
Final Tip: Secure a Recommendation
If there is an instructor, previous employer, scout leader, or coach who is willing to write a quick letter of recommendation that can really help your application. It's that extra bit of endorsement that could help you and the interview!