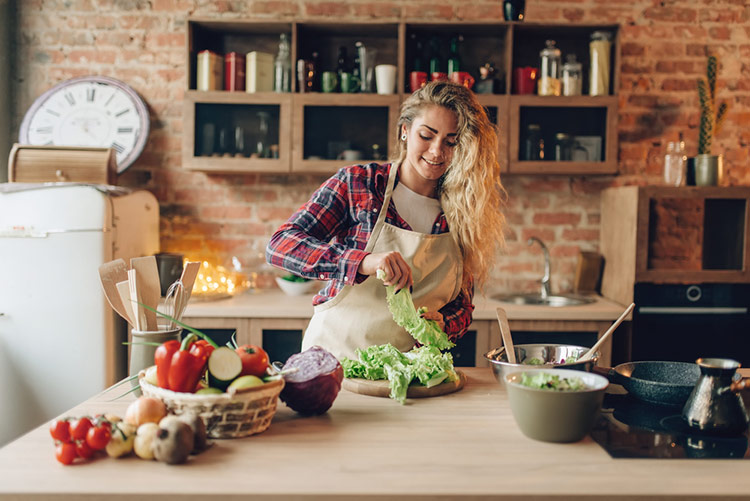 It's scary: You have been out of the workforce for some years. Your peers who began work at the same time and who are still working have moved ahead. You stayed home. You probably are feeling less qualified than others with the same education and work experience, because yours was interrupted.
Now you have the task of developing a resume and, perhaps more importantly, a cover letter that will cause a potential employer to want to look at that resume that has a large gap in it. How do you get this done? The answer will lie in some careful thought and some creativity, in order to engage a reader and pique their interest in you.
Below are four actionable tips to help you organize your thoughts and sit down to write your cover letter, followed by a cover letter sample for homemakers returning to work.
Consider What "Home" Skills You Can Transfer to The Job
You probably did many things that allow you to bring new skills to the table. Perhaps you had a leadership role in a parent organization at your kids' school. Maybe you've hosted major events in that role. If you had solid IT skills, did you use them in any capacity during your time off? Did you take any online courses to keep up your skills? Did you do any freelance work from home such as part-timing as a virtual assistant or graphic designer?
Any of these things will tell a potential employer that you did not just stay at home and cook and clean and allow your skills and your mind to go dormant.
ADVICE FROM OUR EXPERT
---
Use your cover letter to focus on the future, as opposed to the traditional outline of past experience. Clearly outline how much you know about the company and how your contribution will drive high-impact results. This will show your ability to quickly learn new things.

Mary Ford
Executive Career Coach
Think of Your Quantifiable Accomplishments
This one may be tricky because some of them may be outdated. But still, your "career" as a stay-at-home parent probably included quite a few accomplishments that can be quantified. Again, think about your daily chores and consider how these can relate to the new position.

For instance: if you organized a monthly book club with other moms, mention that in your letter in the following manner:
"Launched and chaired a monthly book club that great to 25 members in 3 months. Negotiated a deal with a local cafe to offer a 15% member discount during sessions."
Proactively Address Employment Gaps
Be forthcoming about your career break. Briefly mention the reason for it and then move on to emphasize that your skills are up-to-date and that you are eager to undergo training and learn even more about the changes in your industry. Clearly state why you feel that that the proposed role is just right for you to return to work. Use this cover letter example with employment gaps for further guidance.
Be Confident and Enthusiastic
Don't try to over-explain or apologize for your decision to stay out of the workforce. Such lack of self-confidence majorly undermines your chances of getting called in for the interview. Instead, adopt a confident cheerful tone in your letter that will convey your enthusiasm for the new job.
Homemaker Returning to Work Cover Letter Sample in .docx Format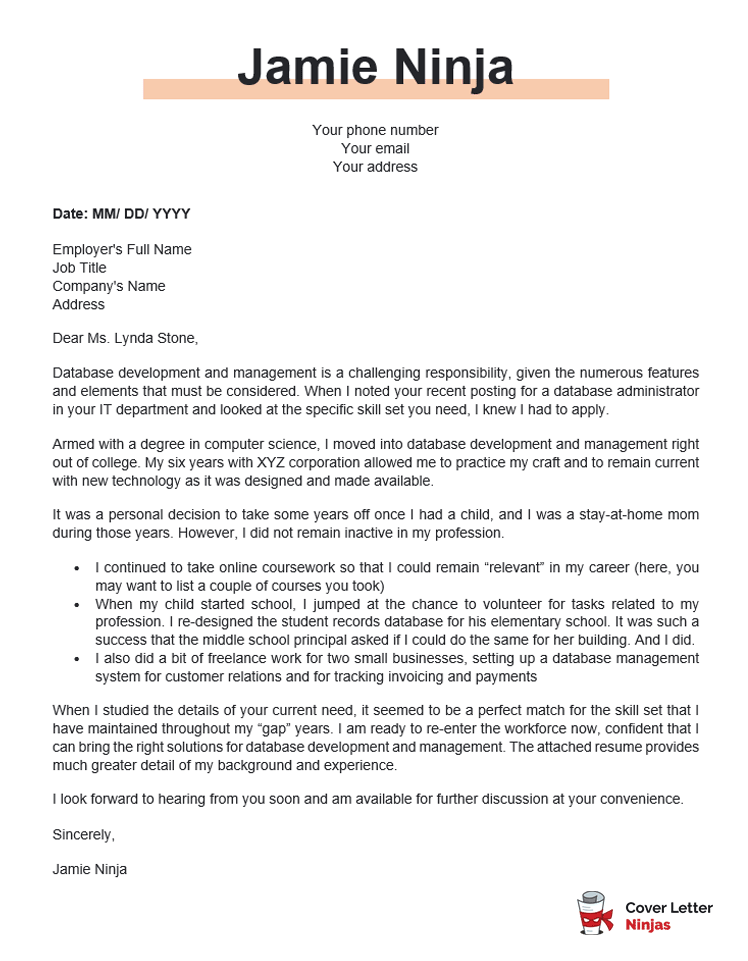 Download example (Word version)
Cover Letter Example for Homemaker Returning to Work – Text Format
Dear Ms. Lynda Stone,
Database development and management is a challenging responsibility, given the numerous features and elements that must be considered. When I noted your recent posting for a database administrator in your IT department and looked at the specific skill set you need, I knew I had to apply.
Armed with a degree in computer science, I moved into database development and management right out of college. My six years with XYZ corporation allowed me to practice my craft and to remain current with new technology as it was designed and made available.
It was a personal decision to take some years off once I had a child, and I was a stay-at-home mom during those years. However, I did not remain inactive in my profession.
I continued to take online coursework so that I could remain "relevant" in my career (here, you may want to list a couple of courses you took)
When my child started school, I jumped at the chance to volunteer for tasks related to my profession. I re-designed the student records database for his elementary school. It was such a success that the middle school principal asked if I could do the same for her building. And I did.
I also did a bit of freelance work for two small businesses, setting up a database management system for customer relations and for tracking invoicing and payments
When I studied the details of your current need, it seemed to be a perfect match for the skill set that I have maintained throughout my "gap" years. I am ready to re-enter the workforce now, confident that I can bring the right solutions for database development and management. The attached resume provides much greater detail of my background and experience.
I look forward to hearing from you soon and am available for further discussion at your convenience.
Sincerely,
Jamie Ninja
Wrap Up
This cover letter example shows how an IT worker is ready to conquer a new role. If you come from a different professional background, be sure to review other cover letter examples offered on our website. All of them come with bonus writing tips that you can adapt for your letter!