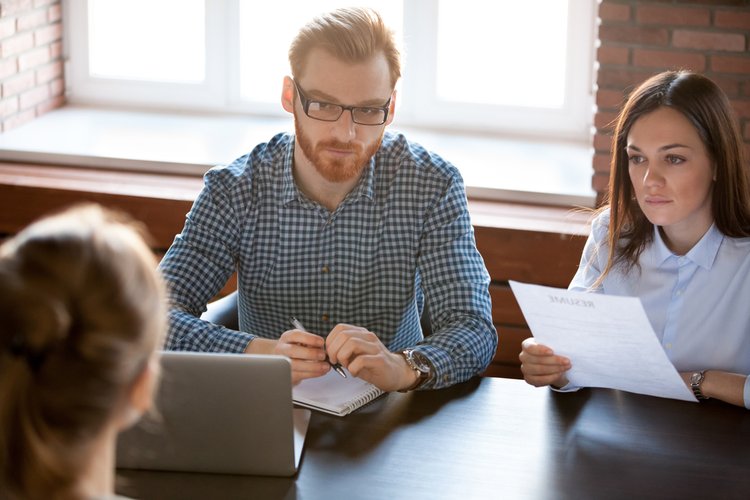 A large corporation may be in the process of recruiting dozens of candidates at any given time. That involves posting employment ads, working with staffing agencies, scheduling interviews, agreeing on role requirements with department heads, and so much more. In such cases, human resources departments employ recruiting coordinators to help keep all of these plates spinning.
This is a great job for a person who is energetic, hyper-organized, and great with people. If that sounds like your thing, it's time to put together an amazing resume and cover letter. We're here to help you with the latter. Check out our cover letter writing tips, and stick around for an amazing recruiting coordinator cover letter sample.
Open With a Line That Sets You Apart
Keep in mind that the human resources manager who reads your cover letter will see dozens of other applicants. These will be written by people who are just as experienced as you. So your first line must be as compelling as possible. Or else, you risk losing the readers' attention immediately.
ADVICE FROM OUR EXPERT
---
As with many recruitment roles, communication and collaboration skills are vital for success. Use your cover letter to demonstrate your capacity in those areas, while offering a professional approach to share your personal story. Demonstrate your qualifications for the position by providing key achievements, metrics, and data to quantify your capabilities.

Claire Webber
Career Consultant, CPCC, CPRW
Here's how you can start your cover letter to make the max impact:
Share a skill that makes you stand out from other applicants.
Provide a statistic about your accomplishments.
Put down some sincere words about your enthusiasm for the company.
For example:
"I'm excited to join the GreenCorps team as I have read about your D&I initiatives and am in awe of your corporate commitment to having at least 30% of minorities, employed at your company by the end of 2022."
Share a Success Story
Your cover letter is the perfect place to share the story of your greatest recruiting success. Maybe you landed a VIP executive for your employer's C-suite. Have you ever dealt with a sudden, large need for new staffing? Pick an example that best showcases your skills, and share it in your cover letter. Here's an example:
"Last year, I was put in charge of recruiting a new CFO for the Rogers Group. Our top choice was not only extremely selective, we also had to navigate a complex outplacement agreement with her current firm. All of this was done while also navigating the complexities of international recruitment. I'm proud to say that I played a leading role in coordinating all of these efforts and that our top choice was brought on board."
Be Specific About Your Skills
Recruiting coordinators may use a wide array of skills to ensure their employers land the best candidates. However, you should limit your cover letter to a small subset of these. Specifically, you should focus on the most exemplary skills. Or those that reflect a particular specialization. For example, you might say:
"I have seven years of experience recruiting technical candidates for a variety of federal agencies. This has left me with unmatched abilities when it comes to helping candidates through the qualifying process, including obtaining security clearances. I'm also capable of creating recruiting strategies that are both effective, and that comply with applicable regulations."
Consider a Template
Every cover letter you write should be carefully personalized to address the specific needs of each potential employer. Just doing that can take a significant amount of your time. Worrying about design aspects like formatting and font choice will only give you more to think about.
Solve that problem by choosing a professionally designed template for your cover letter. This way, you will be able to focus on communicating your interest and experience.
Cover Letter Sample for a Recruiting Coordinator in .docx Format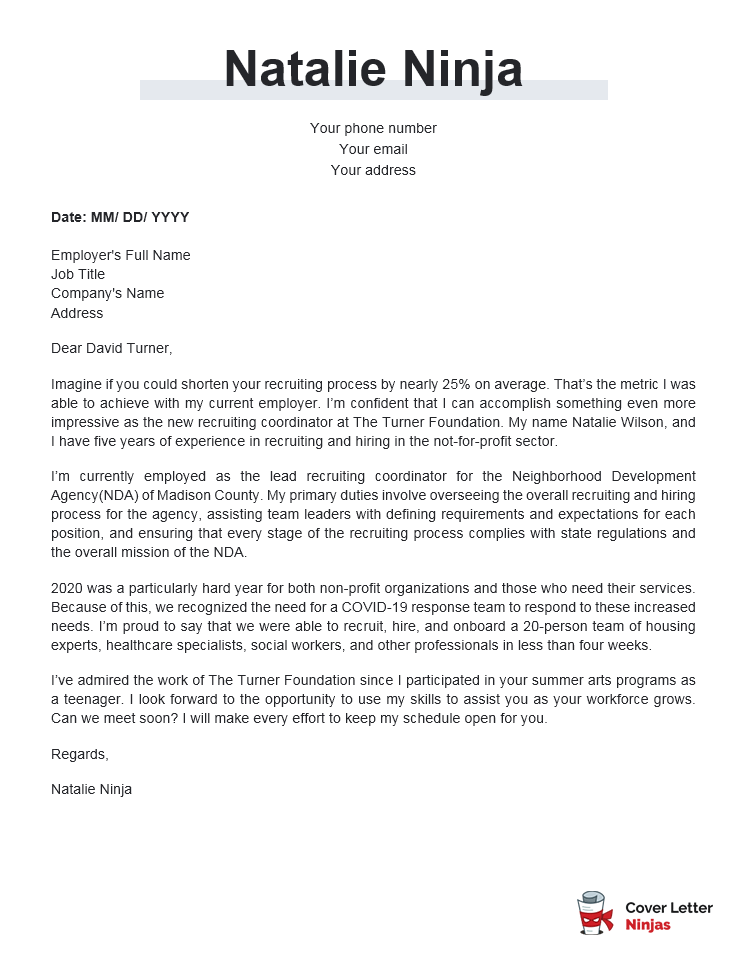 Recruiting Coordinator Cover Letter Example – Text Format
Dear David Turner,
Imagine if you could shorten your recruiting process by nearly 25% on average. That's the metric I was able to achieve with my current employer. I'm confident that I can accomplish something even more impressive as the new recruiting coordinator at The Turner Foundation. My name Natalie Wilson, and I have five years of experience in recruiting and hiring in the not-for-profit sector.
I'm currently employed as the lead recruiting coordinator for the Neighborhood Development Agency(NDA) of Madison County. My primary duties involve overseeing the overall recruiting and hiring process for the agency, assisting team leaders with defining requirements and expectations for each position, and ensuring that every stage of the recruiting process complies with state regulations and the overall mission of the NDA.
2020 was a particularly hard year for both non-profit organizations and those who need their services. Because of this, we recognized the need for a COVID-19 response team to respond to these increased needs. I'm proud to say that we were able to recruit, hire, and onboard a 20-person team of housing experts, healthcare specialists, social workers, and other professionals in less than four weeks.
I've admired the work of The Turner Foundation since I participated in your summer arts programs as a teenager. I look forward to the opportunity to use my skills to assist you as your workforce grows. Can we meet soon? I will make every effort to keep my schedule open for you.
Regards,
Natalie Ninja
Final Tip: Tie in a "Connection"
A "connection" isn't just a shared acquaintance or your point of contact within a company. You can also use your letter to mention how the company's mission or values resonate with you personally, your knowledge of the company products/services, or even tie in some piece of news you've heard about them recently.