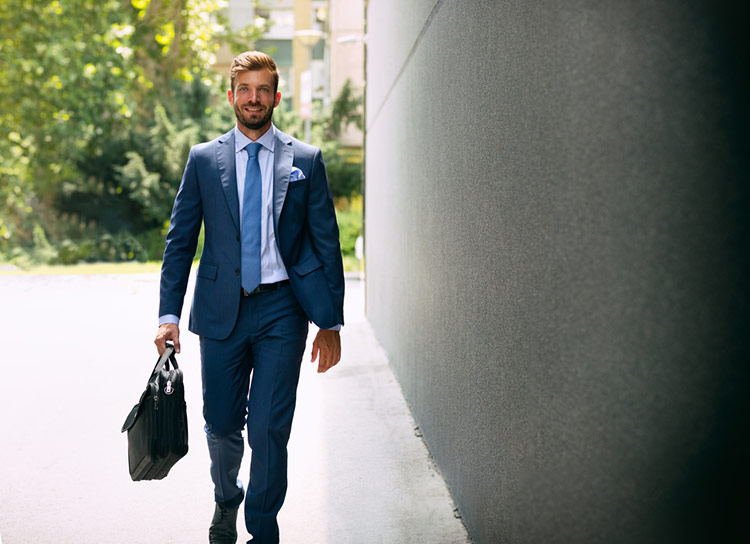 Federal government jobs are known for good pay and attractive benefits. However, to get one, you must navigate a rather demanding job application process and follow all the instructions to the dot. This largely applies to how you should style your resume and cover letter.
In this post, we offer several essential tips just for that, followed by a detailed federal cover letter sample that you can use as a reference.
Keep Your Cover Letter Simple and Business-Like
Your letter shouldn't be longer than one page. Ideally, you need to pack all your information into three-four paragraphs in Times New Roman 12 font (or a similar one).
Your letter should include several specific details such as:
up to date and accurate contact information
information about any prior military service,
reference to whether you have worked in a federal job previously, and what your pay grade was (GS level).
Beyond that, focus on your core skills and work experience. Be brief and avoid any fluff. Use clean formatting and a font that emphasizes professionalism over style. You can also grab a premade cover letter template to avoid struggling with the format. 
ADVICE FROM OUR EXPERT
---
Many federal resumes can be three to five pages long. The cover letter for these positions becomes front and center to summarize experiences and accomplishments on a single page. It is important to keep information relevant, succinct, and specific.

Debi Douma-Herren
Senior Certified HR Professional & Career Coach
Don't Share Personal Information
If you were applying for a job in the private sector, you might open up your letter with a quick personal story or mention hobbies that you think are relevant to the position or the hiring manager. With a federal job, you should avoid that. Instead, stick to experience, skills, and emphasizing your interest in the job.
Further, avoid mentioning specific interests, or associations, especially when they might reveal your gender, religious affiliation, political views, or race. Keep your resume and cover letter as 'blind' as possible so that the hiring authority doesn't have to worry about the appearance of discrimination.
Use The Job Listing as a Reference
Think of the job listing as your study guide for both your resume and cover letter. Scan it for the required qualifications and skills. Later, you can add these as keywords in your cover letter and resume. For your cover letter specifically, highlight the on three-to-five skills from the job posting and build up your narrative around these.
Include All The Elements of a Business Letter
Your cover letter should be serious and business-like. Ensure that it has all of the elements required in a standard business letter. This includes:
A header with your name and accurate contact information.
An introduction that is addressed to the specific hiring manager, the agency, or the hiring committee within that agency. If you address it to a specific person, use the appropriate title and suffix.
A first paragraph where you introduce yourself and share a bit about your current position or education.
A paragraph with your experience and skills as related to the position.
A concluding paragraph stating you are interested in the position and detailing your availability for the interview process.
A professional and appropriate closing.
A Federal Cover Letter Sample in .docx Format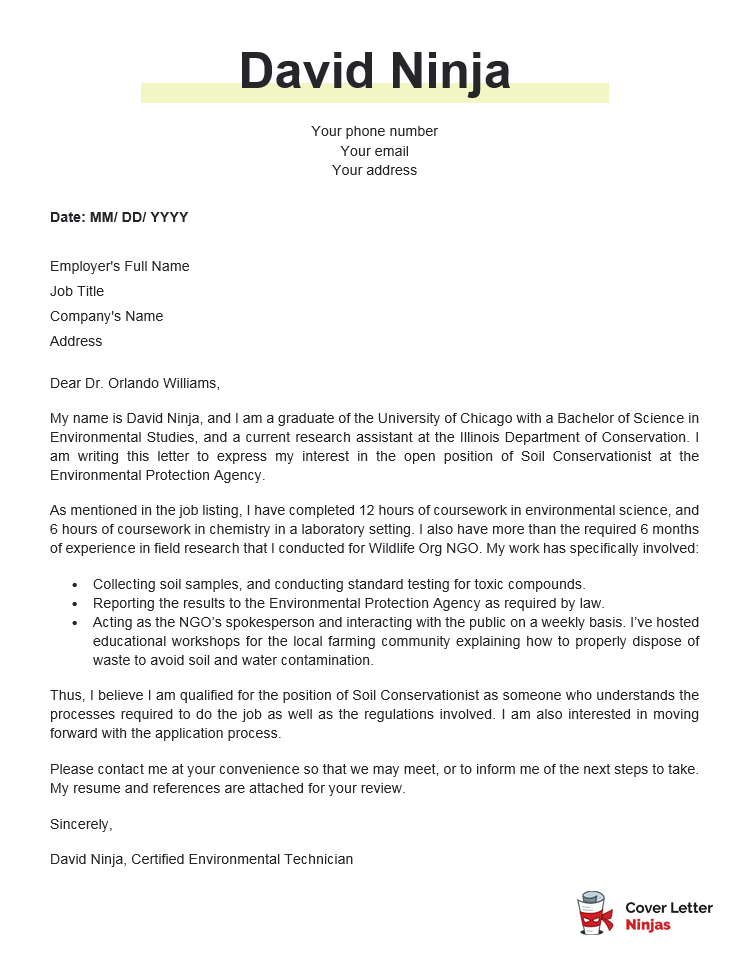 Download example (Word version)
A Federal Cover Letter Example – Text Format
Dear Dr. Orlando Williams,
My name is David Ninja, and I am a graduate of the University of Chicago with a Bachelor of Science in Environmental Studies, and a current research assistant at the Illinois Department of Conservation. I am writing this letter to express my interest in the open position of Soil Conservationist at the Environmental Protection Agency.
As mentioned in the job listing, I have completed 12 hours of coursework in environmental science, and 6 hours of coursework in chemistry in a laboratory setting. I also have more than the required 6 months of experience in field research that I conducted for Wildlife Org NGO. My work has specifically involved:
Collecting soil samples, and conducting standard testing for toxic compounds.
Reporting the results to the Environmental Protection Agency as required by law.
Acting as the NGO's spokesperson and interacting with the public on a weekly basis. I've hosted educational workshops for the local farming community explaining how to properly dispose of waste to avoid soil and water contamination.
Thus, I believe I am qualified for the position of Soil Conservationist as someone who understands the processes required to do the job as well as the regulations involved. I am also interested in moving forward with the application process.
Please contact me at your convenience so that we may meet, or to inform me of the next steps to take. My resume and references are attached for your review.
Sincerely,
David Ninja, Certified Environmental Technician
Final Tip: Be Extra Attentive to The Details
Have you taken all the necessary job application steps? In some cases, you must do more than simply fill out the form and submit your resume. Review the application procedures thoroughly. You may be required to sit for the civil service exam, for example, or provide a certain number of references. Don't miss any important requirements, or you could be excluded from the application pool.
Need More Tips? Check Other Relevant Cover Letter Examples