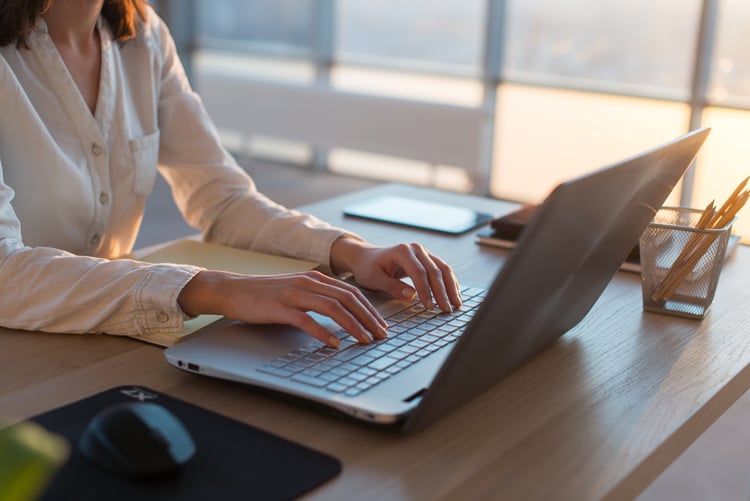 If you submit an article for journal publication, it's good practice to include a cover letter. You can use the letter to introduce yourself and tell the editor why the research you have done is important. Remember, the journal editor will want to know why your work is a perfect fit for their publication and why their audience will benefit from reading it.
If your cover letter and article are of top-notch quality, this increases your chance of making it to the peer review stage. That makes it worth the time you will spend writing and perfecting your cover letter for journal submission.
Not sure where to begin? Take a look below. We've got some great writing tips as well as an example cover letter for journal submission.
Journal Submission Cover Letter Sample in .docx Format
Here is a sample cover letter. Feel free to use it as an aid to composing your own submission!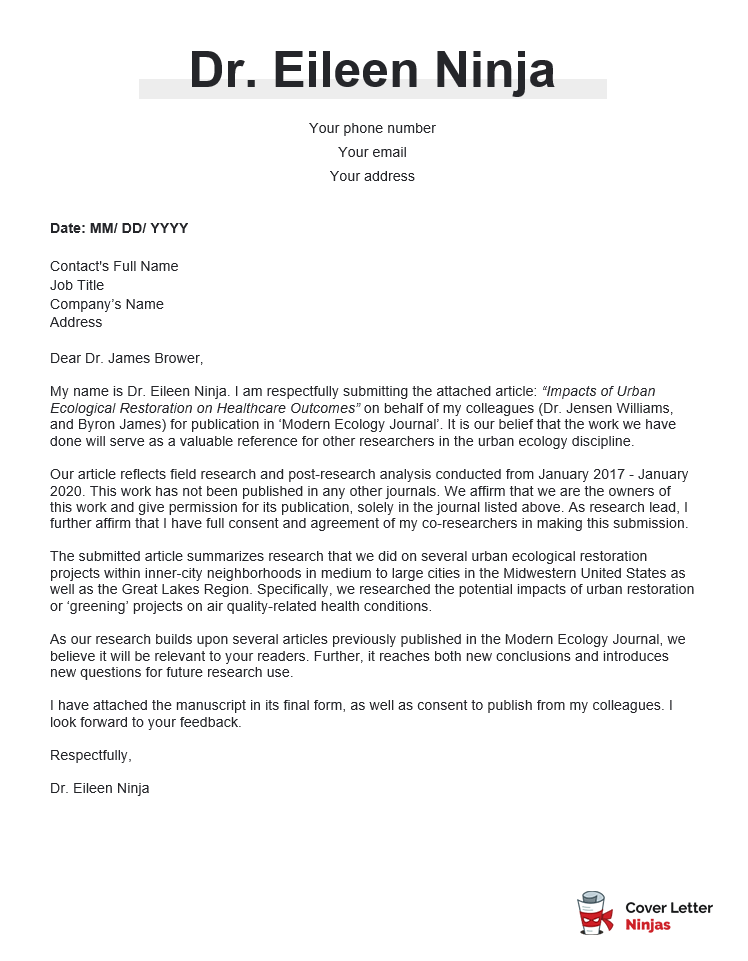 Download example (Word version)
Cover Letter Example For Journal Submission – Text Format
Dear Dr. James Brower,
My name is Dr. Eileen Ninja. I am respectfully submitting the attached article: "Impacts of Urban Ecological Restoration on Healthcare Outcomes" on behalf of my colleagues (Dr. Jensen Williams, and Byron James) for publication in 'Modern Ecology Journal'. It is our belief that the work we have done will serve as a valuable reference for other researchers in the urban ecology discipline.
Our article reflects field research and post-research analysis conducted from January 2017 – January 2020. This work has not been published in any other journals. We affirm that we are the owners of this work and give permission for its publication, solely in the journal listed above. As research lead, I further affirm that I have full consent and agreement of my co-researchers in making this submission.
The submitted article summarizes research that we did on several urban ecological restoration projects within inner-city neighborhoods in medium to large cities in the Midwestern United States as well as the Great Lakes Region. Specifically, we researched the potential impacts of urban restoration or 'greening' projects on air quality-related health conditions.
As our research builds upon several articles previously published in the Modern Ecology Journal, we believe it will be relevant to your readers. Further, it reaches both new conclusions and introduces new questions for future research use.
I have attached the manuscript in its final form, as well as consent to publish from my colleagues. I look forward to your feedback.
Respectfully,
Dr. Eileen Ninja
Journal Submission Cover Letter Writing Tips
Writing a journal article is hard, penning a cover letter is easier. But still, it's nice to have some pointers, right? Take a look at these tips to help ensure your cover letter really nails it.
Keep a Loose Structure in Mind
Most academic journals don't have a specific template for you to use for submission letters. Although, you should research to make sure that is the case.
That said, your letter should follow a loose structure that includes:
Introducing yourself and your fellow researchers.
The title of your article.
A summary of the research.
Your reasons that it will be of use to that journal's readers.
Your methodology.
A statement that you own the work, have the right to submit it and have obtained permission from the other researchers.
A list of attachments.
Think of this as a bit of a checklist that you can keep at the back of your head as you work on the letter.
ADVICE FROM OUR EXPERT
---
A good cover letter can introduce yourself as a respected writer to an editor for a journal submission. Be persuasive to the reader on why your writing should be selected. On top of that, make sure you have met all the submission requirements in the format that is required.

Debi Douma-Herren
Senior Certified HR Professional & Career Coach
Don't Repeat Your Research Abstract
Some researchers make the mistake of copying their research abstract into their cover letter and calling it a day. This is a blunder. Because the reader will still take the time to check it out. So by copying it to your letter, you lose a chance to provide some extra background. 
Instead, describe your research using your own words. Address the main points only. Your goal should be to describe it in a way that is easy to read and understand. Aim for a clear and concise description that is three or so sentences long.
Make it Relevant to The Audience
Your most important task here is to make a compelling case that the journal readers are going to be interested in reading about your research. Remember that there are thousands of academic journals. Each of these deals with a very specific subset of an academic discipline. You must research carefully to ensure that you are reaching out to the most relevant publications. 
Once you have done that, you should be able to easily describe why it would be relevant. Keep in mind that the key points are going to be, how your work expands on other research, how it draws conclusions that will be relevant to other researchers, or how it reveals questions for researchers to explore in the future.
Final Tip: Keep it Brief
Remember that your job is to summarize your research in order to show the publisher that it is well-done and relevant to their audience. If you find that your letter is more than one page long, chances are you need to do a bit of editing. Remember, the details are best left to your research article, and that will be reviewed by your peers.