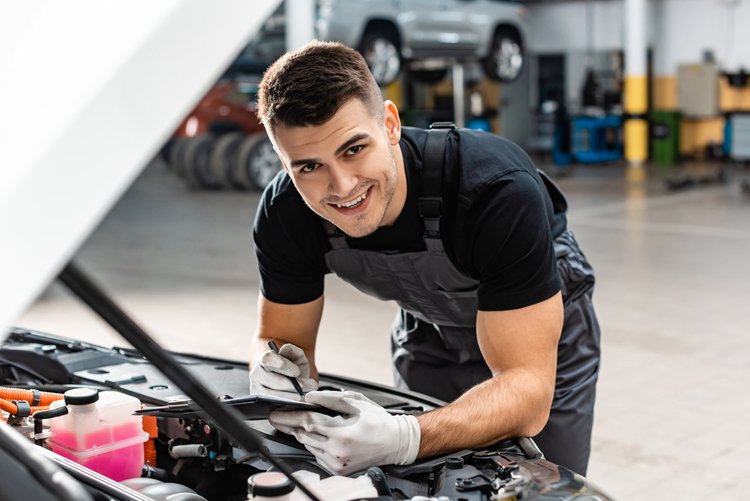 A good mechanic is an absolute asset for any employer. In fact, a talented repair-person can earn loyal customers who will follow them from shop to shop. In this field, generalists can make great money and specialists even more.
However, it takes more than skills and your own set of tools to land a job. You'll need to sell yourself with a resume and cover letter. How do you go about writing that letter? Here are our tips, followed by a cover letter example for a mechanic.
Focus on The Employer's Needs
We understand. You love cars and have probably been excited about mechanics since you were young. Your passion is great, and you should share it. Just avoid focusing on it. Remember that your goal is to show potential employers that you have the skills and experience to help them meet their service goals.
So in your letter mention why hiring you can be good for their business. Can you bring in more customers? Help them service cars faster or take on more rare models? Or perhaps you have some complementary mechanical engineering skills?
ADVICE FROM OUR EXPERT
---
Organize your experience to speak to the strengths you possess that would contribute to a successful working environment in the mechanical field. Tell your professional story, detailing your communication, problem-solving, and time management skills in team settings to highlight how you'd benefit the company.

Claire Webber
Career Consultant, CPCC, CPRW
List Your Most Relevant Certifications
It's difficult to land a great job without having a mechanic's certification from a trusted authority such as ASE. Beyond that experienced mechanics also often possess several other certificates to indicate their skill in working on specific makes of vehicles, or that they specialize in different systems. There are now specializations in alternative fuel engines too.
Do some research and identify which of these certificates are going to be most important to your potential employer. Mention these in your letter, and add the rest of your qualifications to your resume. This ensures that the hiring manager knows you meet their criteria.
Mention Your Plans For Further Education
You're a professional in a rapidly changing field. Successful mechanic shops and car repair centers succeed when their teams know the latest technologies and techniques. This is why you should indicate how you are ensuring that your skillset remains up-to-date.
If you are currently involved in any training or plan to enroll in an engineering program in the future, let the hiring manager know. Here's a quick example:
"I am slated to begin the auto diagnostics and repair course of study at Montana County community college next year. I hope to obtain my associate's degree, and learn even more about the repair of small and medium-sized passenger vehicles."
Include The Right Words and Phrases
Keywords are important words and phrases that hiring managers will look for in your cover letter and resume. They give clues that you have the required skills and experience. To determine which keywords to include, use the job listing. For example, if the ad mentions that you should have experience working with Anti-Lock brake systems, you should mention that in your cover letter.
Next, infuse your letter with relevant action verbs. These will also catch the reader's eye, and make your writing more engaging. Here are some great action words for mechanics:
Troubleshoot
Diagnose
Install
Repair
Inspect
Gauge
Assemble
Service
Research
Test
Explain
Analyze
Build
You can also browse cover letter examples for other professions to pick out even more great verbs for your letter.
Cover Letter Sample For Mechanic in .docx Format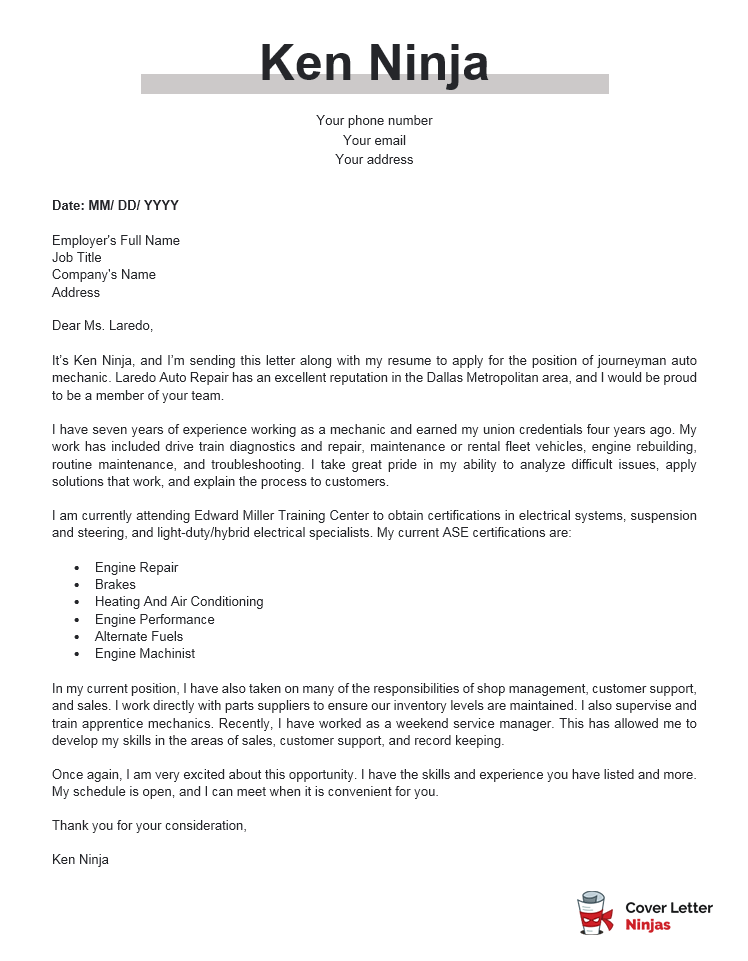 Download example (Word version)
Cover Letter Example For Mechanic – Text Format
Dear Ms. Laredo,
It's Ken Ninja, and I'm sending this letter along with my resume to apply for the position of journeyman auto mechanic. Laredo Auto Repair has an excellent reputation in the Dallas Metropolitan area, and I would be proud to be a member of your team.
I have seven years of experience working as a mechanic and earned my union credentials four years ago. My work has included drive train diagnostics and repair, maintenance or rental fleet vehicles, engine rebuilding, routine maintenance, and troubleshooting. I take great pride in my ability to analyze difficult issues, apply solutions that work, and explain the process to customers.
I am currently attending Edward Miller Training Center to obtain certifications in electrical systems, suspension and steering, and light-duty/hybrid electrical specialists. My current ASE certifications are:
Engine Repair
Brakes
Heating And Air Conditioning
Engine Performance
Alternate Fuels
Engine Machinist
In my current position, I have also taken on many of the responsibilities of shop management, customer support, and sales. I work directly with parts suppliers to ensure our inventory levels are maintained. I also supervise and train apprentice mechanics. Recently, I have worked as a weekend service manager. This has allowed me to develop my skills in the areas of sales, customer support, and record keeping.
Once again, I am very excited about this opportunity. I have the skills and experience you have listed and more. My schedule is open, and I can meet when it is convenient for you.
Thank you for your consideration,
Ken Ninja
Final Tip: Don't Forget to Mention Your Soft Skills
At many shops, mechanics do double and triple duty. In addition to repairing cars, they may answer customer calls, upsell products and services, and deal with various vendors. If not, you will still be expected to work cooperatively and collaboratively with other team members. This requires you to have various 'soft' skills. These are sales, teamwork, negotiation, conflict management, and communication.