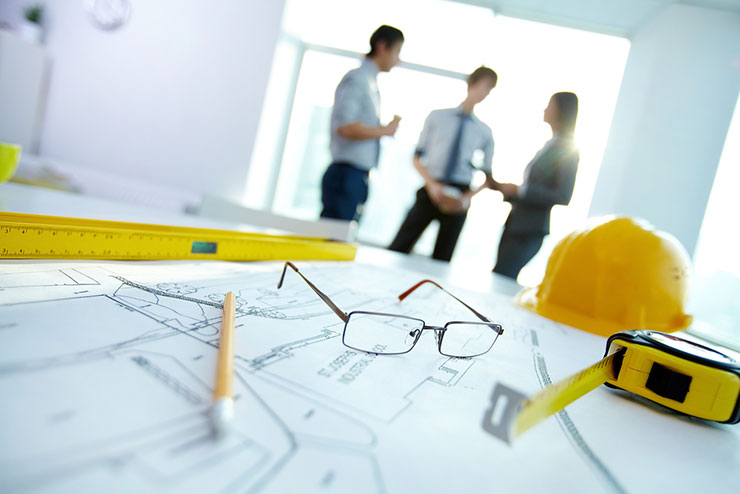 As an engineer, you are knowledgeable, detail-oriented, and you possess a variety of important technical skills. This is how you can execute complicated projects, troubleshoot issues, and come up with creative solutions to so many problems. Now, you are on the search for a new job. It's time to apply your analytical skills and creativity to this problem as well.
To land a lucrative job as an engineer, you have to make it through the early stages of the hiring and recruiting process. This begins with your application packet. Of course, you know that your CV or resume must be on the ball. Now, it's time to focus on the other element of your packet, your cover letter.
A good cover letter introduces you to the hiring manager, expresses your passions and qualifications, and allows you to begin the process of arranging an interview. In the paragraphs below, you can read several tips for accomplishing this. In the end, there will be a great engineering cover letter sample.
Think Like an HR Person
In most cases, the first person to see your cover letter won't be a fellow engineer. It will be an HR staffer whose job it is to determine very quickly if you should move forward as an applicant. The wrinkle? Most don't really understand engineering. As well, they have to read dozens of other cover letters. You have to understand their needs and write your cover letter accordingly. You can do this by following these steps:
Use the job listing to gather important keywords, and place them in your cover letter.
Put the most important items near the top of your cover letter.
Use short paragraphs, bulleted lists, and plenty of white space to make your cover letter easy to read.
Make your contact information stand out.
Now, keep in mind that there is a good chance that someone with engineering knowledge will read your cover letter eventually. You just want to be certain your letter is 'user-friendly'.
ADVICE FROM OUR EXPERT
---
Opportunities within the technical field tend to be highly competitive in terms of the hiring landscape. To ensure your application documents rise to the top of the stack for consideration, leverage a powerful cover letter to demonstrate why you would be the best value add to your potential new employer, both technically and culturally.

Claire Webber
Career Consultant, CPCC, CPRW
Include The Proper Information in Your Heading
Remember that professionalism is key and that this is a formal business document. You'll need to include your name, job title, email, and phone number. Next, include the same information for the person you are writing too. Don't worry about your snail mail. There's no reason to include this anymore.
Next comes the salutation. You should personalize your letter, and address it to the hiring authority. Now, keep in mind that the hiring authority is likely to be someone who works in the department to which you are applying. That means that even though an HR team member may be the first to read your cover letter, you should address your letter to the person who will ultimately decide whether or not they want you to work with them. Fortunately, finding this information is pretty easy. Check the company website, review the job listing, or hit up LinkedIn.
Avoid a Generic Opening
The primacy/recency effect means that people tend to remember the first (primacy) and last (recency) things that they see or read. Use this to your advantage, and write a compelling opening paragraph. Here's a poor example of an opening paragraph:
'My name is David Smith. I am an engineer with 5 years of experience. I am interested in your position as a lead electrical engineer.'
The problem is that this introduction is boring. It most likely describes almost every person who is applying for the position. It doesn't help the applicant stand out at all. Now, take a look at an opening that has a bit more 'tooth' to it:
'Backstreet engineering and design is an innovative company. As a Columbus Engineering Organization award-winning civil engineer, I believe I have the skills it takes to execute the position of lead engineer flawlessly.'
With an opening like this, the applicant grabs the attention of the reader. They confidently position themselves as a great choice for the job and give the hiring manager a positive tidbit about their abilities.
Write a Powerful Closing
Now the recency part of the effect comes into play. End your cover letter with a great closing paragraph. Be confident. Write as if you know an interview is a next step. Don't say, 'If you are interested in interviewing me…' Instead, write 'Let's meet soon for an interview over lunch!'.
Engineering Cover Letter Example – Text Format
Take a look at this brief sample letter. It is written for a junior or entry-level engineering position.
Dear Rob Sabala,
Acme Engineering needs Junior Engineers to help complete a variety of road construction projects. Not only do I have an honors degree in Civil Engineering, but I also have three years of experience as a road crew worker, surveyor, and supervisor. I truly understand road and highway construction from every angle. I'd love to bring my talents to your company to start my engineering career.
I have used AutoCAD 4.0 extensively. In addition to this, I have experience as a tolerance tester, and I have worked on several road construction projects involving high traffic volume spans. In the past year, I have worked as an engineering technician intern for the Minnesota State Department of transportation.
Let's meet for lunch to discuss your needs and expectations. I'm very excited about this opportunity, and I'm ready to move forward in the application process.
Sincerely,
Gina Ninja
Engineering Cover Letter Sample in .docx Format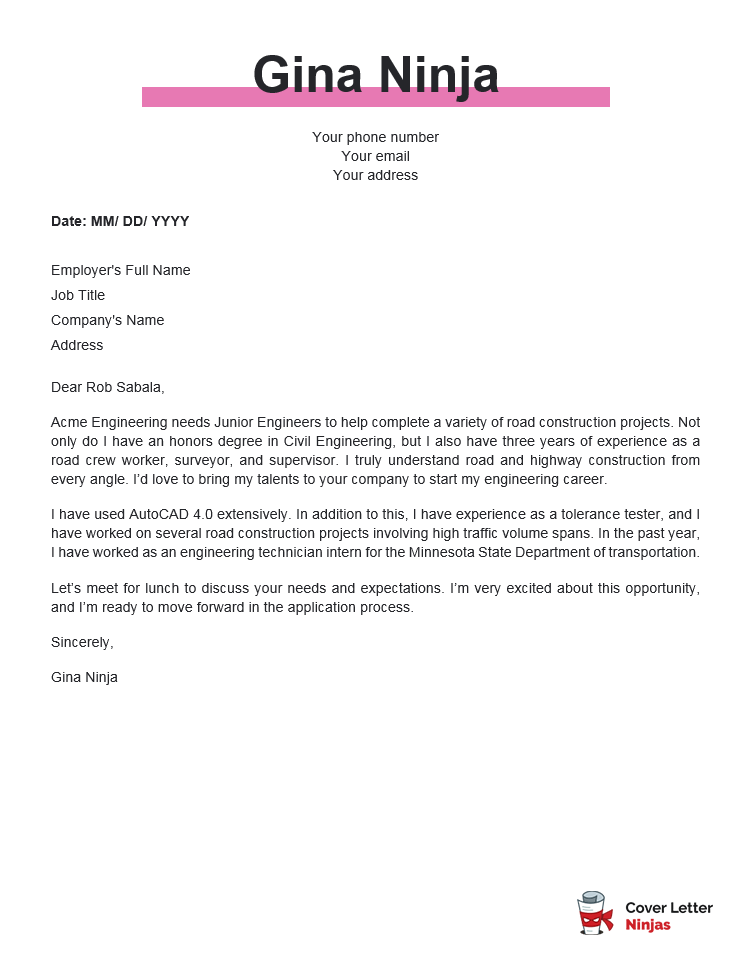 Download example (Word version)
Are You After a Specific Engineering Role? Check More Cover Letter Example:
Final Thoughts
Don't forget to be descriptive. Use examples to demonstrate your qualifications. It makes your cover letter a bit more relatable, something that's important in fields that tend to be a bit 'dry' and technical.