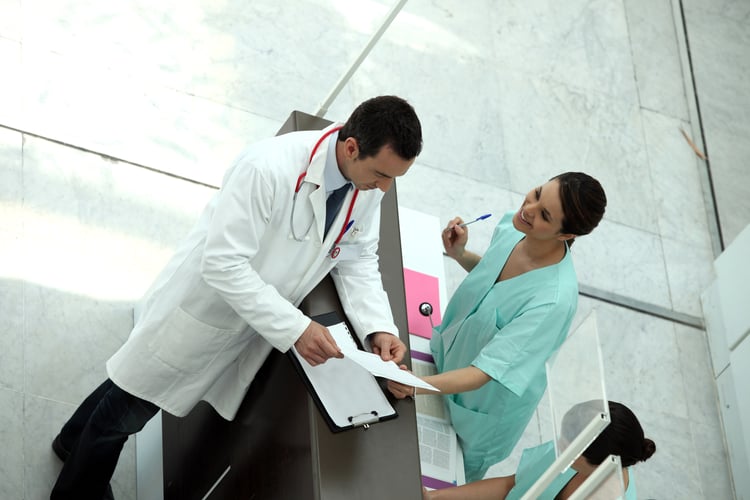 Medical scribes help physicians and other patient caregivers focus on their jobs instead of doing mundane administrative and clerical tasks. They gather information about patients, assist with completing forms, even record things as they happen during emergency events. 
To do the job of a medical scribe, you have to be focused, detail-oriented, and familiar with a range of standard medical processes and procedures. If that already sounds like you, great! All that is left is persuading the hiring decision-makers in your skills. Your resume will do some of the "talking", but use the cover letter to do the "heavy lifting" — aka sell you as the ideal candidate for the job.
So how do you write a compelling cover letter for a medical scribe job opening? Use our sample and extra writing tips as guidance!
Medical Scribe Cover Letter Sample in .docx Format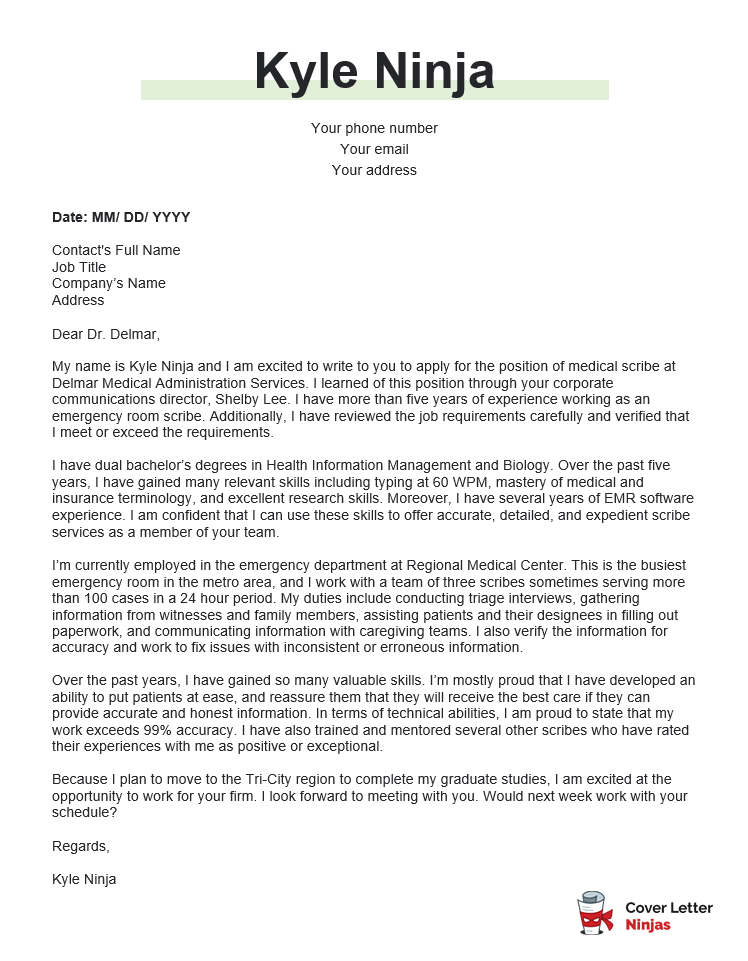 Download example (Word version)
Cover Letter Example For Medical Scribe – Text Format
Dear Dr. Delmar,
My name is Kyle Ninja and I am excited to write to you to apply for the position of medical scribe at Delmar Medical Administration Services. I learned of this position through your corporate communications director, Shelby Lee. I have more than five years of experience working as an emergency room scribe. Additionally, I have reviewed the job requirements carefully and verified that I meet or exceed the requirements.
I have dual bachelor's degrees in Health Information Management and Biology. Over the past five years, I have gained many relevant skills including typing at 60 WPM, mastery of medical and insurance terminology, and excellent research skills. Moreover, I have several years of EMR software experience. I am confident that I can use these skills to offer accurate, detailed, and expedient scribe services as a member of your team.
I'm currently employed in the emergency department at Regional Medical Center. This is the busiest emergency room in the metro area, and I work with a team of three scribes sometimes serving more than 100 cases in a 24 hour period. My duties include conducting triage interviews, gathering information from witnesses and family members, assisting patients and their designees in filling out paperwork, and communicating information with caregiving teams. I also verify the information for accuracy and work to fix issues with inconsistent or erroneous information.
Over the past years, I have gained so many valuable skills. I'm mostly proud that I have developed an ability to put patients at ease, and reassure them that they will receive the best care if they can provide accurate and honest information. In terms of technical abilities, I am proud to state that my work exceeds 99% accuracy. I have also trained and mentored several other scribes who have rated their experiences with me as positive or exceptional.
Because I plan to move to the Tri-City region to complete my graduate studies, I am excited at the opportunity to work for your firm. I look forward to meeting with you. Would next week work with your schedule?
Regards,
Kyle Ninja
How to Write a Cover Letter for a Medical Scribe
Want to create a similar letter for your application? That's easy! Use the helpful tips below and browse more cover letter examples on our website for inspiration!
Highlight Your Most Relevant Skills and Experience
Your cover letter is your introduction and an opportunity to show that you are qualified for the advertised position. But which skills should you focus on "promoting"?
Use the job listing as a guide. Pick the keywords the employer users in the candidate requirements section and transfer these to your cover letter. Aim to include at least 2-3 skills. Remember, that you can use your resume to list other skills and experience that may be relevant, but not quite as important.
ADVICE FROM OUR EXPERT
---
Since Medical Scribes are responsible for accurate doctor/patient interactions, the job requires a significant amount of detail. In your cover letter, highlight this attribute by giving a specific example of a situation where your ability to pay attention to the fine details benefited an organization.

Debi Douma-Herren
Senior Certified HR Professional & Career Coach
Show Your Work Style and Personality
Think about your own personality and approach to work as a medical scribe. Chances are you are an organized multi-tasker. You are capable of handling stressful situations and dealing with patients who may be confused, frustrated, or in pain. The way you handle these situations reflects your personality and work style. Use your cover letter to showcase these, and prove that you are a good fit for the job.
Set The Stage For An Interview
Don't wait and hope for that phone call or email to come. Instead, close your cover letter by suggesting a specific meeting time for the interview. You can also indicate that you will be proactive by getting back in touch in the near future. This can motivate the hiring manager to take action.
Make A Personal Connection
Did a physician you know recommend you for the job? Have you connected with the hiring manager on LinkedIn or another platform? Do you have associates in common, or did you attend the same university? Perhaps you were both at a recent event? Slip a mention of the above to grab their attention. 
Final Tip: Readability Is Key
If your cover letter is difficult to read, the hiring manager isn't going to bother continuing with your application. Start by selecting an attractive format. Carefully check your letter for spelling and grammar mistakes. Use short sentences, plenty of space, and bulleted lists where it makes sense. Finally, have someone read your letter so that you have an objective opinion on whether it communicates what you intend it to.
Check More Relevant Cover Letters