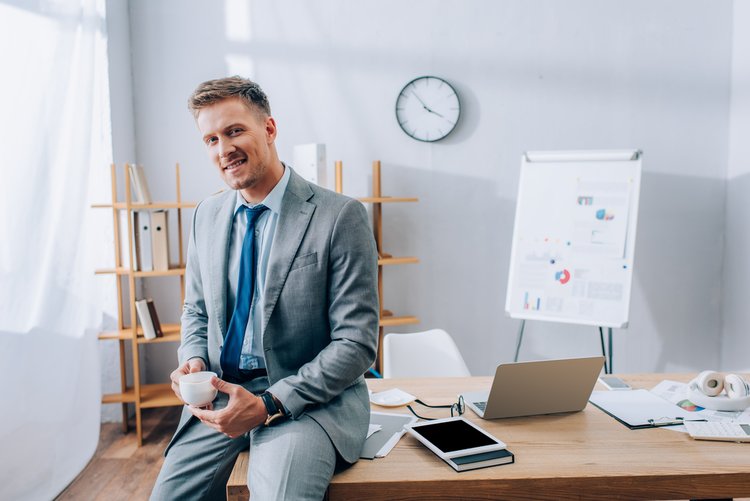 Many companies have now realized that the best way to profitability is by investing in customer retention and customer success. In other words, ensure that they get the best use out of their product(s) or service(s) during onboarding and beyond that.
Considering that nearly 90% of businesses now compete on CX, it should come as no surprise that Customer Success Specialists are in high demand. If you have a background in customer service and want to take your career towards product management, this can be a great starting point for you. So do you make that happen? Well, you gotta write a great cover letter! To assist you with that, here are several clever tips, followed by a customer success cover letter sample.
Highlight Relevant Customer Experience Information
What should you do if you're seeking an entry-level position in the customer success field or transitioning from a customer service role? In that case, use any relevant experience you have in the areas of customer support and customer experience. Many of these skills will translate nicely into customer success, as long as you detail your experience the right way. Consider this:
"In my five years as a customer service professional, I've learned that my job isn't to simply solve customer problems. Instead, I prefer to help them use the product they've purchased so they maximize the benefit they receive. I also look for ways to assist in improving the product experience for every consumer."
Share Some Statistics to Back Up Your Claims
One of the better things about working in customer success is that you can really quantify your accomplishments. There's no need to state that you are 'good' at something, or that you've 'helped' your company. These generalities are meaningless.
Instead, add specific numbers to your cover letter to really add meaning to your achievements, even if they are from other backgrounds such as retail or sales. Consider using a bulleted list like the following:
Increased customer retention rate by 25%.
Created an onboarding program with an 83% participation average.
Boosted customer satisfaction results by 15%.
Increased sales of complementary products and services by 33%.
ADVICE FROM OUR EXPERT
---
It makes sense to highlight your soft skills and relationship management in a customer success cover letter. But recruiters are also looking for someone that has the hard skills with technology. A cover letter is a great opportunity bring attention to your ability to navigate programs easily and ability to learn new technology.

Debi Douma-Herren
Senior Certified HR Professional & Career Coach
Emphasize Your Company Advocacy Success
Customer Success isn't a sales job. It's more of an advocacy position. Basically, your goal is to show customers how your products can be used to meet their varying scope of needs, provide them with extra training, and otherwise show how your company is vested in having them succeed. To some extent, it's a blend of marketing and account management.
So present your product evangelists skills within your cover letter. Here's how your story may go:
"At my current position with Devonshire Software, I realized that many of our customers were to use our software because they didn't believe it could succeed in the long-term. So I took it as my priority to suspend their disbelief by creating a public product roadmap for the product, showing how we deliver on all our promises and feature requests. I'd love to apply a similar approach to your company to strengthen the confidence of your customers."
Show Product Knowledge, Paired with Enthusiasm
In many instances, a customer's dissatisfaction with one product or service becomes their dissatisfaction with the company as a whole. Your job is to prevent such scenarios. But to be genuinely helpful, you also need to gain an expert-level mastery of every product or service you're responsible for.
Can you learn new technologies quickly? Are you capable of discovering best practices for products? What about curating custom recommendations and processes for VIP customers? If you can do these things, you are more likely to find success in this field. If you're a true enthusiast, that's even better!
Customer Success Cover Letter Sample in .docx Format
Here's a letter for someone who is applying for a leadership position on a customer success team.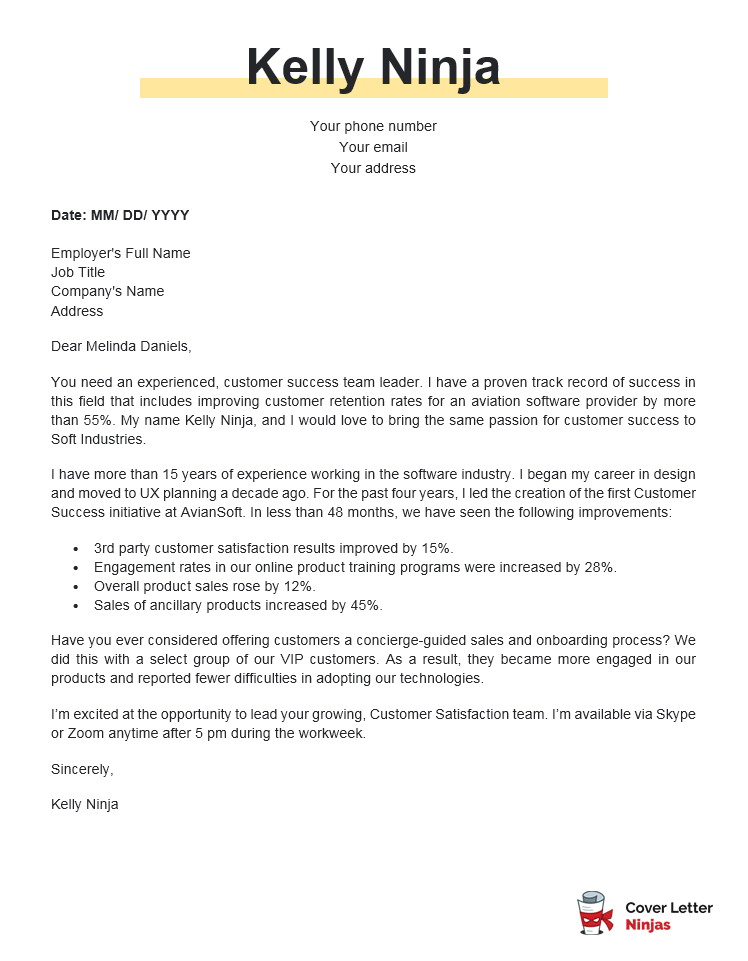 Download example (Word version)
Customer Success Cover Letter Example – Text Format
Dear Melinda Daniels,
You need an experienced, customer success team leader. I have a proven track record of success in this field that includes improving customer retention rates for an aviation software provider by more than 55%. My name Kelly Ninja, and I would love to bring the same passion for customer success to Soft Industries.
I have more than 15 years of experience working in the software industry. I began my career in design and moved to UX planning a decade ago. For the past four years, I led the creation of the first Customer Success initiative at AvianSoft. In less than 48 months, we have seen the following improvements:
3rd party customer satisfaction results improved by 15%.
Engagement rates in our online product training programs were increased by 28%.
Overall product sales rose by 12%.
Sales of ancillary products increased by 45%.
Have you ever considered offering customers a concierge-guided sales and onboarding process? We did this with a select group of our VIP customers. As a result, they became more engaged in our products and reported fewer difficulties in adopting our technologies.
I'm excited at the opportunity to lead your growing, Customer Satisfaction team. I'm available via Skype or Zoom anytime after 5 pm during the workweek.
Sincerely,
Kelly Ninja
Final Tip: Offer a Customer Onboarding Insight
To make your cover letter even more memorable, throw in a quick improvement suggestion or an insight the employer could put to an immediate test. Doing so majorly increases your odds of getting a callback!
P.S. If you are still dealing with writer block? Go check other amazing cover letter examples that we published. We've got 100+ more actionable samples to get you inspired!