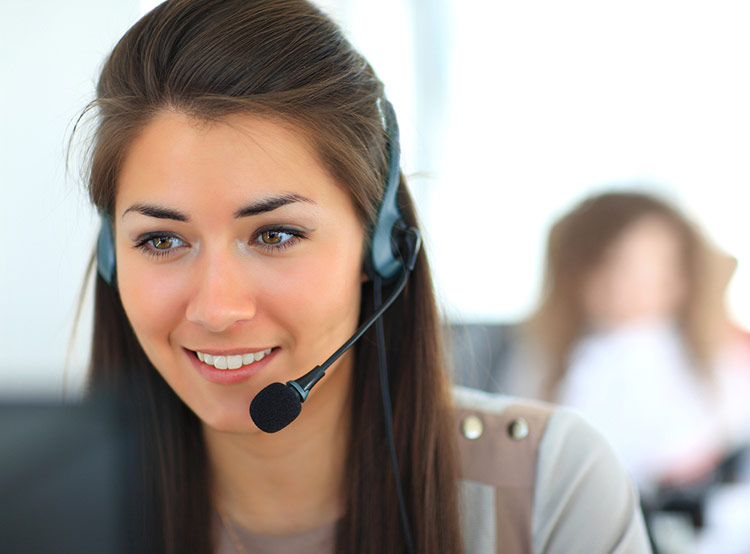 Good customer service is a pillar for any successful business, especially when CX is a competitive advantage of most modern companies. Today, most need empathetic, professional, customer service staff to ensure their customers are treated well, and that any problems are solved professionally and amicably.
If you are searching for a job in the customer service niche, you must be able to present a compelling and professional cover letter. The tips provided below will help you accomplish that goal. Afterward, you can take a look at our customer service representative cover letter sample to get even a better sense of how to style your application.
Show Your Passion For Customer Service
It takes a special person to deliver a great customer service experience or to turn a frustrated customer into a happy one. Open with a few sentences that describe your passion for helping others. Then, segue into your desire to work for this company in particular. Finally, list the reasons you are a fit for the position.
Remember that it is okay to talk about your own career goals. Yes, your focus should be on what you can do for your future employer, but most hiring managers would rather hire someone who sees a future with their company. Don't be afraid to mention how your career goals align with the goals of the company. For example, you might say that you see yourself transitioning to a customer success role in the future.
ADVICE FROM OUR EXPERT
---
Take great care in tailoring your cover letter to identify areas of alignment between your background and your potential new opportunity. Speak professionally and genuinely to the specific accomplishments and value you present as a potential new employee.

Claire Webber
Career Consultant, CPCC, CPRW
Talk About Your Metrics
Every good customer service manager has a passion for metrics. So, bring on the numbers. What is your first call resolution percentage? Are you scoring in the top 10% when it comes to customer ratings? What about your mystery shopping scores? Now is the time to do a little bit of bragging about your successes. Just remember that numbers are key. So quantify your remarks with real numbers. This will prove that you can get results that make a real difference in a company's customer service metrics.
Match Your Experience With The Job Listing
Read the job listing carefully. Then find a relevant anecdote or experience to show how your experience matches the requirements of the job. Be sure to add relevant keywords. This will help you if your application is scanned through an applicant tracking system. It will also be helpful if the first person scanning your cover letter is looking for specific keywords. Consider using bulleted lists to really ensure that your keywords stand out!
Try to Find a Personal Connection
Name-dropping can be a good thing! Did you hear about this job from a coworker or a mutual acquaintance? Maybe you share the same alma mater with the hiring manager. People naturally seek out connections with one another, and if someone in the hiring team feels a connection to you, this will only help your chances.
Write a Powerful Closing Paragraph
Everyone knows that a customer service position is at least something of a sales position. Show that you know how to close deals with confidence. Don't ask for a return phone call or email. Instead, write as if you know an interview is inevitable. Rather than writing 'can we meet for an interview at your convenience?', write 'when you are ready to meet I am available by phone or email!'. This encourages the hiring manager to think in terms of 'when' not 'if'.
Customer Service Cover Letter Example in .docx Format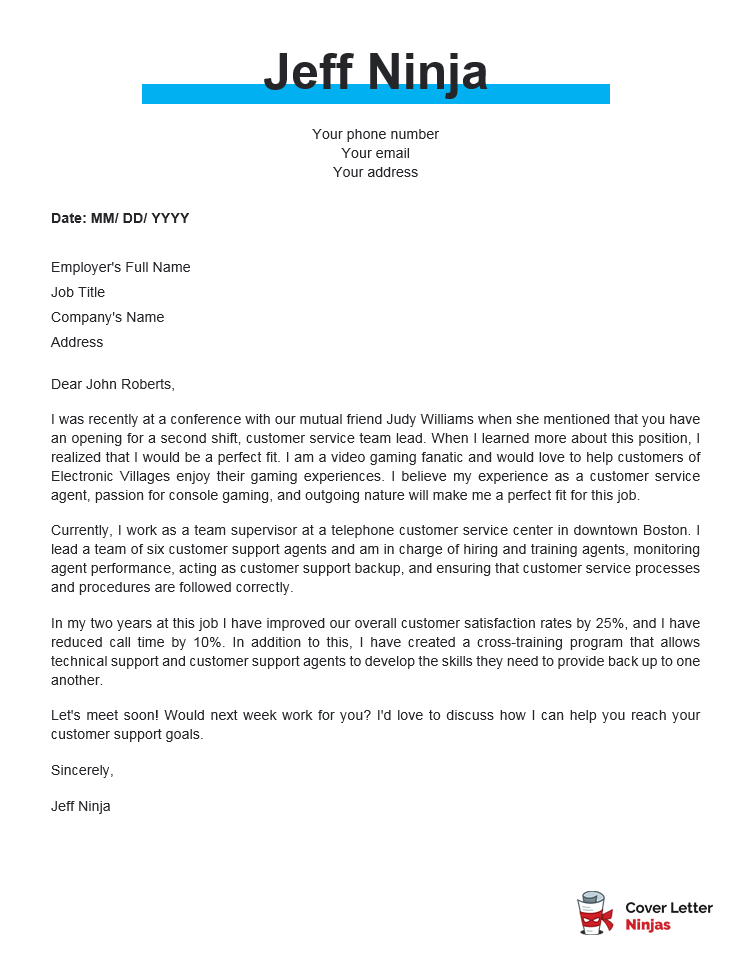 Download example (Word version)
Customer Service Cover Letter Sample – Text Format
Dear John Roberts,
I was recently at a conference with our mutual friend Judy Williams when she mentioned that you have an opening for a second shift, customer service team lead. When I learned more about this position, I realized that I would be a perfect fit. I am a video gaming fanatic and would love to help customers of Electronic Villages enjoy their gaming experiences. I believe my experience as a customer service agent, passion for console gaming, and outgoing nature will make me a perfect fit for this job.
Currently, I work as a team supervisor at a telephone customer service center in downtown Boston. I lead a team of six customer support agents and am in charge of hiring and training agents, monitoring agent performance, acting as customer support backup, and ensuring that customer service processes and procedures are followed correctly.
In my two years at this job I have improved our overall customer satisfaction rates by 25%, and I have reduced call time by 10%. In addition to this, I have created a cross-training program that allows technical support and customer support agents to develop the skills they need to provide back up to one another.
Let's meet soon! Would next week work for you? I'd love to discuss how I can help you reach your customer support goals.
Sincerely,
Jeff Ninja
Final Thoughts
It's time to close out with one last tip. Remember that your cover letter has its own function, it isn't just an extension of your resume. Don't repeat the points you have to make in both documents. Leave your work history and education on your resume. Talk about your passions and accomplishments in your cover letter.