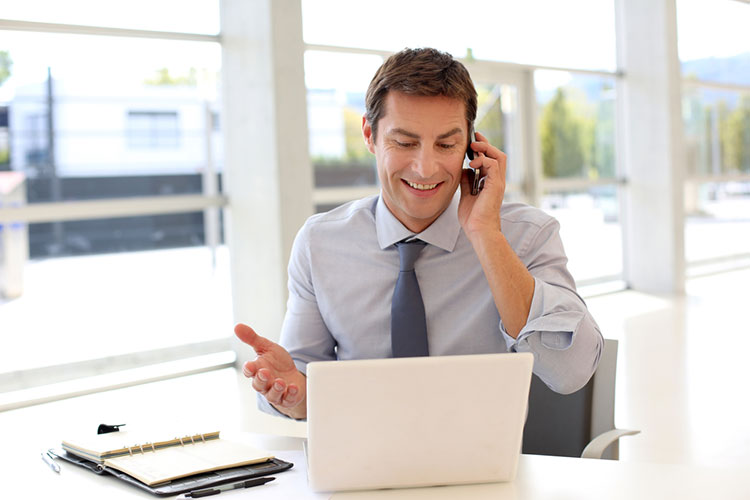 You can sell products and services, but can you sell yourself to an employer? Your cover letter is your first point of contact for most potential employers. It's your chance to leave a great first impression, and earn a call back for an interview.
This post offers some actionable tips for writing your cover letter, and a great salesperson cover letter sample you can use to model your application.
Open With Your Most Compelling Point
Think of your most powerful selling. Maybe you have decades of experience, or you have recently won a major sales award at your current job. Whatever it is that will really make you stand out should be used as the opening line of your cover letter.
Make Your Letter Visually Appealing
If you work in sales and marketing, you know how to use visuals to your advantage. Now, apply these same principles to your cover letter. Now, you shouldn't add colorful charts and graphs, but you can do the following:
Use bold print to make important words and phrases pop.
Use bulleted lists and white space for readability.
Choose a font that won't cause eye strain.
Show Enthusiasm For The Product or Service
The best salesperson will always be someone who enjoys what they sell. Research the products or services that you will be expected to sell. Then, show your knowledge and enthusiasm about those products in your letter. By demonstrating your product know-how, and excitement, you can help keep yourself in the running.
For example, if you are after a role of medical device sales professional take the time to research the employer merchandise. Think about their main buyer personas, distribution market, and products' competitive strengths. Then use this data in your cover letter and during the interview.
Use Data
Sales teams live and die by numbers. To make your cover letter stand out, you need to quantify your accomplishments using numbers. For example, don't say that you were a 'top salesperson.' Say that you consistently closed the most sales in your region over the past 5 years. Don't say that you increased sales of left-handed widgets. Say that you increased sales of left-handed widgets by 25%. Your accomplishments will be much more believable if you have data to back them up.
ADVICE FROM OUR EXPERT
---
Express your experience and achievements in dollars ($$) and percentages (%) to grab the attention of the sales team. Stating you "increased revenue YoY by 10%" is more effective than "achieved sales every year"

Mary Ford
Executive Career Coach
Draw Parallels Between Your Experience and The New Job
Use your letter to demonstrate similarities between your current experience and the new job. For example, if you are applying for a job that involves inside sales, you should mention that you have experience with that. If the job involves a significant amount of travel, let the hiring manager know that you have worked at several jobs that require travel as well and are even willing to relocate if the need comes up.
The same thing applies if you have sold similar goods and services. The idea is to give the strong impression that you are capable of coming into work, and being productive from day one.
Be Professional, Not Stiff
A good salesperson is personable but professional. The tone of your letter should be open and friendly, but not too casual. A conversational tone is best, but avoid using slang or other words and phrases that can make your letter seem too 'familiar'.
Express Interest in The Job and Ask For an Interview
Closing is important. End your letter by reiterating that you are very interested in the position. Ask to meet with the hiring manager, and give some indication of your availability. This will leave the reader preparing to take the next step.
Consider Adding a Postscript
Always hold back one attractive bit of information. Then, use it as a postscript. This can help make the hiring manager even more eager to meet you. Here's a quick example:
P.S. When we meet, remind you to go over the work I did helping Wallace And Therrien Menswear expand into Southern California and Arizona. I think I could apply some of the same strategies for your West Coast expansion.
Cover Letter Sample for Sales Position in .docx Format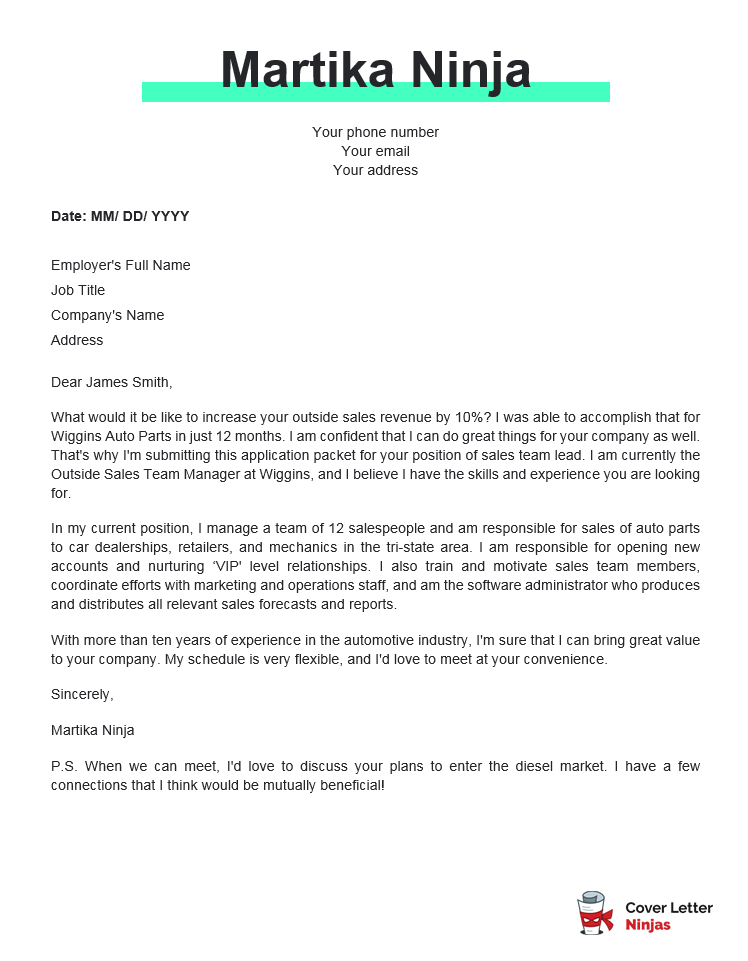 Download example (Word format)
Sales Cover Letter Example – Text Format
Dear James Smith,
What would it be like to increase your outside sales revenue by 10%? I was able to accomplish that for Wiggins Auto Parts in just 12 months. I am confident that I can do great things for your company as well. That's why I'm submitting this application packet for your position of sales team lead. I am currently the Outside Sales Team Manager at Wiggins, and I believe I have the skills and experience you are looking for.
In my current position, I manage a team of 12 salespeople and am responsible for sales of auto parts to car dealerships, retailers, and mechanics in the tri-state area. I am responsible for opening new accounts and nurturing 'VIP' level relationships. I also train and motivate sales team members, coordinate efforts with marketing and operations staff, and am the software administrator who produces and distributes all relevant sales forecasts and reports.
With more than ten years of experience in the automotive industry, I'm sure that I can bring great value to your company. My schedule is very flexible, and I'd love to meet at your convenience.
Sincerely,
Martika Ninja
P.S. When we can meet, I'd love to discuss your plans to enter the diesel market. I have a few connections that I think would be mutually beneficial!
Final Tip: Follow Up is Key
Be a bit aggressive, and show your persistence. Once you've sent your application packet to follow it up with an email or phone call. This will help ensure that you are on the mind of the hiring authority, even as they consider lesser applications.