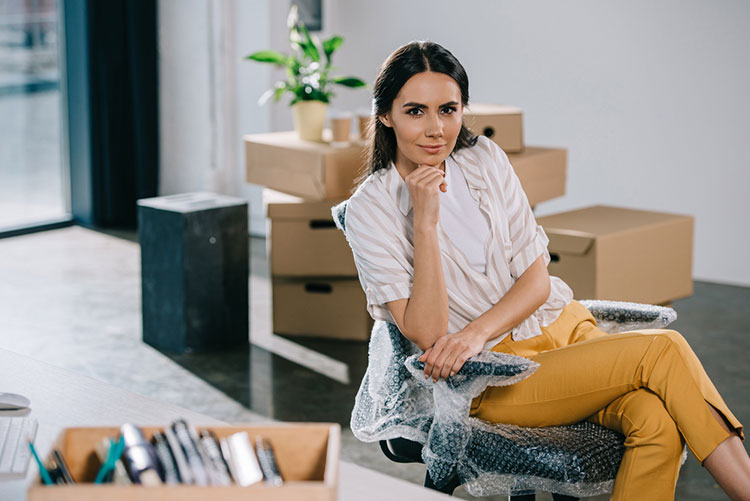 How do you approach the idea of relocation with potential employers? It is a challenging subject to be certain. For one thing, covering relocation expenses does increase the cost of hiring an employee. Further, there's risk a potential employee is making if the desire to relocate to a new area is a rash decision. This could lead to quick turnover.
All of these factors can make it difficult to convince a potential employer that you are a great candidate for relocation. Hence, you will need to come up with valid responses to those potential risks and objections, and ensure the employer about your seriousness. The best place to brook that subject is your cover letter.
In this post, we provide several tips to do just that, followed by a sample relocation cover letter.
Lead With Your Qualifications – End With Your Relocation
You should definitely disclose that you will be relocating. What you shouldn't do is lead with that information. Instead, cover your aptitude, talents, and qualifications. Describe why you are a good fit, and how interested you are in the announced opportunity.
As you close your cover letter, mention that you will be locating if you are offered the position. If you've written the rest of your cover letter successfully, the hiring manager may very well be eager to move forward with the application process.
Show a Strong Interest in The Position Along With Relevant Skills
Your best chance at landing a job in another place is by proving that you are so qualified that you are worth any relocation expenses. That's why you must indicate that you understand the position, have researched the company, and can show how your skills make you the ultimate candidate for the job at hand.
Give specific examples of your accomplishments. Match your skills with the requirements of the position you are applying for. Wondering how to frame that for your industry? Refer to other cover letter examples on our website. Betcha we already covered your niche!
Don't Over Explain or Apologize
It is perfectly acceptable to apply for jobs in other locations. You should be honest and clear about this, but avoid going into needless detail as you attempt to explain or apologize for your employment requirements. Don't spend more than a line or two mentioning the relocation. Avoid using words like 'sorry' or 'apologize' when you bring up this subject.
You should also avoid revealing any personal information that might make things uncomfortable. For example, avoid disclosing that you are relocating due to a divorce.
Don't Obscure Your Current Location
Some people believe that you shouldn't share where you are currently located. This is generally not the best advice to follow.
Because it is standard to include contact information on your resume and cover letter, leaving it off can definitely arouse suspicion. Avoid creating any red flags, and include your contact information like you normally would. You also don't want to make it seem as if you were hiding information or being misleading.
Show Your Passion and Commitment to The New Location
If the hiring manager believes that you have some connection to or passion for their location, they will be more likely to believe you are a viable candidate. Learn about the community in which you plan to work. Mention in the cover letter that you are excited about the possibility to relocate. Share what it is that makes you excited about the possibility of moving.
ADVICE FROM OUR EXPERT
---
Make sure to mention if you have any ties to the new location. For example, if you have local family members, or went to school nearby, recruiters know you are truly serious about relocation.

Mary Ford
Executive Career Coach
A Sample Cover Letter For a Relocation in .docx Format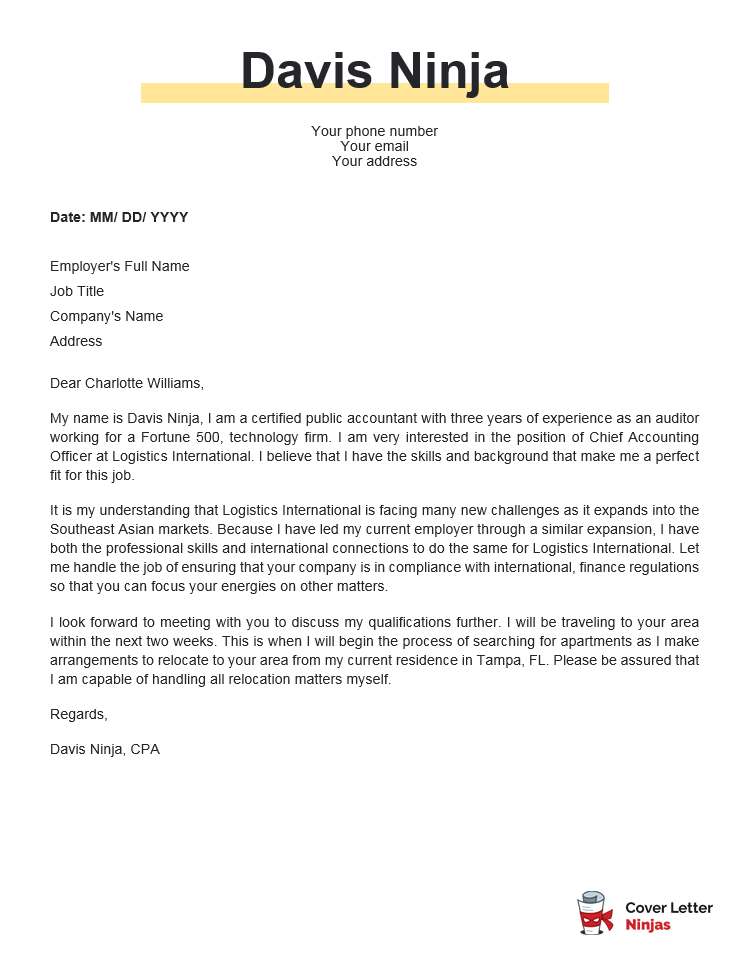 Download example (Word version)
A Relocation Cover Letter Example – Text Format
Dear Charlotte Williams,
My name is Davis Ninja, I am a certified public accountant with three years of experience as an auditor working for a Fortune 500, technology firm. I am very interested in the position of Chief Accounting Officer at Logistics International. I believe that I have the skills and background that make me a perfect fit for this job.
It is my understanding that Logistics International is facing many new challenges as it expands into the Southeast Asian markets. Because I have led my current employer through a similar expansion, I have both the professional skills and international connections to do the same for Logistics International. Let me handle the job of ensuring that your company is in compliance with international, finance regulations so that you can focus your energies on other matters.
I look forward to meeting with you to discuss my qualifications further. I will be traveling to your area within the next two weeks. This is when I will begin the process of searching for apartments as I make arrangements to relocate to your area from my current residence in Tampa, FL. Please be assured that I am capable of handling all relocation matters myself.
Regards,
Davis Ninja, CPA
Final Thoughts
Remember that a ninja moves effortlessly. Your task is to prove to hiring managers that your relocation needs will be a non issue. Next, show your passion and skill. Finally, provide assurance that you are able to cover relocation expenses. That's the recipe for a strong relocation cover letter.