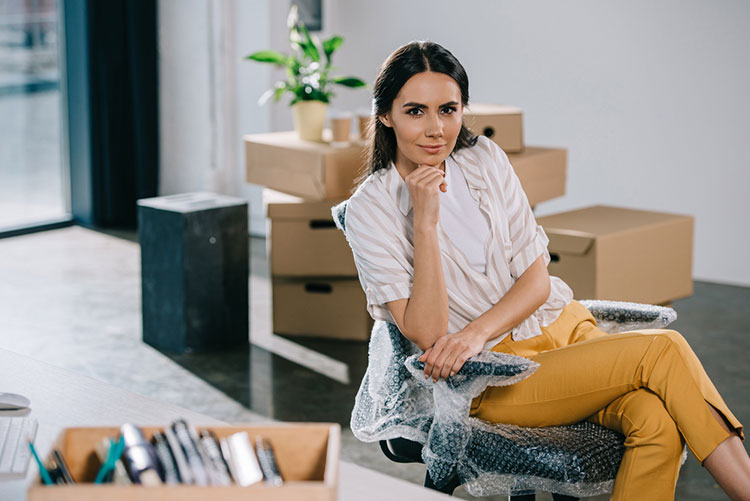 How do you approach the idea of relocation with potential employers? It is a challenging subject to be certain. For one thing, covering relocation expenses does increase the cost of hiring an employee. Further, there's risk a potential employee is making if the desire to relocate to a new area is a rash decision. This could lead to quick turnover.
All of these factors can make it difficult to convince a potential employer that you are a great candidate for relocation. Hence, you will need to come up with valid responses to those potential risks and objections, and ensure the employer about your seriousness. The best place to brook that subject is your cover letter.
This post contains several tips to help you get it done, along with a sample relocation cover letter.
How to Mention Relocation in a Cover Letter?
You have two options to mention relocation in a cover letter:
In the opening paragraph — works better if you upload a formal cover letter with your address in the letterhead
At the end of your letter — a better option for email cover letters and less formal submissions. 
In either case, don't make relocation the focal point of your letter. That prime spot is reserved for your interest in the positions and competitive skills.
Here's how to mention relocation at the beginning of your cover letter:
"In 2018, I first learned about your company's mission of improving diversity at the Anual Marketing Award and was very impressed with your campaign results (belated congrats on the 2nd place). At my current position with Civil Corps, I was in charge of promoting the company's D&I program too and managed to negotiate coverage in VOX, Techcrunch, and CBNC. I believe I could achieve the same results for your company too. I'm in the process of relocating to Denver, I was very excited to learn that Maxwell Corps is looking for a new PR manager."
And here's another sample for highlighting relocation at the end of your cover letter:
"I'd be eager to provide more context of my achievements during the interview. Would you like me to share my calendar so that we could schedule a Zoom interview? I'm relocating to Denver in a month and would appreciate the opportunity to do a remote interview. However, I'm also open to traveling for an on-site interview if that works better for you. Thank you again for your consideration."
How to Write a Relocation Cover Letter
Similar to other types of cover letters, a relocation letter should have the same standard structure: opening paragraph, main body, and concluding paragraph.
However, to make your cover letter for relocation more compelling, try this:
Open with a lead on your qualifications
Highlight your interest and enthusiasm for the position
Discuss your most relevant skills in the body of the letter
Show your passion and commitment for a new location
Be forthcoming about your current location and decision to relocate
Don't overexplain — instead talk about your flexibility with interviewing
Now let's zoom in on each step!
Lead With Your Qualifications – End With Your Relocation
You should definitely disclose that you will be relocating. What you shouldn't do is lead with that information. Instead, cover your aptitude, talents, and qualifications. Describe why you are a good fit, and how interested you are in the announced opportunity.
As you close your cover letter, mention that you will be relocating if you are offered the position. Or suggest that you could start working remotely and then relocate. If you've written the rest of your cover letter successfully, the hiring manager may very well be eager to move forward with the application process.
Show a Strong Interest in The Position Along With Relevant Skills
Your best chance at landing a job in another place is by proving that you are so qualified that you are worth any relocation expenses. That's why you must indicate that you understand the position, have researched the company, and can show how your skills make you the ultimate candidate for the job at hand.
Give specific examples of your accomplishments. Match your skills with the requirements of the position you are applying for. Wondering how to frame that for your industry? Refer to other cover letter examples on our website. Betcha we already covered your niche!
Don't Over Explain or Apologize
It is perfectly acceptable to apply for jobs in other locations. You should be honest and clear about this, but avoid going into needless detail as you attempt to explain or apologize for your employment requirements. Don't spend more than a line or two mentioning the relocation. Avoid using words like 'sorry' or 'apologize' when you bring up this subject.
You should also avoid revealing any personal information that might make things uncomfortable. For example, avoid disclosing that you are relocating due to a divorce.
Don't Obscure Your Current Location
Some people believe that you shouldn't share where you are currently located. This is generally not the best advice to follow.
Because it is standard to include contact information on your resume and cover letter, leaving it off can definitely arouse suspicion. Avoid creating any red flags, and include your contact information like you normally would. You also don't want to make it seem as if you were hiding information or being misleading.
Show Your Passion and Commitment to The New Location
If the hiring manager believes that you have some connection to or passion for their location, they will be more likely to believe you are a viable candidate. Learn about the community in which you plan to work. Mention in the cover letter that you are excited about the possibility to relocate. Share what it is that makes you excited about the possibility of moving.
ADVICE FROM OUR EXPERT
---
Make sure to mention if you have any ties to the new location. For example, if you have local family members, or went to school nearby, recruiters know you are truly serious about relocation.

Mary Ford
Executive Career Coach
A Sample Cover Letter For a Relocation in .docx Format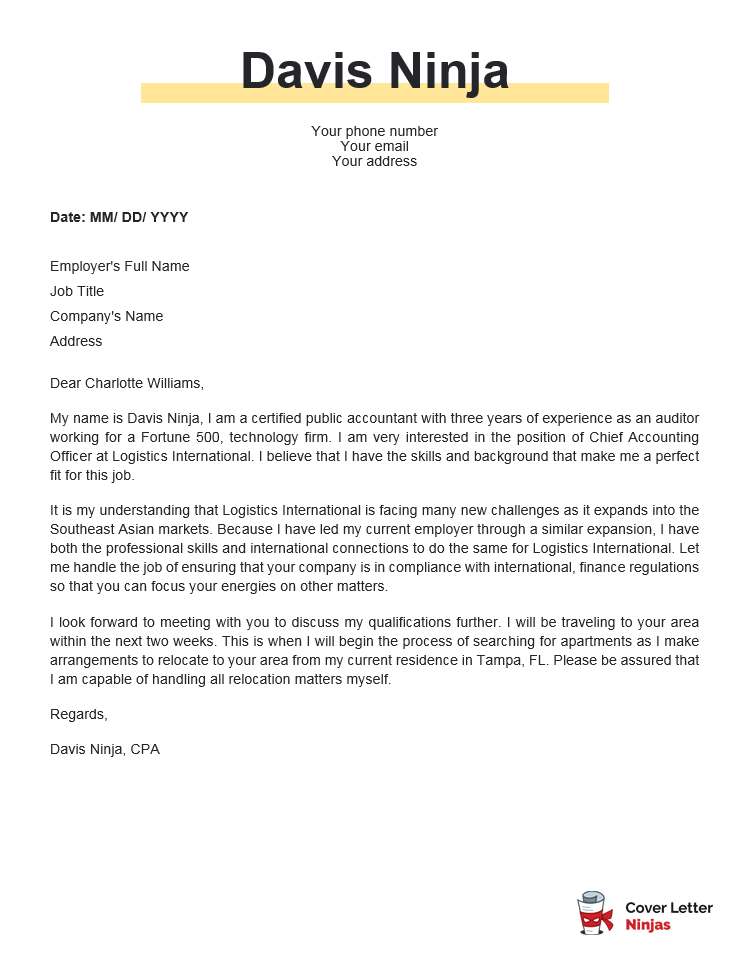 Download example (Word version)
A Relocation Cover Letter Example – Text Format
Dear Charlotte Williams,
My name is Davis Ninja, I am a certified public accountant with three years of experience as an auditor working for a Fortune 500, technology firm. I am very interested in the position of Chief Accounting Officer at Logistics International. I believe that I have the skills and background that make me a perfect fit for this job.
It is my understanding that Logistics International is facing many new challenges as it expands into the Southeast Asian markets. Because I have led my current employer through a similar expansion, I have both the professional skills and international connections to do the same for Logistics International. Let me handle the job of ensuring that your company is in compliance with international, finance regulations so that you can focus your energies on other matters.
I look forward to meeting with you to discuss my qualifications further. I will be traveling to your area within the next two weeks. This is when I will begin the process of searching for apartments as I make arrangements to relocate to your area from my current residence in Tampa, FL. Please be assured that I am capable of handling all relocation matters myself.
Regards,
Davis Ninja, CPA
Another Example of Cover Letter for Relocation
Dear Nancy Reeves,
My name is Danielle Ninja, and I am an experienced, wildlife biologist specializing in freshwater ecology. Dr. Erica Green, a mutual friend of ours, informed me that you were looking for a scientist to manage the expansion of the state of Illinois Fisheries Management and Ecology Program into the Chicago area. I've reviewed the requirements for the job, and believe that I would be a perfect fit.
I am currently employed as a fisheries research technician for the state of Michigan. My work is primarily in the upper peninsula. The duties include taking and testing water samples from rivers and other waterways, observing and recording behaviors of fish and other vertebrate and invertebrate animals living in and around the water, capturing and tagging fish using various methods, and ensuring that all wildlife is handled humanely. I also record and organize all data for submission to the University of Michigan.
As I understand, my duties would essentially be the same with some additional supervisory responsibilities. I am confident I can take those on, as I have led several internship programs over the past three years.
Before I sign off, I want to assure you that I am aware that I will be required to relocate if I accept this position. This is something I am prepared to do. Thanks to friends and family in the area, I will be able to secure housing immediately and plan on looking into permanent arrangements upon receiving a job offer.
Sincerely,
Danielle Ninja
Should You Put Relocation on a Resume Too?
Yes, it's better to be forthcoming about your relocation plans. Hiring managers will appreciate a heads-up on your current location and will try to accommodate the interview process accordingly. The best way to mention relocation on a resume is the header area. Add a quick line to your resume tagline or summary. This way every reader of your resume (and there may be several!) will immediately understand your situation and weigh on the decision to call you in.
What is a Fair Relocation Package?
A standard employer relocation package covers some of the costs of moving for the candidate. However, the exact package "content" differs a lot depending on the industry, position, and other benefits offered. Typically, employers either issue a cash allowance for relocation or offer other monetary perks such as temporary housing, pre-paid storage units, assistance with hiring a moving company, or travel costs reimbursement. Some international companies such as Google, Microsoft, and IBM among others also provide assistance for family members and cover a wider range of relocation costs. If the employer advertises a relocation package, ask them directly about what's included.
How Do You Negotiate a Better Relocation Package?
Before you enter relocation package negotiation do an honest assessment of your needs. How much financial costs will you incur? Will you need to break an expensive lease or sell a property? Are you moving to a more competitive housing market where apartment search can take a while? Jot down your basic list of needs. Then approach HR and ask them to provide an overview of what their organization could cover.
If some costs don't overlap, but other perks are provided, think about how you feel about compromising. If the package clearly doesn't cover enough, prepare your case. Appeal to the fact that the hassle of relocation (and searching for an apartment for instance) can delay your start date or make you less productive during the onboarding period. Share some of your ideas about how the employer's assistance could help you get settled in the new role faster and start generating value for the business. Most will agree to meet you at least halfway (as long as your demands are adequate).
Final Thoughts
Remember that a ninja moves effortlessly. Your task is to prove to hiring managers that your relocation needs will be a non issue. Next, show your passion and skill. Finally, provide assurance that you are able to cover relocation expenses. That's the recipe for a strong relocation cover letter.