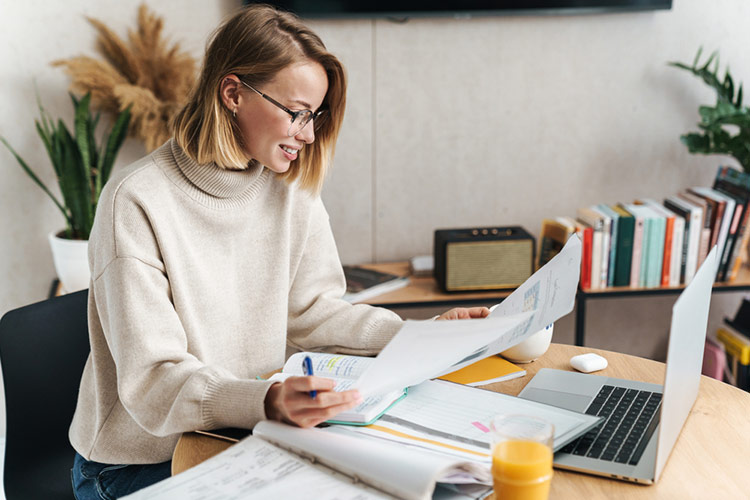 Even before Covid-19 restrictions were put into place, many companies were beginning to favor remote hiring. Almost 62% of employees in the US say that they work remotely on some occasions and 30% telecommute full-time.
So what does the rise of remote work mean for you? First of all, remote works = a broader range of work gigs that you can pursue — cross-country and internationally. Also you can dab into freelancing and book gigs via popular freelance marketplaces like Upwork. On the other hand, you'll need to persuade a potential employer that you can thrive when working independently.
We've lined up several helpful tips just for that, followed by a great cover letter example for a remote position.
ADVICE FROM OUR EXPERT
---
Remote working opportunities are becoming more readily available across many industries. However, employers hiring remote workers primarily look for high levels of accountability, integrity, and work ethic. Use your cover letter to highlight examples of your proven capacity to work efficiently and autonomously.

Claire Webber
Career Consultant, CPCC, CPRW
Communicate Your Value
When you work remotely, your employer can't monitor your productivity the way they would 'in the office'. Instead, they must take a results-oriented approach to measure your performance. For you, this means that you must use your cover letter to convince them that you can get the job done and that you will add value to the team if you're hired.
To do this, focus on the positive results that you've created through your work. Think about the following questions as you write:
How have I saved previous employers or clients' money?
What have I done to improve processes?
What examples can I share of improving sales or other metrics?
By considering these answers, you can do a better job of describing how your work gets the kind of results that have a positive impact on the business. For example:
"In my current contract with Spring Hills technology, I have created a system of generating leads that has led to a 35% increase in online sales."
The flip side of this is that you want to avoid focusing too much on your own desire to work remotely, and the benefits you perceive you will gain. For example, it's fine to say that you look forward to the flexibility of remote work. On the other hand, you shouldn't go on and on about work-life balance, and your ability to travel or relocate from HCOL area.
Remember that the cover letter is about the employer's needs, and not yours.
Know and Show The Skills Required to Work Solo
Even if you don't have experience working remotely, there's a good chance that you have the skills and traits that will make you an excellent remote employee. In particular, you should highlight the following skills:
Time management
Self-motivation
Strong written and verbal communication
Organization
The easiest way to do so is by adding several relevant examples of how you applied these skills at your past job(s).
Struggling with this point? Check other great cover letter examples we have on our website for inspo!
Show That You Can Solve Problems
A good remote worker knows how to deal with various issues on their own. So be sure to showcase that you can be highly effective both as a team player and on your own. For instance, you can write something along the lines of:
"I've been working remotely since 2016 and also successfully managed teams (up to 6 people). My former colleagues note that I was particularly good at project management, mediation, and removing work blockers for others, so that, together as a team, we could perform at a high pace".
Remote Position Cover Letter Sample in .docx Format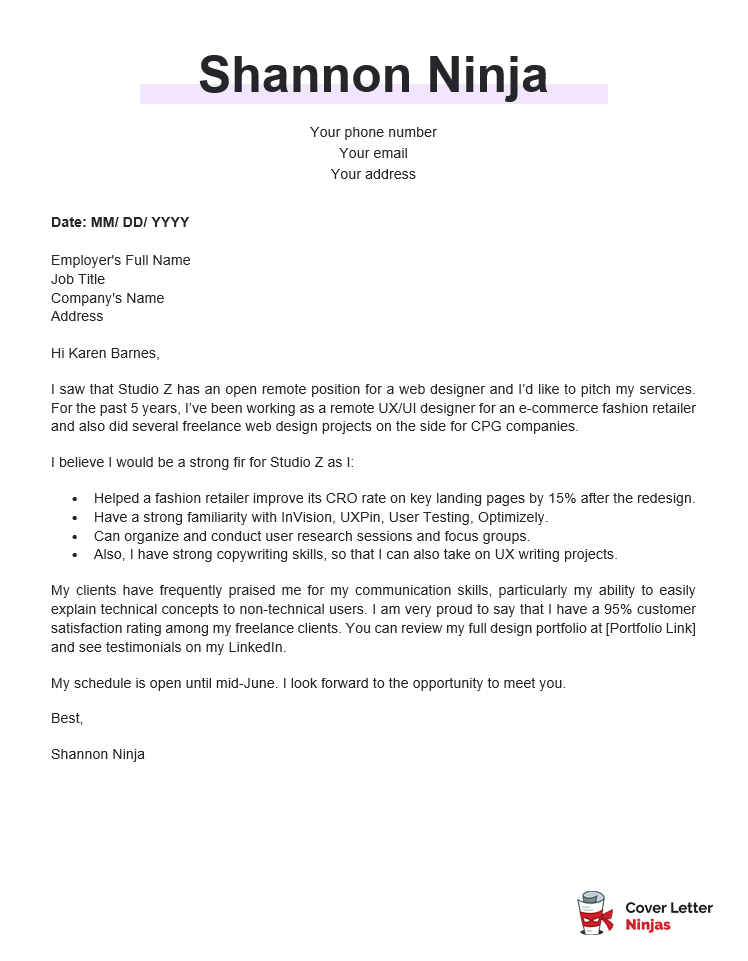 Download example (Word version)
Cover Letter Example For Remote Position – Text Format
Hi Karen Barnes,
I saw that Studio Z has an open remote position for a web designer and I'd like to pitch my services. For the past 5 years, I've been working as a remote UX/UI designer for an e-commerce fashion retailer and also did several freelance web design projects on the side for CPG companies.
I believe I would be a strong fir for Studio Z as I:
Helped a fashion retailer improve its CRO rate on key landing pages by 15% after the redesign.
Have a strong familiarity with InVision, UXPin, User Testing, Optimizely.
Can organize and conduct user research sessions and focus groups.
Also, I have strong copywriting skills, so that I can also take on UX writing projects.
My clients have frequently praised me for my communication skills, particularly my ability to easily explain technical concepts to non-technical users. I am very proud to say that I have a 95% customer satisfaction rating among my freelance clients. You can review my full design portfolio at [Portfolio Link] and see testimonials on my LinkedIn.
My schedule is open until mid-June. I look forward to the opportunity to meet you.
Best,
Shannon Ninja
Final Tip: Don't Forget to Link to Your Online Portfolio
For remote workers, having a personal website or an online portfolio is the key to lining up good gigs. Think of your personal website as an organic extension of your resume that further explains and shows what you do, why you do that, and what amazing results you've achieved for other clients.
Plus, a personal website serves as a great standalone self-market asset. It increases your visibility online and can help you draw recruiters towards you, rather than the other way around!