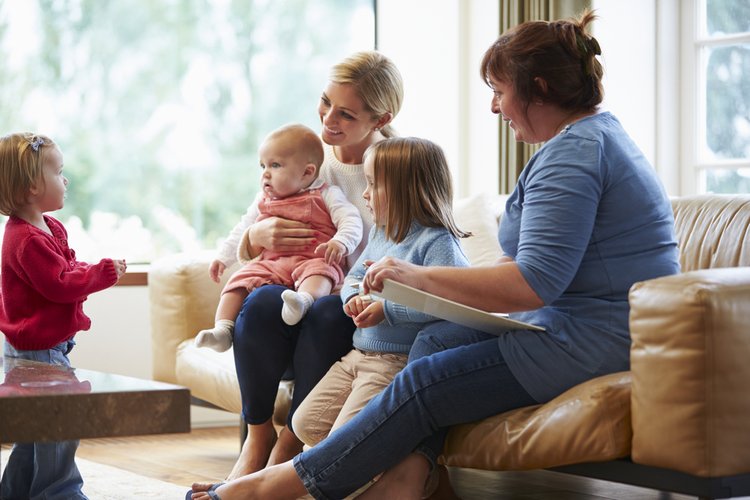 A great social worker is passionate about their work, compassionate towards their clients, and capable of helping people who are struggling. This is a field where you can truly make a difference, but that starts with landing the right job.
As you search for opportunities, don't underestimate the benefit of a great cover letter. This brief document is a great tool for communicating your enthusiasm for a job as well as your talents. Keep reading for some actionable cover letter tips for social workers. In the end, there is a great, social worker cover letter sample.
Know The Three Elements of a Cover Letter
Every cover letter should be different, but they should all contain each of these three elements:
Start with an explanation of why you would be the best choice for the job, and how well you would fit into the organization. This is where you emphasize how this job also matches your career goals.

Next, without repeating the information on your resume, give some specific examples. Show how your accomplishments and skills are a good match. Give some details to really paint a picture.

At the end of your cover letter, be certain to thank the hiring manager for reading your letter. Reiterate that you are interested, and indicate that you would like to meet for an interview.
Show That You Understand Your Employer
Your cover letter is the tool you use to prove that you are specifically the best social worker for that position. Before you begin writing, do some research. What populations is your potential employer trying to reach? What services do they offer? More importantly, where are they struggling to meet the needs of their clients?
Once you know this information, dig into your own experience and education. Find the places where your capabilities match the agency's needs. This is what you need to emphasize.
ADVICE FROM OUR EXPERT
---
Many employers look for the volume of cases for social workers. In your cover letter, make sure you include the specific number of clients you have dealt with, along with the other key points of the job description. This will demonstrate your time management and attention to detail.

Mary Ford
Executive Career Coach
Address Your Letter to a Person
Your cover letter should be personalized. That means taking the time to find the name of the person who will be making the hiring decision. This can take a bit of research but is usually quite doable.
If you absolutely cannot determine to whom to address your letter, address it to the specific, managerial position. For example, use 'Director of Social Work, Children's Division'. Avoid, 'Sir or Madam' or 'To Whom It May Concern' at all costs.
Use Business Letter Formatting
Because this is a professional communication, you should always use standard formatting for business letters. Include the appropriate header with your name, address, contact information, recipient title, recipient name and address.
Follow The Employers Instructions For Submitting Your Cover Letter
Chances are, the job listing will include instructions for submitting your cover letter and resume. These often differ depending on your role. For instance, for nonprofit positions, you may be asked to attach character or professional references. Follow these to the letter. If you are given more than one option, use email or fax. These are the fastest and will get your application packet in the hands of the hiring manager quickly.
Avoid following any 'tips' that tell you to hand-deliver your cover letter and resume, or have it delivered by courier. These methods are often sold as a way to grab attention or stand out from other applicants. In reality, these 'tricks' simply frustrate people and could get you blacklisted from the hiring process entirely.
Sample Cover Letter for Social Worker in .docx Format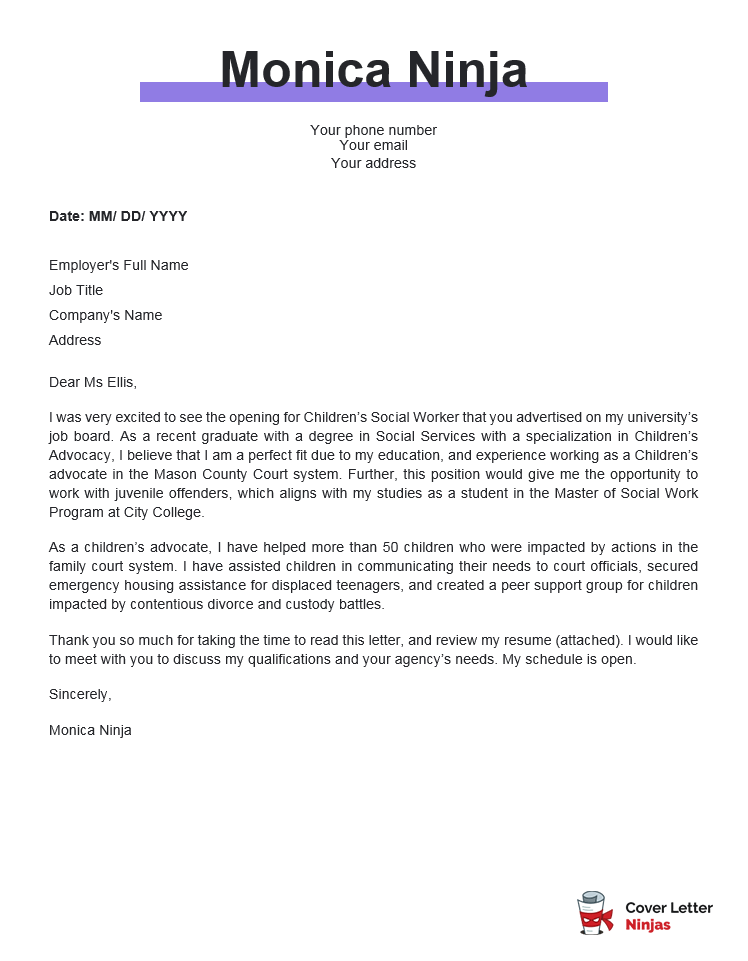 Download example (Word format)
Social Worker Cover Letter Example – Text Format
Dear Ms Ellis,
I was very excited to see the opening for Children's Social Worker that you advertised on my university's job board. As a recent graduate with a degree in Social Services with a specialization in Children's Advocacy, I believe that I am a perfect fit due to my education, and experience working as a Children's advocate in the Mason County Court system. Further, this position would give me the opportunity to work with juvenile offenders, which aligns with my studies as a student in the Master of Social Work Program at City College.
As a children's advocate, I have helped more than 50 children who were impacted by actions in the family court system. I have assisted children in communicating their needs to court officials, secured emergency housing assistance for displaced teenagers, and created a peer support group for children impacted by contentious divorce and custody battles.
Thank you so much for taking the time to read this letter, and review my resume (attached). I would like to meet with you to discuss my qualifications and your agency's needs. My schedule is open.
Sincerely,
Monica Ninja
Final Tip: Keep it Brief
Your cover letter should be condensed into a single page. If it is longer, it is quite likely that a busy hiring manager simply won't read it. Remember that brevity is an important part of crafting successful letters!