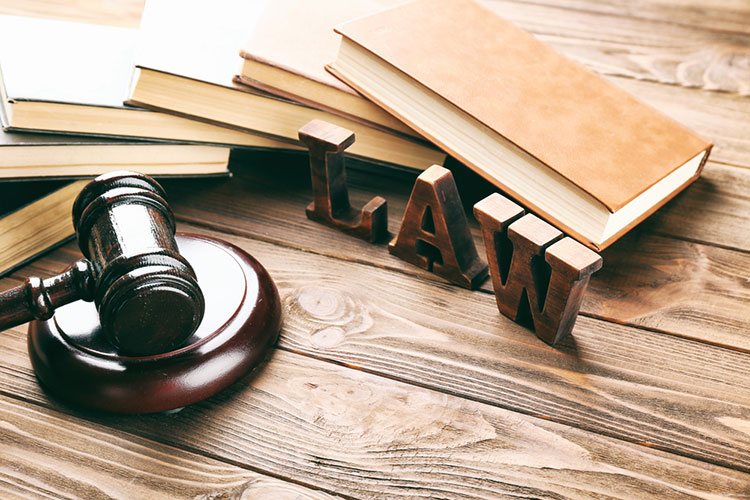 Whether you're an attorney, paralegal, or Aide, your goal is to land a job where you can use your ninja-like legal skills to forge a great career. You have the education and experience required. You've worked hard to construct a great resume. Now it's time to consider your cover letter. This is the document that hiring managers will read first, and it is your tool for demonstrating that you deserve further consideration.
In this post, we are going to provide you with helpful tips for writing your cover letter. At the end, we've included a legal cover letter sample. Feel free to use this as a template, or simply for inspiration.
Ditch The Legalese Unless it Fits
If you are using legal jargon to accurately describe your education or experience, that's perfectly fine. In fact, including these keywords can be very beneficial if your application is scanned by software first.
What you want to avoid is peppering your cover letter with legal terms in an effort to impress. Instead, stick with commonly used terms where possible. Remember that the first person to see your resume and cover letter may not be an attorney.
Match Your Letter to The Objectives of The Practice
Every law firm varies in its practice goals, and what it needs in order to continue to be successful. Your cover letter should communicate how you can contribute to these goals. You can do this by sharing relevant experience, highlighting the skills you believe are most applicable, or simply showing an understanding of the things the firm is trying to accomplish.
For example, if you know that the firm is passionate about immigration law, you could mention that you interned for a group that helped immigrants complete complex paperwork to apply for asylum. This shows that you understand what the firm wants to accomplish, and how you can be of help.
ADVICE FROM OUR EXPERT
---
Cover letters are an appropriate outlet to share with potential employers what's important to you and why. Identify similarly held values, objectives, or areas of specialization that provide depth to your application. Demonstrate the contributions you could bring to a new organization by acknowledging these similarly held core principles and goals.

Claire Webber
Career Consultant, CPCC, CPRW
Personalize Your Greeting
Forget about 'Sir or Madam', that's impersonal and really dated. So is 'To whom it may concern'. Make an effort to find the name of the hiring manager who will be reviewing your application.
After all, if you can't do this basic research, how can they expect you to be diligent and resourceful when faced with a legal challenge? Browse the firm's website, LinkedIn, and other legal directories or social media sites for information.
Explain Why You Are Interested
Hopefully there's more to your job search than the quest for a paycheck. Your cover letter is a great place to dig into those passions, and show how they align with the position you are seeking. Perhaps this law firm offers the opportunity to do important pro bono work? Maybe you'll be able to sink your teeth into intense litigation.
Look beyond what the firm has to offer in terms of paid services. How are they active in the community? What causes do they support?
Highlight Your Ties to The Community
Take a close look at legal advertisements. You'll notice that they are very localized. Law firms want to be seen as part of the community. Their goal is to convince members of that community that they are their to serve their interests.
Hence, add in a couple of sentences that indicate that you have local pride, and are committed to adding value to your community through the work that you do.
Cover Letter Sample For a Legal Career – .docx Format
Here is a law cover letter sample for someone who is applying for a position as a public defender. It uses many of the tips we've listed above. Feel free to use this as a working example as you compose your own.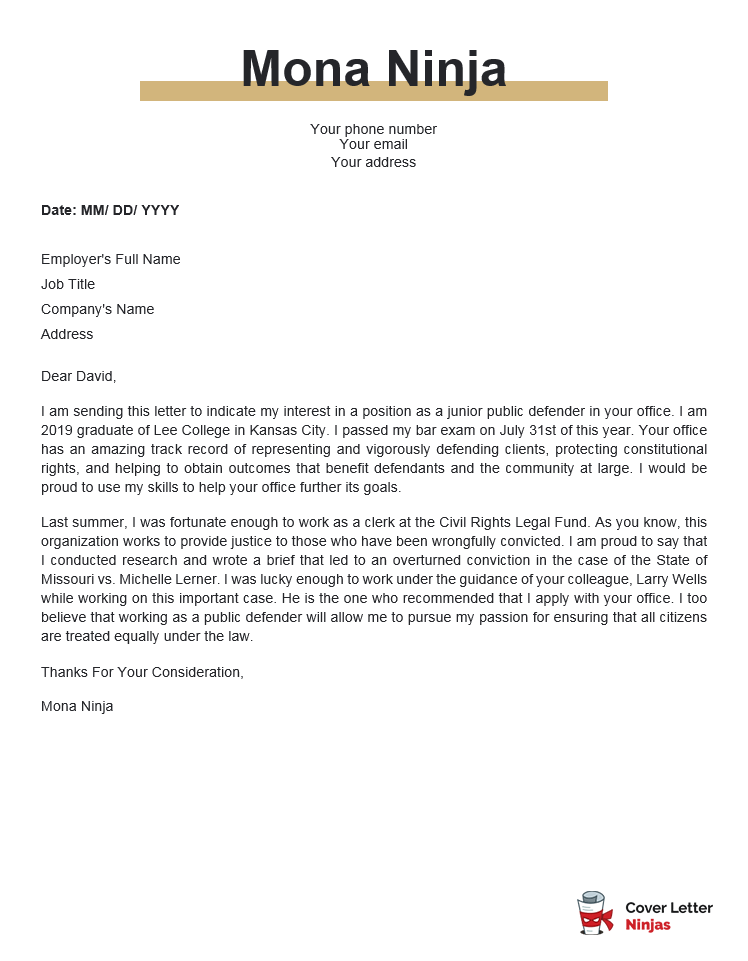 Download example (Word version)
Legal Cover Letter Example – Text Format
Dear David,
I am sending this letter to indicate my interest in a position as a junior public defender in your office. I am 2019 graduate of Lee College in Kansas City. I passed my bar exam on July 31st of this year. Your office has an amazing track record of representing and vigorously defending clients, protecting constitutional rights, and helping to obtain outcomes that benefit defendants and the community at large. I would be proud to use my skills to help your office further its goals.
Last summer, I was fortunate enough to work as a clerk at the Civil Rights Legal Fund. As you know, this organization works to provide justice to those who have been wrongfully convicted. I am proud to say that I conducted research and wrote a brief that led to an overturned conviction in the case of the State of Missouri vs. Michelle Lerner. I was lucky enough to work under the guidance of your colleague, Larry Wells while working on this important case. He is the one who recommended that I apply with your office. I too believe that working as a public defender will allow me to pursue my passion for ensuring that all citizens are treated equally under the law.
Thanks For Your Consideration,
Mona Rogers
After a Specific Legal Role? Check More Samples!
Final Tip: Keep it Short
Judges value brevity. So will the person reviewing your cover letter. In the legal fields, your ability to communicate things clearly and concisely are very important. Use language that communicates in as few words as possible while still containing the details required. Avoid rambling. Get rid of weak words and needless parentheticals. File a succinct and concise cover letter that speaks straight to the point!