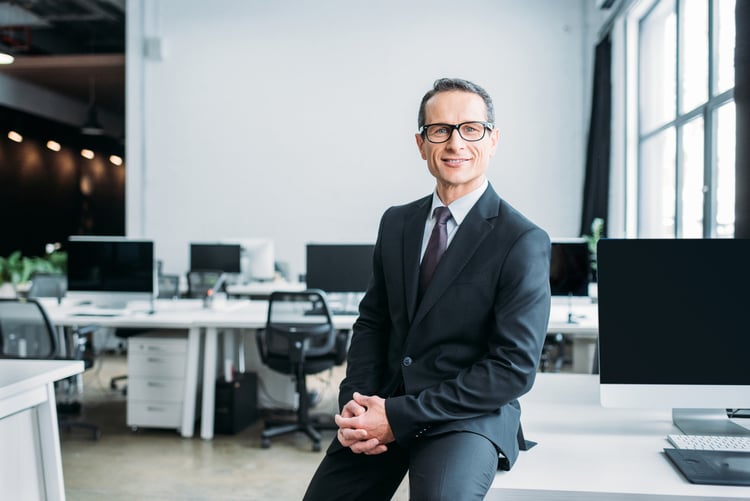 When you write a cover letter, you provide important context to your skills and experience. What's more, this is your opportunity to show a glimpse of your personality and ability to fit into the work environment. All of these things are important if you are applying for the position of director, where you will need to establish leadership and authority.
Your pursuit of the job of your dreams should begin with a cover letter for a director position. You can accomplish that by checking out the sample letter and tips below.
Cover Letter Sample For a Director Position – .docx Format
Here is a sample cover letter for someone who is applying for the job of Director of Communications at a major corporation.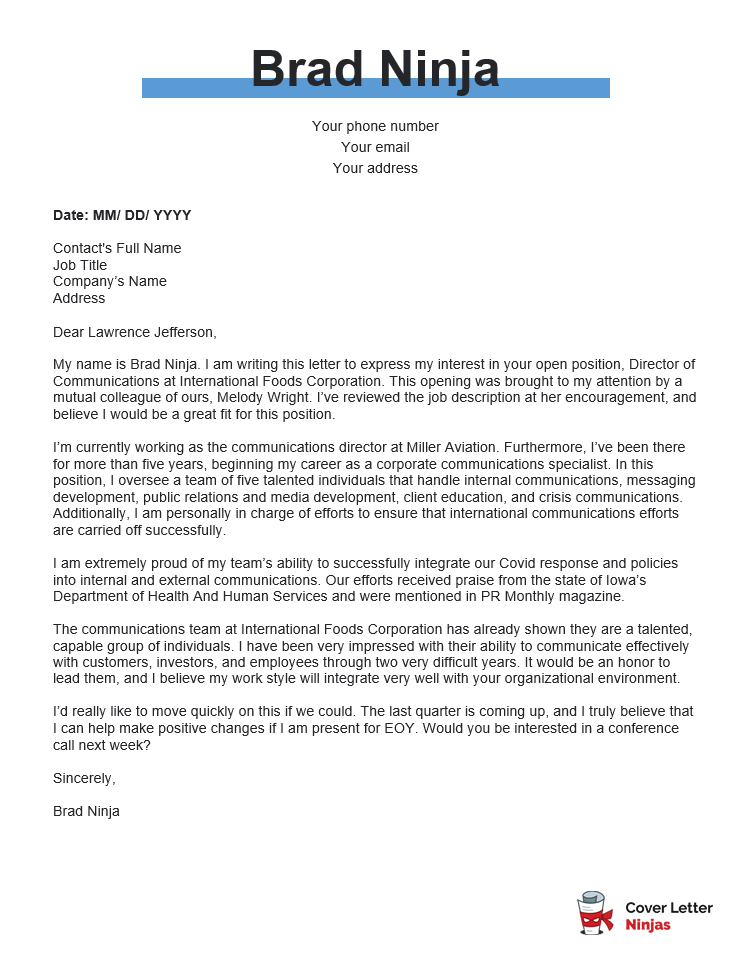 Download example (Word version)
Cover Letter Example For Director Position – Plain Text
Dear Lawrence Jefferson,
My name is Brad Ninja. I am writing this letter to express my interest in your open position, Director of Communications at International Foods Corporation. This opening was brought to my attention by a mutual colleague of ours, Melody Wright. I've reviewed the job description at her encouragement, and believe I would be a great fit for this position.
I'm currently working as the communications director at Miller Aviation. Furthermore, I've been there for more than five years, beginning my career as a corporate communications specialist. In this position, I oversee a team of five talented individuals that handle internal communications, messaging development, public relations and media development, client education, and crisis communications. Additionally, I am personally in charge of efforts to ensure that international communications efforts are carried off successfully.
I am extremely proud of my team's ability to successfully integrate our Covid response and policies into internal and external communications. Our efforts received praise from the state of Iowa's Department of Health And Human Services and were mentioned in PR Monthly magazine.
The communications team at International Foods Corporation has already shown they are a talented, capable group of individuals. I have been very impressed with their ability to communicate effectively with customers, investors, and employees through two very difficult years. It would be an honor to lead them, and I believe my work style will integrate very well with your organizational environment.
I'd really like to move quickly on this if we could. The last quarter is coming up, and I truly believe that I can help make positive changes if I am present for EOY. Would you be interested in a conference call next week?
Sincerely,
Brad Ninja
Cover Letter Writing Tips for a Director Position
Since executive positions are scarce and don't land at the general job market that often, you really need to make a mark with your letter. After all, you'd be competing against a dozen of other highly experienced professionals and perhaps even some internal candidates. Below are some extra helpful tips for pitching yourself for a director position.
Create a Sense of Urgency
Why should the hiring manager want to do something right away, put you in this director position? What will they gain from hiring you right now, instead of waiting a month or two? Remember that the process to hire someone into a high-level position like this can already drag out. Workable reports that it takes an average of 42 days to fill in a position.
Thus, make the reader really consider that it's worth it to them to put your name at the top of the list and get you in for an interview right away. You can prompt a faster reply by bringing up a specific company issue in your cover letter that you plan to resolve. For example, help the company restore brand equity after a recent PR crisis.
ADVICE FROM OUR EXPERT
---
If you are submitting an application for a director level position, chances are you have extensive experience. That doesn't mean your cover letter needs to extend beyond one page, though. Remember to focus on your accomplishments and highlight your relevant experience as it relates to the job.

Debi Douma-Herren
Senior Certified HR Professional & Career Coach
Use Flattery
People end up in director positions because they can move teams in the right direction and solve problems effectively. In many cases, hiring a new director is the result of a crisis. At the same time, you won't get far by focusing on the things the company is doing wrong. Instead, find things to praise, and mention those in the letter. Make it clear that you look forward to leading their team and empower people to do their best work.
Give a Clear Example of Leadership in Action
What have you accomplished as a leader? How do you lead? What can your new team expect from you? These are important questions that hiring managers have. These help them identify applicants who will truly be able to direct their teams and be effective. Provide a brief but specific example of something you have done that showcases your style and capabilities.
Show You Understand the Position
What challenges has your new team faced? What skills do they need to develop? Have they accomplished anything that is notable? How will you integrate your style into theirs, and help them succeed? Research the company, their recent projects, and any crisis that has happened recently. Bring these up to show that you know exactly what you will be facing.
Final Tip: End With a Plan of Action
Don't write a strong letter with a week ending. If you close with a simple, 'I look forward to hearing from you' that doesn't motivate them to do anything. Instead, plant a suggestion for a specific action for them to take. For example, you might suggest meeting for lunch, getting together at a networking event, or having a conference call. This simple detail can really get things rolling towards the next step.
Finally, if you need more inspiration, check other cover letter examples for executive and managerial positions our team has created!