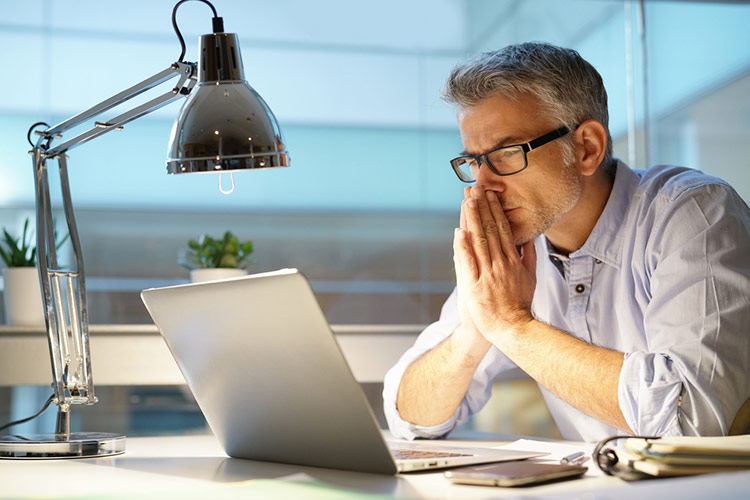 A journalist has one of the most dynamic and impactful jobs in the world. They are responsible for communicating news and other events to audiences accurately, always maintaining the highest standards of ethics and integrity. This is a rewarding career, and a journalist who does good work can have a positive impact on the world around them.
However, journalism is a highly competitive field too. Breaking into top publications will require some grit, persistence and solid writing skills of course. Your cover letter is the first place where you'll demonstrate this. So make sure that it doesn't miss the mark! To help you get started, check out the following tips, then read our journalism cover letter sample.
Lead With Your Value Proposition
Why should the editor, news producer, or other decision-maker be interested in your journalism skills and experience in particular? What do you bring to the table?
Assume that everybody else submitting their application is an educated, experienced journalist like you. What now? Do you have unique experience in their specific niche? Have you increased readership/viewers at your current position? Have you won any notable awards? Lead off with this information to grab the attention of the hiring manager.
Show an Understanding of The Employers' Audience
Every newspaper, magazine, website, and television network has a targeted audience in mind. The best journalist is someone who understands that audience, respects them, and is interested in serving their needs by providing them with the information they need. Do a bit of research so that you understand the demographics, interests, and values of that audience.
Don't Hide Your Point of View
Every publisher has an editorial point of view. However, that doesn't mean they are only interested in hiring journalists who think and write in lockstep with that view. Think of it like this, notoriously conservative Fox News Channel has journalists on staff who are progressive. Notoriously liberal New York Times run pieces from conservative journalists and editorialists.
The bottom line is this: don't attempt to obscure your journalistic history or point of view in an attempt to fit in with a new employer. Instead, focus on your abilities and experience. Any reputable employer will value your skills and integrity regardless of your point of view.
ADVICE FROM OUR EXPERT
---
A cover letter is the perfect place to showcase your skills as a journalist. Hook the reader with a story about how your experiences have prepared you for the position. It should go without saying, but make sure to proofread!

Debi Douma-Herren
Senior Certified HR Professional & Career Coach
Use a Postscript to Make an Important Piece of Information Stand Out
After your closing and signature, consider using a postscript to add an important tidbit of information. This is a great technique to draw attention to something important or create a bit of a connection. It could be as simple as:
P.S. I am looking forward to your presentation at this year's Conference of Small Market Journalists. Perhaps we can meet at some point during the event.
Create and Link to a Portfolio Website
If, after reading your resume and cover letter, the hiring manager is still interested, they'll want to learn more about you. Specifically, they will be interested in seeing or reading samples of your work, and learning more about your work style, and views. The perfect place to showcase all of this is with a personal website and portfolio.
Here are some elements that you should make available:
A personal profile detailing your experience in journalism, and sharing your goals and values.
Samples of your work. Ideally, these will cover a range of mediums and types.
Academic samples. If you are inexperienced, it is perfectly fine to include samples of work you did as a student or writing that has been unpublished.
A listing of relevant awards and other recognition.
Alternatively, if you are a bit pressed on time and don't want to build a website from scratch, you can create a simple portfolio of your clips on Contently or Clippings.me.
Cover Letter Sample for a Journalist in .docx Format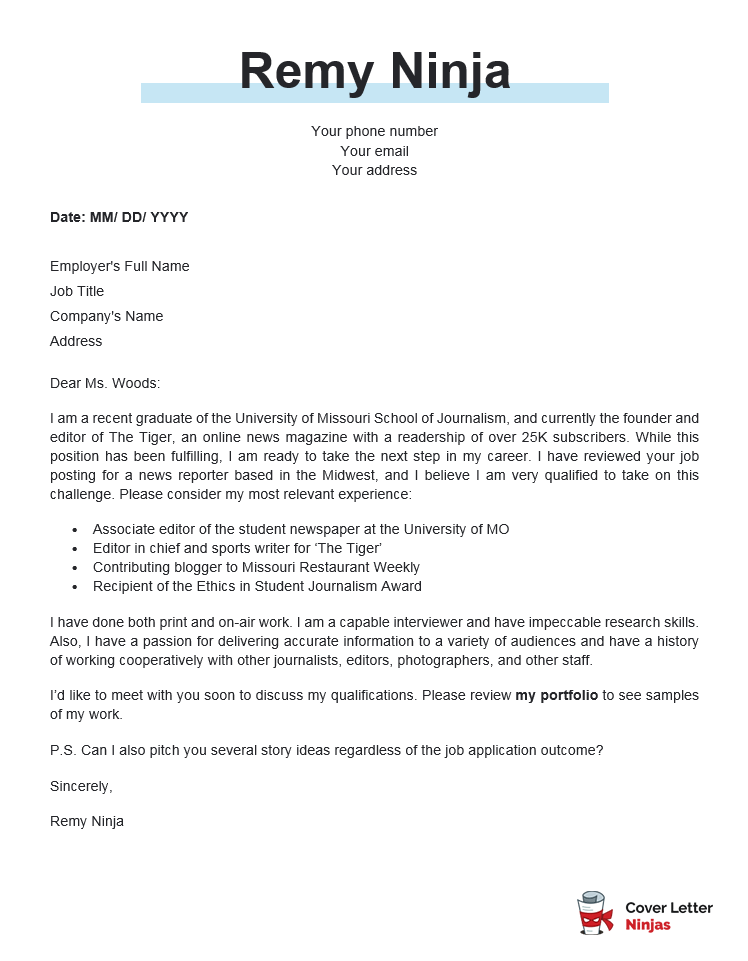 Download example (Word version)
Journalism Cover Letter Example – Text Format
Dear Ms. Woods:
I am a recent graduate of the University of Missouri School of Journalism, and currently the founder and editor of The Tiger, an online news magazine with a readership of over 25K subscribers. While this position has been fulfilling, I am ready to take the next step in my career. I have reviewed your job posting for a news reporter based in the Midwest, and I believe I am very qualified to take on this challenge. Please consider my most relevant experience:
Associate editor of the student newspaper at the University of MO
Editor in chief and sports writer for 'The Tiger'
Contributing blogger to Missouri Restaurant Weekly
Recipient of the Ethics in Student Journalism Award
I have done both print and on-air work. I am a capable interviewer and have impeccable research skills. Also, I have a passion for delivering accurate information to a variety of audiences and have a history of working cooperatively with other journalists, editors, photographers, and other staff.
I'd like to meet with you soon to discuss my qualifications. Please review my portfolio to see samples of my work.
P.S. Can I also pitch you several story ideas regardless of the job application outcome?
Sincerely,
Remy Ninja
Final Tip: Tell, Show, and Then Tell Again
This is a common writing formula used by journalists. First, you tell your reader what you plan on going over with them. Then, you show them by actually delving into that subject. Then, you close by reiterating what you mentioned before. This is a convincing writing style, that often leads to people taking a desired course of action. Consider using it in your cover letter.