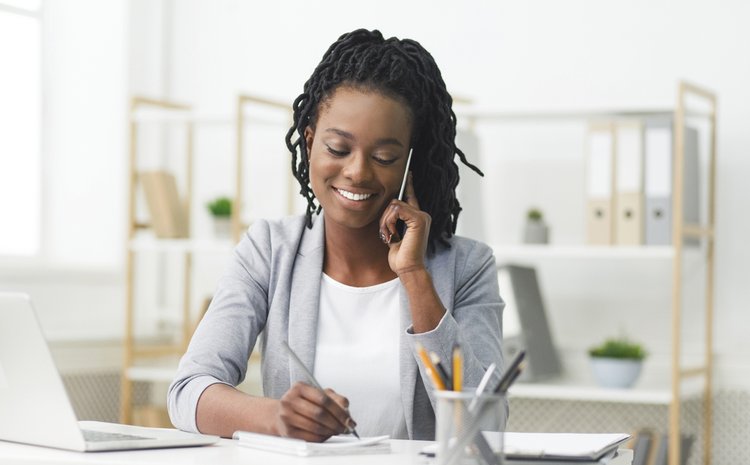 The position of Outreach Coordinator has always been a key element of non-profit organizations. This person has primary responsibility for making the connections between the organization and the members of a community whom that organization serves. It can be a challenging, but very rewarding job for an extroverted person who wishes to make a meaningful difference with their day-to-day work.
As an outreach coordinator, you are the main "touchpoint" between the community and your non-profit org. Thus, a lot of pressure is placed on you to deliver superior service levels and act as a friendly and compassionate "spokesperson". Show that you can be trusted with such responsibilities in your cover letter. We included essential writing tips, followed by a sample outreach coordinator cover letter.
Get to Know Your Audience
It is important to personalize every cover letter so that it speaks directly to the company and position you are seeking. Start by reading the position description multiple times. You need to understand exactly what the organization expects from the candidate and what personal attributes it values. 
Once you've done that, make a list of the most relevant qualifications you have. Focus on accomplishments that demonstrate your fitness for the background. Also, consider your hard and soft skills, and working style. Next, think of quick examples of how you've demonstrated these qualities at the previous job and incorporate them into your letter. Remember, to show, don't just tell!
Be Professional, But Not Too Formal
For the most part, your writing tone should lean towards casual while still remaining professional. Of course, to truly understand how to approach this, research the culture of the organization. Try to mimic the tone of the corporate voice in your cover letter.
ADVICE FROM OUR EXPERT
---
Withing outreach roles, it's key to elevate your skills in relationship management and communication. Use your cover letter as a tool to align your skills, experience, and accomplishments with the essential qualifications hiring managers are looking for, specifically as written in the job description.

Claire Webber
Career Consultant, CPCC, CPRW
Just keep in mind that a grassroots organization working with an under-served community will find a sophisticated, overly scholarly tone to be pretentious and off-putting. On the other hand, a not-for-profit that operates on a national scale and relies on corporate donors may prefer a more buttoned-down approach.
In any case, please do show your personality. Outreach coordinator is a bit of a sales position. Hiring managers will be looking for extroverted candidates who are enthusiastic about their mission. Browse some sales cover letter examples for extra inspiration.  
Make it All About Them
For now, keep the focus away from your wants, needs, and goals. Your cover letter is not the place to discuss how you believe this job will benefit you. Or what you want from this position. Instead, write only about the ways in which your background, experience, accomplishments, and ethics will provide value to your potential employer.
Make a Personal Connection With The Recipient
This starts with addressing them by name. If you aren't sure, it is worth making the effort to find out. If you can't find this information in the job listing or online, don't give up! Do you know someone who works with the organization? Ask them! If not, simply make a call to the HR department or send an email. Introduce yourself, explain that you are applying for a specific position, and ask who you should address your letter to. No one will think less of you, and your efforts to personalize your letter will be appreciated.
Outreach Coordinator Letter Sample in .docx Format
Obviously, your background and experience are unique, and the position for which you are applying is unique as well. But this example should give you a general idea of the format and content to include.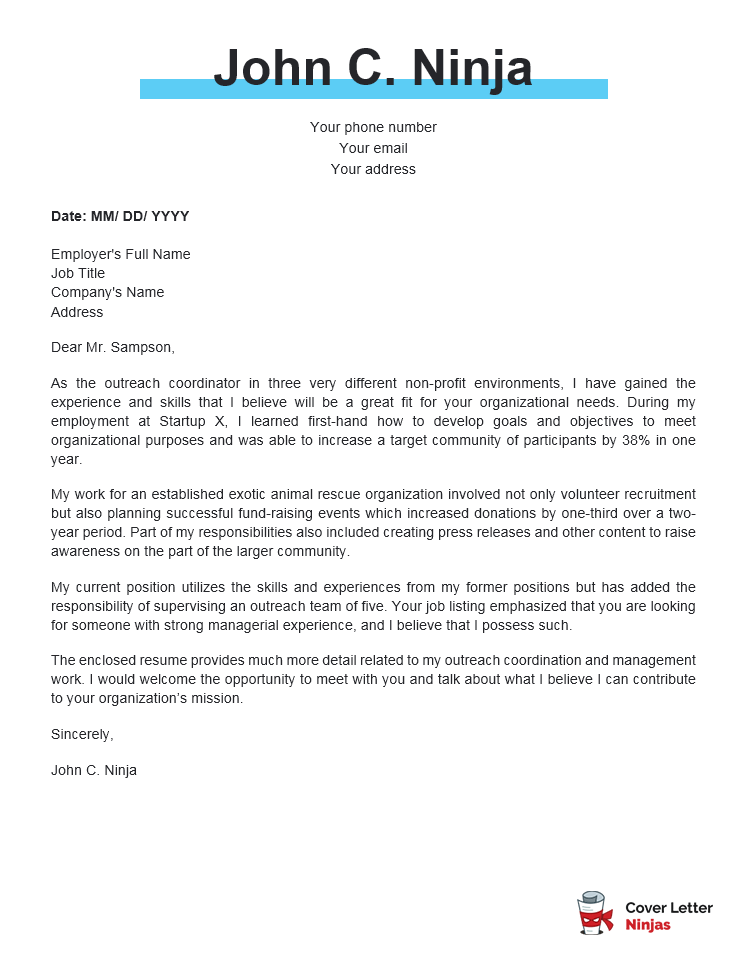 Download example (Word version)
Outreach Coordinator Letter Example – Text Format
Dear Mr. Sampson,
As the outreach coordinator in three very different non-profit environments, I have gained the experience and skills that I believe will be a great fit for your organizational needs. During my employment at Startup X, I learned first-hand how to develop goals and objectives to meet organizational purposes and was able to increase a target community of participants by 38% in one year.
My work for an established exotic animal rescue organization involved not only volunteer recruitment but also planning successful fund-raising events which increased donations by one-third over a two-year period. Part of my responsibilities also included creating press releases and other content to raise awareness on the part of the larger community.
My current position utilizes the skills and experiences from my former positions but has added the responsibility of supervising an outreach team of five. Your job listing emphasized that you are looking for someone with strong managerial experience, and I believe that I possess such.
The enclosed resume provides much more detail related to my outreach coordination and management work. I would welcome the opportunity to meet with you and talk about what I believe I can contribute to your organization's mission.
Sincerely,
John C. Ninja
Final Tip: Add a Soft Call to Action
Close your cover letter by nudging things towards the next step. Of course, that is meeting for an interview in person or via Zoom. Do this by adding a soft call to action. This is simply a casual mention of a future get-together to discuss the position further. It allows you to end the letter on a positive note, and prompts the reader to think about scheduling that interview.