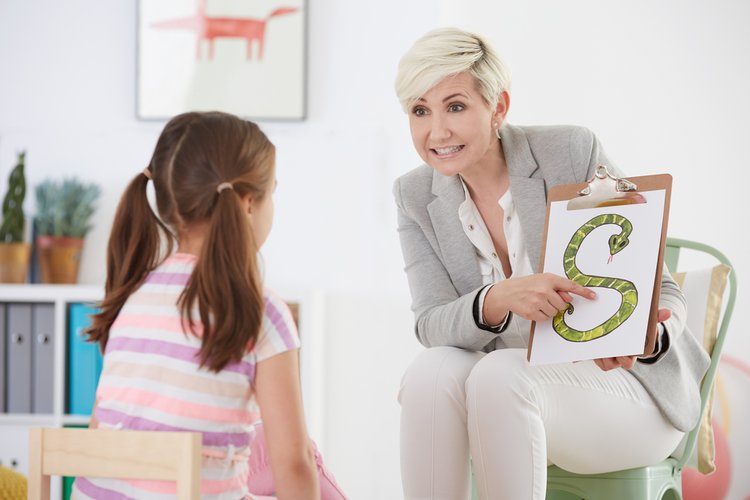 Speech pathologists help adults and children overcome issues that make it difficult for them to communicate. They diagnose disorders and offer therapies to assist in recovery. Sometimes, they may even be able to help prevent speech issues.
Many people who have undergone speech therapy know that this can be life-changing. That's why every speech pathologist deserves to land the best possible job. Here, we have provided some helpful cover letter tips along with a great speech pathologist cover letter sample.
Focus on a Factor That Makes You Stand Out
A cover letter is your way to introduce yourself to the hiring manager. Thus, it is imperative for you to find a way to differentiate yourself from other applicants and to pique the interest of the person reading your letter. Review your experience and accomplishments, and find something that truly sets you apart.
For example, you may have done research that has been published in an important journal or been invited to speak at a national conference. Consider leading your cover letter with this eye-catching bit of information.
ADVICE FROM OUR EXPERT
---
Speech Pathologist jobs almost always require a master's degree in Speech-Language Pathology or progress toward such a degree. Be sure to feature your education credentials within your cover letter to emphasize your qualifications. Hiring managers will likely evaluate your skills based on your ability to connect with patients, coordinate therapy practices, and support effective processes.

Claire Webber
Career Consultant, CPCC, CPRW
Provide a Brief Explanation For Career Gaps
A career gap won't disqualify you from consideration. However, anyone who notices one on your resume will want some answers. Use your cover letter as an opportunity to get ahead of things, and proactively address anything that may otherwise cause concern.
The best way to do this is to address these gaps briefly, put a positive spin on them, and indicate your enthusiasm for the opportunity. Here's an example:
"After taking time off to research the impacts of the early introduction of internet devices on speech development, I look forward to returning to work as a speech therapist."
Contextualize Your Experience
You'll showcase details about your hard and soft skills, education, and work experience on your resume. Use your cover letter "wrap" that experience in some extra context. Speak to your passion for your field, and use the things you have done so far to show that you are dedicated to advancing, gaining new skills, and delivering the best therapies to your clients.
Highlight Your Education and Certifications
Medicine is one field where there isn't much room for negotiation when it comes to requirements. You need a degree in your field and in many cases extra license or certification. This is your chance to check that box! Don't assume the hiring manager will read your resume. Instead, provide details about your degrees, certifications, and any other pertinent qualifications.
Show That You Understand The Employer Needs
Where will you work as a speech pathologist? Who will your clients be? Why has the potential employer posted an ad? What need are they looking to fill?
Figure out the answers to these questions before you begin writing your letter. When you do, you will be able to write your letter in a way that addresses their needs and concerns. It is particularly important to show that you understand their clients and that you have the experience and personality to best assist them. For example:
"I understand that patients with traumatic brain injury often become easily frustrated over speech difficulties. That's why I am committed to maintaining positivity and patience in my therapy sessions as I work to motivate my clients to progress."
Cover Letter Sample for a Speech Pathologist in .docx Format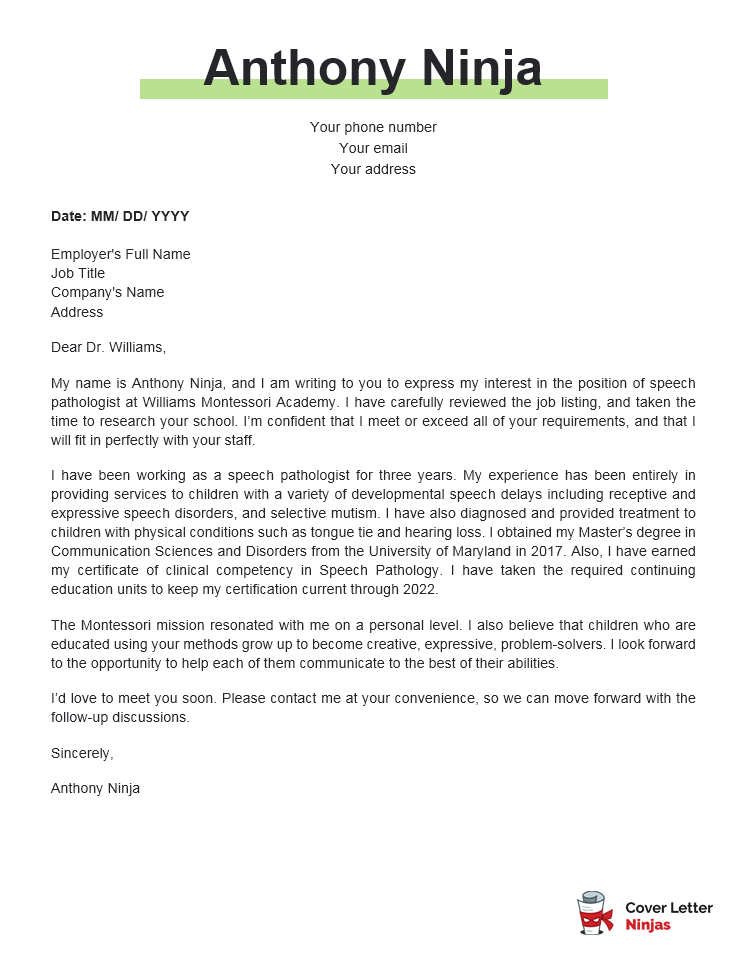 Download example (Word version)
Speech Pathologist Cover Letter Example – Text Format
Dear Dr. Williams,
My name is Anthony Ninja, and I am writing to you to express my interest in the position of speech pathologist at Williams Montessori Academy. I have carefully reviewed the job listing, and taken the time to research your school. I'm confident that I meet or exceed all of your requirements, and that I will fit in perfectly with your staff.
I have been working as a speech pathologist for three years. My experience has been entirely in providing services to children with a variety of developmental speech delays including receptive and expressive speech disorders, and selective mutism. I have also diagnosed and provided treatment to children with physical conditions such as tongue tie and hearing loss. I obtained my Master's degree in Communication Sciences and Disorders from the University of Maryland in 2017. Also, I have earned my certificate of clinical competency in Speech Pathology. I have taken the required continuing education units to keep my certification current through 2022.
The Montessori mission resonated with me on a personal level. I also believe that children who are educated using your methods grow up to become creative, expressive, problem-solvers. I look forward to the opportunity to help each of them communicate to the best of their abilities.
I'd love to meet you soon. Please contact me at your convenience, so we can move forward with the follow-up discussions.
Sincerely,
Anthony Ninja
Final Tip: Use Action Words
Give some life to your cover letter by using action words. Add relevant terms such as diagnose, treat, prescribe, and empower. By using "strong" verbs you create the image of confidence, authority, and passion for your job — the qualities every employer seeks in job candidates.
Still not sure about how to write your cover letter. Browse more medical cover letter examples that we have listed on our website.