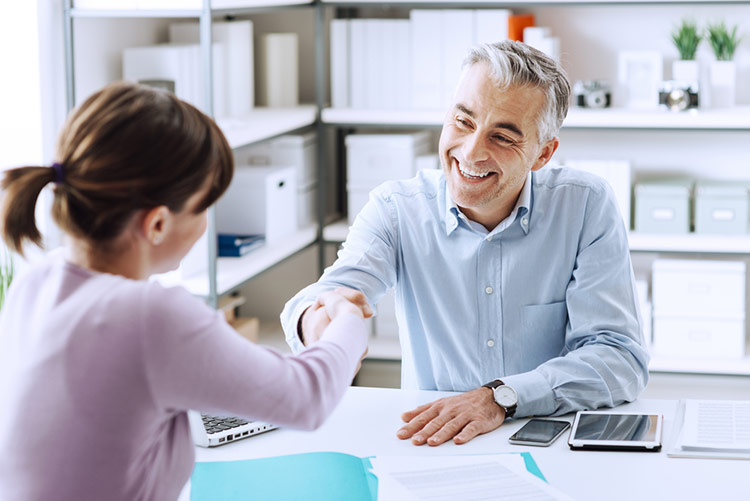 Human resources professionals are more in tune with the job-hunting process than many others. But let's be honest: none of us is perfect and sometimes HRs are prone to making the same mistakes as applicants from other industries. In addition to this, professional experience doesn't make one immune to the writer's block that can prevent someone from writing an effective cover letter.
So if you are feeling absolutely stuck with your application, here are some quick tips that should help you push past the initial block and type an amazing HR cover letter in no time.
ADVICE FROM OUR EXPERT
---
Since HR practices can vary widely based on the industry or size of the company, use that to your advantage. For example, if you are currently working for a global company but applying to a locally owned business, describe a few practices that you are "excited to bring to the company" to highlight your value.

Mary Ford
Executive Career Coach
Lead Off With All The Pertinent Information
You know the drill: recruiting coordinators have to sift through dozens of cover letters and resumes for every job opening they post. Perhaps you already heard your colleagues complaining that this is the fiftieth cover letter they've looked at today. It's 2.30 in the afternoon, and their post-lunch coffee hasn't kicked in yet. Would you want to search through another cover letter for the information you need? Of course not!
So don't become the object of another "rant" and be sure to stick to the most important information right at the top of your cover letter. Clearly state who you are, which position you are applying for, and give a general description of why you believe you are qualified.
P.S. If you want to make your cover letter even more eye-catching, grab one of our professional cover letter templates!
Use Keywords to "Trick" the Application Tracking Software
As you know, there's a chance that your cover letter and resume will be going through an applicant tracking system before it ever reaches the hands of an actual HR manager. In that case, you'll need the right keywords to make it through that process. The best place to find those keywords is in the job listing itself. When possible, write those out for every job you are applying to and sprinkle a few in your letter and a bigger bulk in your resume.
Avoid Jargon and Stay on Point
Unless you are listing a specific skill, avoid using technical jargon or HR speak. Stick with plain, friendly language to explain what you do and why you want to work at the company.
Also, readability is key. Use short sentences and paragraphs to increase readability, and to eliminate the 'wall of text' problem that makes reading cover letters difficult.
Match Your Skills and Attributes to The Needs of The Position
Once you've introduced yourself and stated your purpose, you can spend a few sentences describing how your skills and personal characteristics make you the ideal hire. Start with the specific requirements of the position. Detail how you have the skill set that makes you qualified.
Next, focus on the company culture. As an HR expert yourself, you understand how important it is to hire people who will fit in with other employees and work well within the company culture. Show how you will fit in. Do some research on the work environment, values, and history of the company. Then, describe how your personality and working style will mesh.
If you are new to the industry, focus more on the cultural fit and the skills/knowledge you have picked at school. Also, indicate any relevant coursework or extra training you took, as well as HR internships.
Cover Letter Sample For Human Resource in .docx Format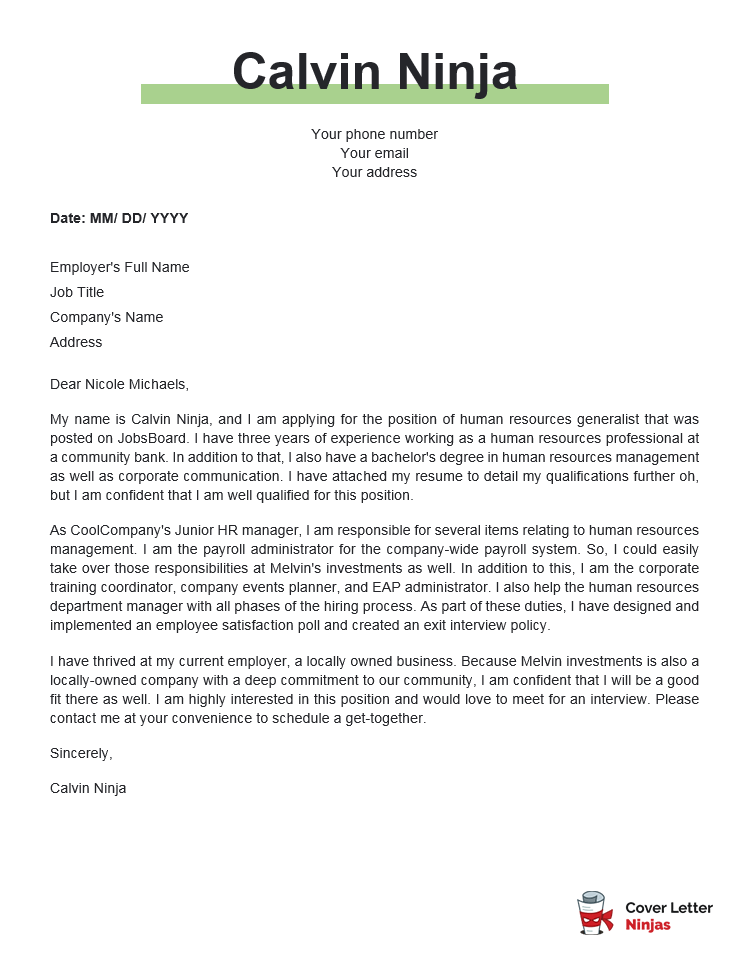 Download example (Word version)
Human Resource Cover Letter Example – Text Format
Dear Nicole Michaels,
My name is Calvin Ninja, and I am applying for the position of human resources generalist that was posted on JobsBoard. I have three years of experience working as a human resources professional at a community bank. In addition to that, I also have a bachelor's degree in human resources management as well as corporate communication. I have attached my resume to detail my qualifications further on, but I am confident that I am well qualified for this position.
As CoolCompany's Junior HR manager, I am responsible for several items relating to human resources management. I am the payroll administrator for the company-wide payroll system. So, I could easily take over those responsibilities at Melvin's investments as well. In addition to this, I am the corporate training coordinator, company events planner, and EAP administrator. I also help the human resources department manager with all phases of the hiring process. As part of these duties, I have designed and implemented an employee satisfaction poll and created an exit interview policy.
I have thrived at my current employer, a locally owned business. Because Melvin investments is also a locally-owned company with a deep commitment to our community, I am confident that I will be a good fit there as well. I am highly interested in this position and would love to meet for an interview. Please contact me at your convenience to schedule a get-together.
Sincerely,
Calvin Ninja
Final Thoughts – Follow The Instructions
You already know how important this is. Still, if you are busily applying for multiple jobs, can be easy to let detailed application instructions slip your mind. Don't let this happen to you. These instructions exist for a reason, and failing to follow them can get you excluded from the hiring process. So, if the instructions say to send your cover letter as an email, make sure you do that. Likewise, if it says to send it as a PDF attachment do that instead. This is also a good way to show that you pay attention to details and follow instructions.