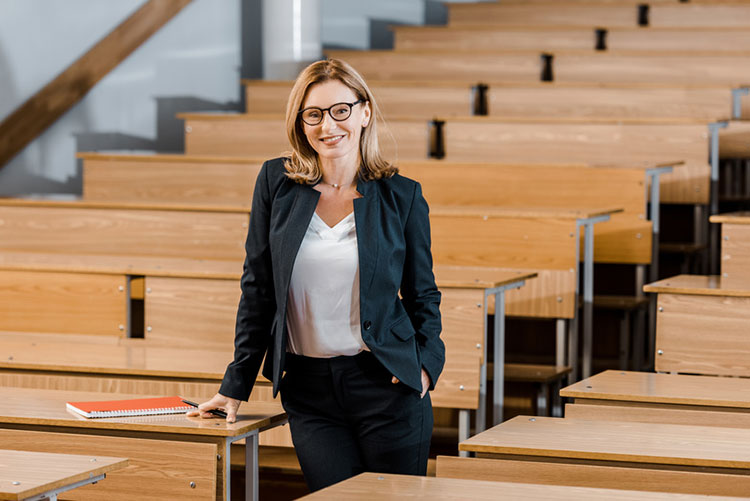 Working on a perfect academic cover letter can be daunting. So here's a fun fact to get some pressure off: if you are tired of 'traditional' career choices you can become a 'certified' ninja if you apply to the University of Bridgeport – the first college in the United States to offer a degree in Martial Arts?
But hey, if the career of a fearless warrior isn't exactly what you envision right now, we got more 'serious' stuff for you:
Top-notch cover letter writing tips to help you pierce your narrative together and push forward with that application package to a graduate school, research project or any other edu program.
A razor-sharp academic cover letter sample that will show you how to position yourself as a true master in your area of expertise. 
Address Your Cover Letter to a Specific Person
Whether you are applying to a post-graduate program, or to be part of an important research project, you should personalize your letter. Find the name of the department head or admissions committee chairperson. Use your salutation to address them directly. Otherwise, you risk showing disrespect to the 'sensei'.
Stick with Gender Neutral And Other Inclusive Terms
Inclusivity isn't a newfangled idea in academia, it's a standard you're expected to adhere to. Hopefully, much of this comes naturally, but here are a few tips:
Describe сareers using gender-neutral terms (e.g.: Police Officer not Policeman)
Do your best to use the preferred pronouns. Opt for they/them when in doubt
Avoid slang as it often has a cultural bias
State Your Purpose Clearly
Get to the point as quickly as possible. The first paragraph of your letter should cover what position or program you are pursuing, when you would like to start, and any other details. This makes it very clear to the reader why you have contacted them.
Introduce Yourself
Once you've addressed the 'why', move onto the who. Introduce yourself. Share something that makes you a good candidate. Get personal. What excites you and motivates you to pursue your academic goals?
ADVICE FROM OUR EXPERT
---
Cover letters that are professional, yet relational and sincere tend to be the best approach. Aim to choose a tone and voice that not only demonstrates you are a fit for your dream job, but also accentuates what makes you unique as a candidate.

Claire Webber
Career Consultant, CPCC, CPRW
Write a Summary of Your Qualifications
Like any other position, your reader will want to know what it is about you that qualifies you for this placement. You'll go into detail on your resume, but you should include a brief summary of your qualifications in your cover letter too. To make things easier to read, consider formatting these as bullet points. This will make your best traits stand out if the Adcomm member or department head is scanning for specific keywords.
Close With a Call to Action
What would you like to happen next? It isn't enough to express interest, give your reader a call to action. Are you ready to schedule an interview? Would you like to arrange a campus visit? Whatever you choose, show your enthusiasm for the next step in the process.
Mention Any Enclosures or Attachments
If your cover letter includes any letters of recommendation, your CV or other documents make note of these. List them at the bottom of your letter, underneath your signature. This will ensure that anything you need the recipient to see will be noticed.
Communicate What Your CV Does Not
Remember that your cover letter is not intended to repeat the information on your resume or CV. Use this document to differentiate yourself from other applicants. Focus on your academic accomplishments, your passions, and why you are such a great fit. Feel free to borrow more ideas from cover letters, written for other industries.
Be Friendly But Professional
You don't need to use stilted language and jargon to impress anyone with your cover letter. Instead, you friendly while maintaining a certain level of professionalism. Avoid overly casual wording, and don't be too familiar. On the other hand, a slightly conversational tone is inviting. It's all about balance.
Cover Letter Sample for an Academic Position in .docx Format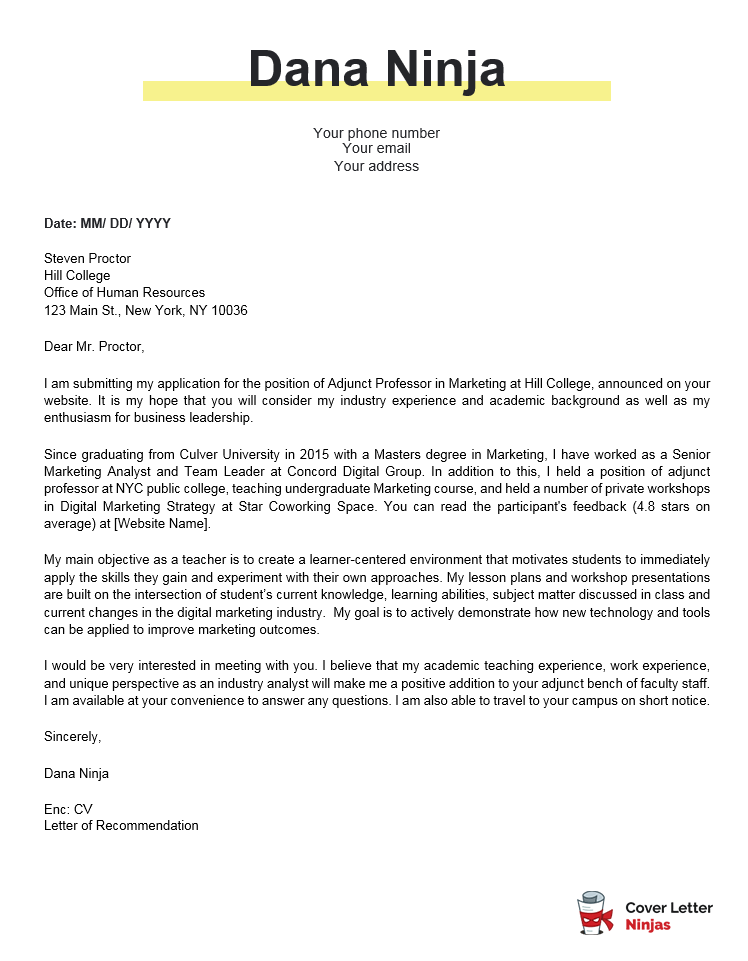 Download example (Word version)
Academic Cover Letter Example – Text Format
Steven Proctor
Hill College
Office of Human Resources
123 Main St., New York, NY 10036
Dear Mr. Proctor,
I am submitting my application for the position of Adjunct Professor in Marketing at Hill College, announced on your website. It is my hope that you will consider my industry experience and academic background as well as my enthusiasm for business leadership.
Since graduating from Culver University in 2015 with a Masters degree in Marketing, I have worked as a Senior Marketing Analyst and Team Leader at Concord Digital Group. In addition to this, I held a position of adjunct professor at NYC public college, teaching undergraduate Marketing course, and held a number of private workshops in Digital Marketing Strategy at Star Coworking Space. You can read the participant's feedback (4.8 stars on average) at [Website Name].
My main objective as a teacher is to create a learner-centered environment that motivates students to immediately apply the skills they gain and experiment with their own approaches. My lesson plans and workshop presentations are built on the intersection of student's current knowledge, learning abilities, subject matter discussed in class and current changes in the digital marketing industry. My goal is to actively demonstrate how new technology and tools can be applied to improve marketing outcomes.
I would be very interested in meeting with you. I believe that my academic teaching experience, work experience, and unique perspective as an industry analyst will make me a positive addition to your adjunct bench of faculty staff. I am available at your convenience to answer any questions. I am also able to travel to your campus on short notice.
Sincerely,
Dana Ninja
Enc: CV
Letter of Recommendation
Are You After a Specific Academic Role? Browse More Relevant Samples:
Final Tip: Brevity is Key
Keep it short. Your cover letter shouldn't be more than a page long. Remember that you want to earn an interview. Save the most important things to share for that meeting you are about to have!