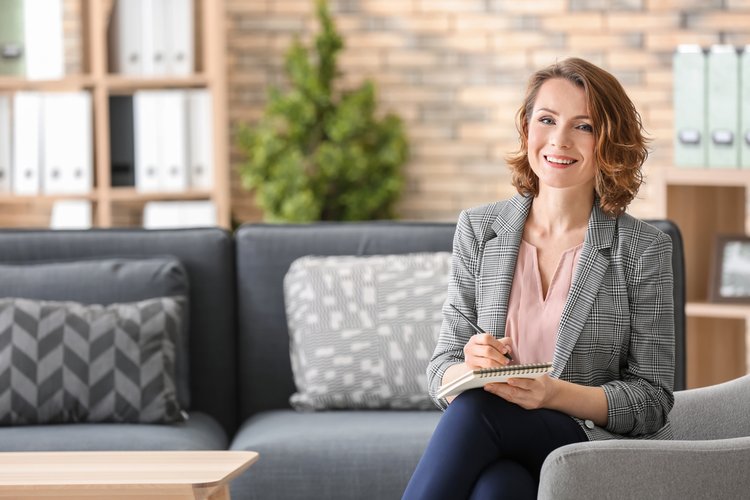 Human services workers help others live better lives. There aren't many things that are more important than that. So, how do you find your way into the human services job of your dreams?
One important task is writing a great cover letter to accompany your resume. To help you tackle this successfully, we're providing some tips you can put into action along with a great human services cover letter sample.
Write a Formal Well-Structured Cover Letter
This is a field in which your professionalism must be impeccable. Yes, you may eventually forge friendly, affable relationships with your new coworkers, but for now, take a very professional approach.
Stick with a business-like cover letter format. Keep it three to four paragraphs long. Use a professional cover letter template. Something with simple colors, and perhaps a nice boundary will be ideal.
Demonstrate That You Are Detail Oriented and Understand Procedure
Your job is to get positive outcomes that ensure your clients are healthier, safer, and more productive lives. In order to get there, you must follow very exact regulations and procedures. Missing an important detail could have disastrous results.
One way to show that you understand policies and procedures is to speak about any licenses, certifications, or continuing education requirements you have met. When you can demonstrate that you have obtained these, you also show that your professional knowledge is solid.
There are also some keywords you can include in your cover letter and resume. Use these to demonstrate specific competencies. For example:
Understanding of federal state and local regulations
Able to manage multiple cases
Successfully maintain client records
Commitment to confidentiality and security
Licensed by the state
Completed 150 continuing education units in client advocacy
CASA certified
ADVICE FROM OUR EXPERT
---
If you're considering applying for a Human Services position, you are likely others-driven with a strong capacity for working interpersonally. Use your cover letter as a conduit for sharing with prospective hiring managers the narrative behind the passion for your work. Consider incorporating key words highlighting transferable skills between your background and the job description, including communication, creative problem solving, conflict resolution, and strategic planning.

Claire Webber
Career Consultant, CPCC, CPRW
Show That You Are Passionate About Human Services
Let's be honest. Most people aren't cut out for the work that you do. It's grueling. To say you often deal with difficult people is a major understatement. Burnout rates are high. Competency is important, but so is a true passion for the work that you do.
Use your cover letter to illustrate how you maintain a passion for the work that you do, and how you go the extra mile to get great results for the people that you help. A short story is really effective. Here's a brief example:
'Last year a series of tornadoes ripped through Eastern Oklahoma causing millions of dollars in damage. Hundreds of families were left homeless, without utilities, or lacking the ability to obtain basic resources. Members of my team and I stepped in immediately. We worked up to 16 hours per day, and were able to assist more than 700 families in our country obtain temporary housing, food assistance, and cash benefits.'
Use Bullet Points For Key Responsibilities
Your resume is the best place to really delve into your duties and responsibilities. For your cover letter, it's best to narrow things down to a list of four or five key responsibilities. These should demonstrate the most important capabilities that you want to present from other relevant positions such as case management, social work, or federal agency employment.
Think of your most important selling points. Next, work them into your cover letter in the form of a bulleted list.
Cover Letter Sample for Human Services – .docx Format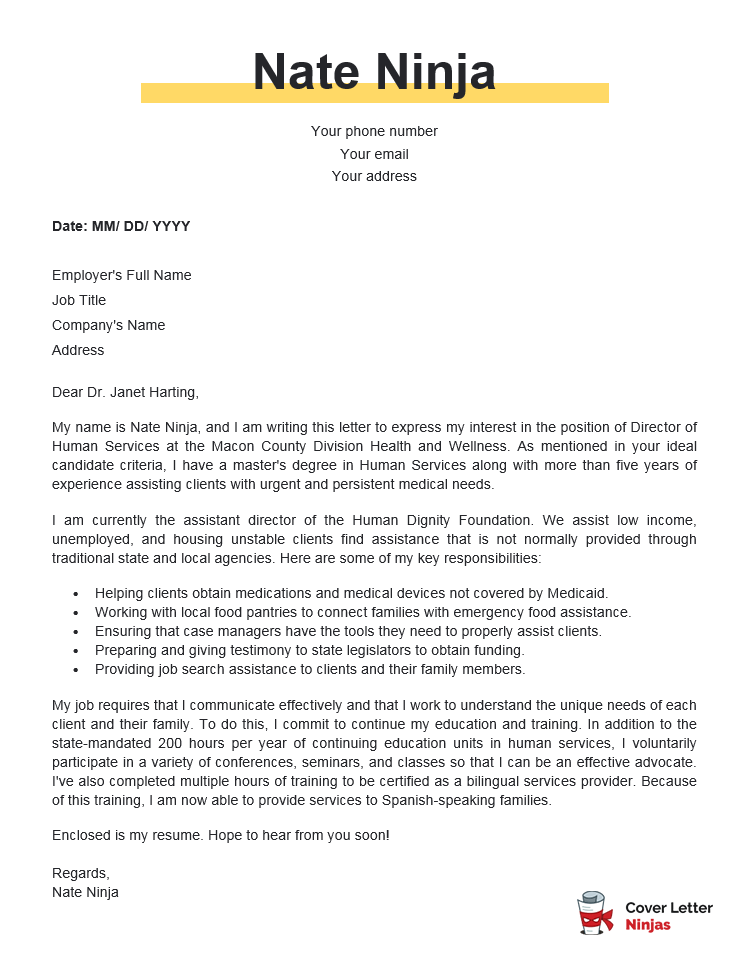 Download example (Word version)
Human Services Cover Letter Example – Text Format
Dear Dr. Janet Harting,
My name is Nate Ninja, and I am writing this letter to express my interest in the position of Director of Human Services at the Macon County Division Health and Wellness. As mentioned in your ideal candidate criteria, I have a master's degree in Human Services along with more than five years of experience assisting clients with urgent and persistent medical needs.
I am currently the assistant director of the Human Dignity Foundation. We assist low income, unemployed, and housing unstable clients find assistance that is not normally provided through traditional state and local agencies. Here are some of my key responsibilities:
Helping clients obtain medications and medical devices not covered by Medicaid.
Working with local food pantries to connect families with emergency food assistance.
Ensuring that case managers have the tools they need to properly assist clients.
Preparing and giving testimony to state legislators to obtain funding.
Providing job search assistance to clients and their family members.
My job requires that I communicate effectively and that I work to understand the unique needs of each client and their family. To do this, I commit to continue my education and training. In addition to the state-mandated 200 hours per year of continuing education units in human services, I voluntarily participate in a variety of conferences, seminars, and classes so that I can be an effective advocate. I've also completed multiple hours of training to be certified as a bilingual services provider. Because of this training, I am now able to provide services to Spanish-speaking families.
Enclosed is my resume. Hope to hear from you soon!

Regards,
Nate Ninja
Final Tip: Tell How You Can Serve Your Community
Every community has unique needs. Use your cover letter to demonstrate a talent or skill you have to meet that need. This can give you an advantage over other applicants. For example, if numerous people in your region are not native speakers, indicate that you are multilingual as the applicant in the sample cover letter did.
And if you need some more inspiration, be sure to check additional cover letter examples our team has created!