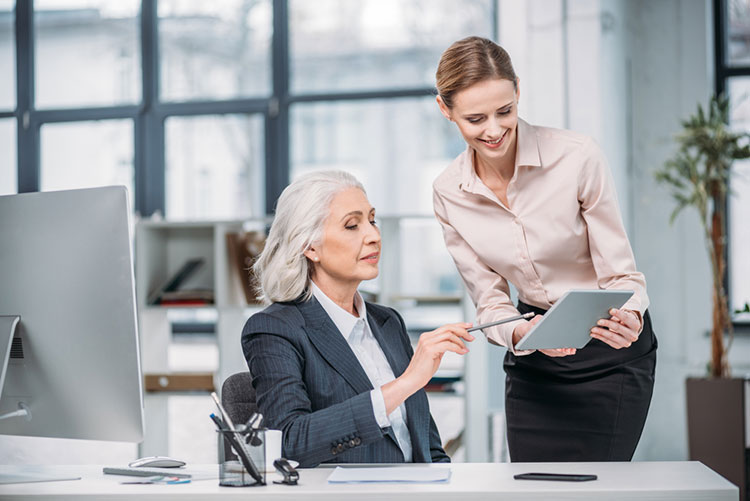 To get a job as an executive assistant, you must demonstrate that your abilities are well-honed enough to impress the most discerning C-suite. You must be impeccably organized, have great communication and people skills, along with the ability to understand the needs of the folks who work in the upper management league. As an executive assistant, you provide the support that members of top management need as they make the decisions that impact the bottom line.
If you have the skills you need, your next step is writing a great cover letter. Combine that with a detailed resume, and you are sure to land an interview. Keep reading for some tips, and an executive assistant cover letter sample.
Focus on Demonstrating The Skills and Attributes Executives Seek
Executive assistants must-have skills that are unmatched by people working at other levels. You must have great time management skills, the ability to juggle multiple projects at once, flexibility, and the skills to ensure your executive has the information they need to make the right decisions.
A good executive assistant is also very diplomatic. After all, you are the first line of communication between the executive and others. Be certain that your resume specifically details how you have developed these skills, and how you use them.
ADVICE FROM OUR EXPERT
---
Since many EA's write communications on behalf of their executive, make sure your cover letter "sounds like" the person you will be working for. For example, a young tech entrepreneur will have a different communication style than a senior partner at an established investment firm

Mary Ford
Executive Career Coach
Showcase Your Written Communication Skills
Your cover letter is the first writing sample the executive will see. Keep in mind that you will likely be handling correspondence for them. Write your letter to impress. Make sure it is clear, concise, and formatted for easy reading. Edit and proofread carefully to leave no doubt about your attention to detail.
Don't Name Drop
Ninjas are known for being covert. As someone who works for a top executive, you must be discreet as well. It's fine to list your employer on your resume, but don't say anything that would cause the hiring manager to think that privacy is not a priority for you. Wait for the interview to discuss who you have worked for in more detail.
Use Business Letter Formatting
This is a basic, but worth mentioning. Format your cover as a standard, business mail. This is true even if you are asked to send it via email. Include the appropriate salutations. Do not use first names unless you are instructed otherwise. Be certain that you use the correct name and spelling. Use the recipient's preferred pronoun or default to they/them.
Lead Off With a Notable Achievement
The beginning of any good cover letter has a hook. This is an attention-getting intro that quickly earns the reader's interest in you. Consider starting your letter with a mention of a notable achievement or project to which you contributed. Here's an example:
I am proud to say that I was an executive assistant to a Chief Financial Officer during a major merger between two of the largest financial institutions on the East Coast. During this important project, I have provided daily support that resulted in a significant financial benefit to shareholders and enabled customers to receive improved services. I would love to join your team to provide the same levels of dedication and advocacy.
Indicate Your Willingness to Travel or Otherwise Accommodate
The most successful assistants are those who can keep pace with their executives' busy lifestyles and demanding schedules. If you can travel, work into the evenings, or work weekends, you should add this information to your cover letter.
Demonstrate an Interest in The Business
Show your interest in the company at which you are applying. Do some research ahead of time, so that your cover letter can speak to the specific needs and goals of the business. Drop some statements that resonate with the company's mission and values. And perhaps the C-suit themselves if you happen to read an interview with them discussing their plans or recent accomplishments.
Sample Cover Letter for an Executive Assistant in .docx Format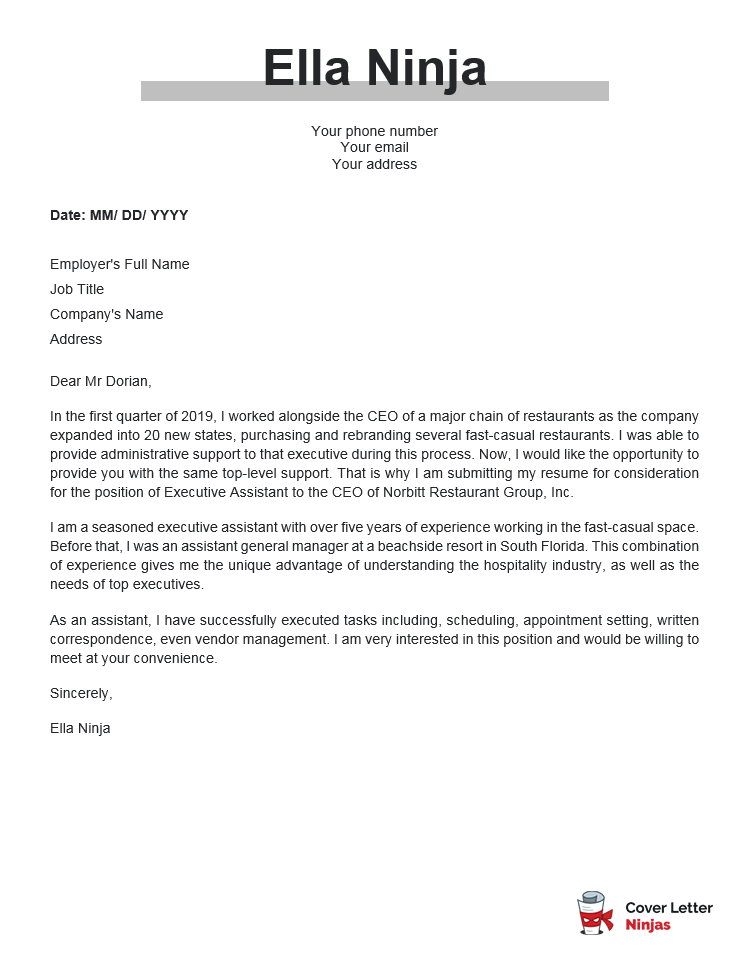 Download example (Word version)
Executive Assistant Cover Letter Example – Text Format
Dear Mr Dorian,
In the first quarter of 2019, I worked alongside the CEO of a major chain of restaurants as the company expanded into 20 new states, purchasing and rebranding several fast-casual restaurants. I was able to provide administrative support to that executive during this process. Now, I would like the opportunity to provide you with the same top-level support. That is why I am submitting my resume for consideration for the position of Executive Assistant to the CEO of Norbitt Restaurant Group, Inc.
I am a seasoned executive assistant with over five years of experience working in the fast-casual space. Before that, I was an assistant general manager at a beachside resort in South Florida. This combination of experience gives me the unique advantage of understanding the hospitality industry, as well as the needs of top executives.
As an assistant, I have successfully executed tasks including, scheduling, appointment setting, written correspondence, even vendor management. I am very interested in this position and would be willing to meet at your convenience.
Sincerely,
Ella Ninja
Looking for More Inspiration? Check Other Samples For Assitant Roles:
Final Tip: Don't Copy or Rewrite Your Resume
Use your cover letter to communicate your value beyond what's already mentioned in the resume. Speak more of your personal qualities and show that you've done some preliminary research about the company (and person) you want to work for.