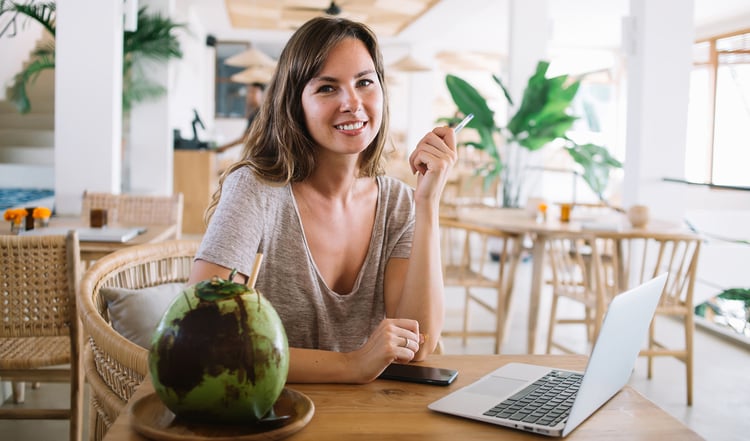 As one of the best copywriters of all time, David Ogilvy, wrote in his book:
"The hallmarks of a potentially successful copywriter include: Obsessive curiosity about products, people, and advertising. A sense of humor. A habit of hard work. The ability to think visually. The ambition to write better campaigns than anyone has ever written before."
And these are the qualities employers look for in copywriters today. The only difference is that copywriting has largely become a digital job. So rather than writing TV and print ad scripts, you'd be tasked with Instagram ads, landing pages, and website copy too. So you gotta have some general digital marketing skills too.
That being said, you'd still get judged by your writing the most. This means you can't submit a lackluster copywriter cover letter. But as a creative person, you are probably in your head a lot and doubt if your writing is any good. That's why we've written this sample copywriter cover letter example to help you get inspired and start working on your personal masterpiece!
Cover Letter Sample for a Copywriter in .docx Format
Copywriters need to sell with their writing. In your cover letter, you are the product. Market yourself the best you can! This sample copywriter cover letter does just that expertly.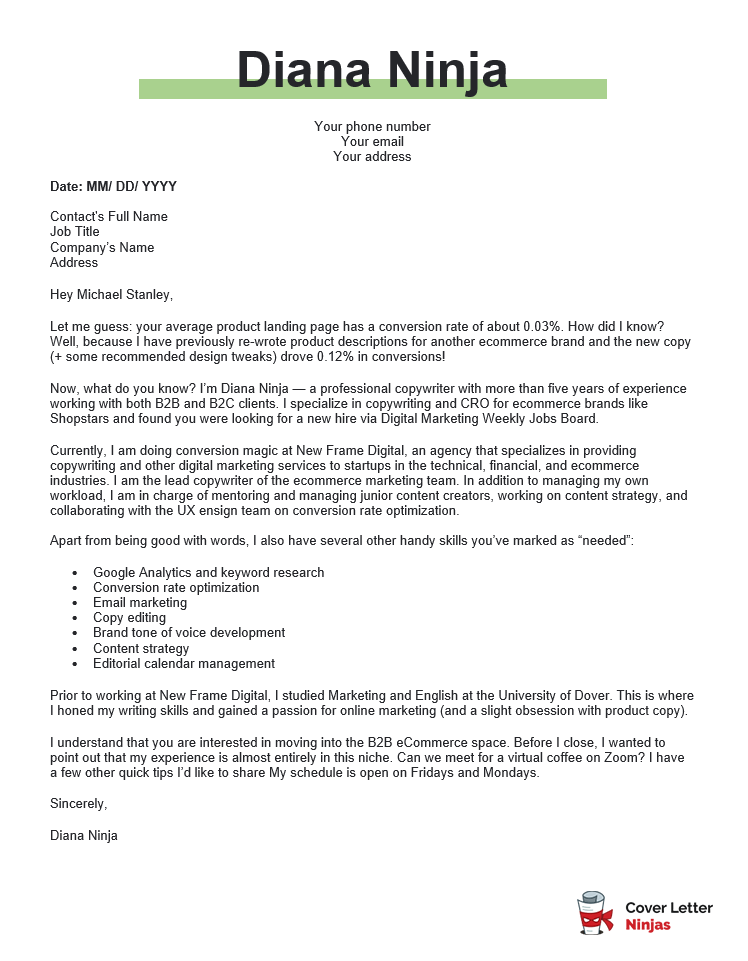 Download example (Word version)
Copywriter Cover Letter Example – Text Format
Hey Michael Stanley,
Let me guess: your average product landing page has a conversion rate of about 0.03%. How did I know? Well, because I have previously re-wrote product descriptions for another ecommerce brand and the new copy (+ some recommended design tweaks) drove 0.12% in conversions!
Now, what do you know? I'm Diana Ninja — a professional copywriter with more than five years of experience working with both B2B and B2C clients. I specialize in copywriting and CRO for ecommerce brands like Shopstars and found you were looking for a new hire via Digital Marketing Weekly Jobs Board.
Currently, I am doing conversion magic at New Frame Digital, an agency that specializes in providing copywriting and other digital marketing services to startups in the technical, financial, and ecommerce industries. I am the lead copywriter of the ecommerce marketing team. In addition to managing my own workload, I am in charge of mentoring and managing junior content creators, working on content strategy, and collaborating with the UX ensign team on conversion rate optimization.

Apart from being good with words, I also have several other handy skills you've marked as "needed":
Google Analytics and keyword research
Conversion rate optimization
Email marketing
Copy editing
Brand tone of voice development
Content strategy
Editorial calendar management
Prior to working at New Frame Digital, I studied Marketing and English at the University of Dover. This is where I honed my writing skills and gained a passion for online marketing (and a slight obsession with product copy).
I understand that you are interested in moving into the B2B eCommerce space. Before I close, I wanted to point out that my experience is almost entirely in this niche. Can we meet for a virtual coffee on Zoom? I have a few other quick tips I'd like to share My schedule is open on Fridays and Mondays.
Sincerely,
Diana Ninja
Cover Letter Writing Tips for Copywriters
To quote another copywriting classic, Eugene Schwartz: This is the copywriter's task: not to create mass desire — but to channel and direct it. And this is what you need to do in your cover letter — make this particular employer dire to hire you. These follow-up tips will help you get there!
You Need a Powerful Introduction
You can't write a copy that converts without having an amazing headline and introduction. That's copywriting 101. So use this trick in your cover letter too. Instead of doing the standard greeting, bring up your biggest selling point, a quick fact about the company, or just some controversial statement.
That's what the letter above does: it opens with the copywriter showing that:
They did some background company research
They know how to deliver a banging result for the company
If you need more examples of high-impact cover letter openings, check this sales cover letter example or this marketing manager cover letter sample.
ADVICE FROM OUR EXPERT
---
When applying for a copywriter position, the cover letter is a perfect spot to demonstrate your amazing writing abilities. Add in some creative flair while staying professional. Also, while it should go without saying, your cover letter needs to have impeccable grammar and spelling.

Debi Douma-Herren
Senior Certified HR Professional & Career Coach
Use Relevant Industry Keywords
You probably know that the first person to read your cover letter isn't going to be a marketing expert or professional copywriter. Instead, it will most likely be a member of the company's HR team. As they read, they will be scanning your resume for certain keywords that are related to copywriting and marketing. If you want your letter to be sent to the hiring manager, you should be sure to plop those into your copy.
The best source for the keywords you need will always be the job listing. That will have the skills, experience, and characteristics that are required for this position.
Share Your Soft Skills
Don't forget that your soft skills are an important part of your qualifications. If you have team building, leadership, and time management skills, add those to your cover letter. It will show that you are a well-rounded candidate who is capable of handling all the demands of a job, not simply completing writing assignments.
Don't Forget Your Call to Action
After you write your letter, you have to end it with a compelling call to action. Your CTA will get the ball rolling towards your interview! Be bold and confident. After all, you know you have the talent to do the job.
Final Tip: Show You've Done Your Research
While you are focusing on your incredible copywriting skills, don't forget to talk about your potential employer. Take some time to learn about what they do, any newsworthy items, or future projects. Use that information to show how you can be a positive and productive member of their team.