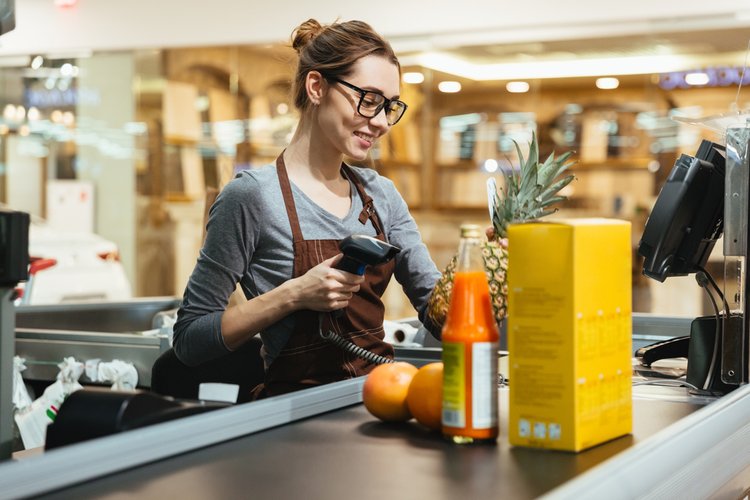 This year, we've all learned what an essential worker is, and how valuable these folks are to the society. And if you just plan to become a professional cashier, we have good news for you, too. This job will always remain in high demand. Plus, it often comes with good benefits and steady career growth opportunities if you commit to it full-time.
So let's get started with your job search! Check out our helpful tips below for writing a cover letter and finding a great position as a cashier. Be sure to read to the end, and check out the cashier cover letter sample we've provided!
Build Your Cover Letter Around Two or Three Elements From The Job Description
Have you ever seen those really cool-looking, hand-drawn signs they put in front of stores and restaurants? Shop owners use these to draw shoppers in by posting about special offers, and top products. Once customers come into the store, they can see everything else that's available to them.
This is how you should see your resume and cover letter. Use your cover letter to highlight what makes you a great fit for the job. In particular, pick two or three informational points from the listings — ones that truly align with your experience and expertise — and incorporate them in your letter.
Think of these tidbits as your 'hook'. Once you've captured interest in your cover letter, you can use your resume to really close the deal.
ADVICE FROM OUR EXPERT
---
When applying to positions that require you to handle money, it's of utmost importance to convey to prospective employers that you are responsible, hold a high standard of integrity, and can be trusted. Within the body of your cover letter, provide hiring managers with specific examples where you were trusted to appropriately handle company or customer funds in the past.

Claire Webber
Career Consultant, CPCC, CPRW
Show Off Your Cross-Training
You could spend every shift at your new job in front of a cash register. That's not very likely though. Because so many retailers struggle with staffing and turnover, most workers have to be adaptable. Oftentimes, you'll be asked to perform additional duties such as stocking shelves, cleaning, even working in the back of the store.
If you already know how to do this type of retail work, you are at an advantage! Make certain that you point this out in your cover letter. Showing that you can handle different types of retail chores will increase the employer's confidence that you can step in wherever you might be needed!
Mention Your Up-to-Date Technical Skills
The traditional cash register has nearly gone extinct. Instead, most stores now come equipped with "smarter" Internet-connected point of sale (POS) systems. Such machines are also equipped with card scanners, check and receipt printers, and other handy gizmos for accepting payments and loyalty cards.
Most employers will expect you to know how to operate a modern POS. What's more, most will appreciate it if you can also do some light troubleshooting when things go wrong. Mention all the POS systems that you're familiar with in your letter.
Be Concise
The person reading your cover letter and resume is likely to be an overworked store manager. Chances are, they're going through dozens of job applications every day. Many of these are going to the painfully long and poorly written.
Yours should not be! Focus on getting to the point quickly. Addressing the most pertinent issues outlined in the job description in the first part of your letter. Then pack all the additional information in the other 2-3 paragraphs. Don't make your letter over a page long!
Struggling with this point? Check other cover letter examples on our website to see just how you should structure your letter.
Cover Letter Sample for Cashier in .docx Format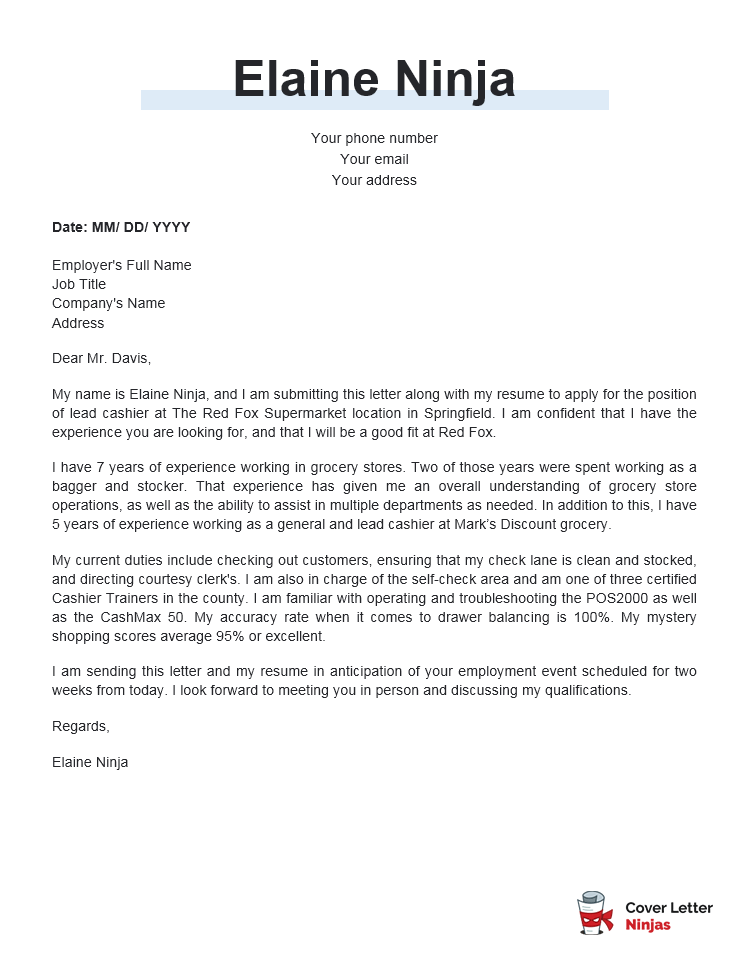 Download example (Word version)
Cashier Cover Letter Example – Text Format
Dear Mr. Davis,
My name is Elaine Ninja, and I am submitting this letter along with my resume to apply for the position of lead cashier at The Red Fox Supermarket location in Springfield. I am confident that I have the experience you are looking for, and that I will be a good fit at Red Fox.
I have 7 years of experience working in grocery stores. Two of those years were spent working as a bagger and stocker. That experience has given me an overall understanding of grocery store operations, as well as the ability to assist in multiple departments as needed. In addition to this, I have 5 years of experience working as a general and lead cashier at Mark's Discount grocery.
My current duties include checking out customers, ensuring that my check lane is clean and stocked, and directing courtesy clerk's. I am also in charge of the self-check area and am one of three certified Cashier Trainers in the county. I am familiar with operating and troubleshooting the POS2000 as well as the CashMax 50. My accuracy rate when it comes to drawer balancing is 100%. My mystery shopping scores average 95% or excellent.
I am sending this letter and my resume in anticipation of your employment event scheduled for two weeks from today. I look forward to meeting you in person and discussing my qualifications.
Regards,
Elaine Ninja
Final Tip: Check For Open Interviews
You should always prepare a resume and cover letter to present to potential employers when you meet in person. You'll look much more professional when compared to other applicants. However, to get a fast track to an interview, be on the lookout for job fairs and open interview events. These will give you an opportunity to speak with hiring managers directly.
Need More Inspiration? Check Other Cover Letter Examples!