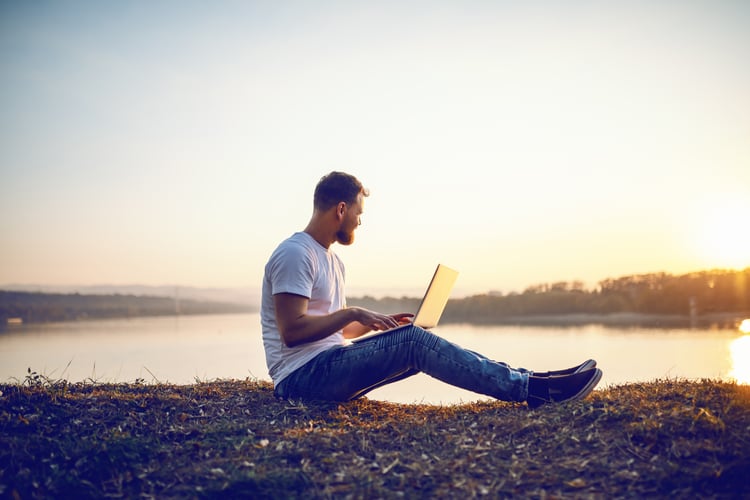 If you've ever wanted to have your poetry published in a literary magazine, you have to go through the submission process. The same is true if you are entering a writing scholarship contest. In most cases, that includes writing a cover letter for poetry submission.
Even if you are a pro wordsmith otherwise, writing a compelling cover letter can be challenging. What should you include? How do you talk about your work without sounding too boastful? After all, this isn't for a job application. Thus it can be difficult to discern what the judges are looking for. Well, stop worrying. We can help with this challenging task. Just check out our sample cover letter for poetry submission along with some actionable writing tips.
Cover Letter Sample for a Poetry Submission in .docx Format
Here is a brief example of a cover letter. Feel free to use this as a bit of a template for your own letter.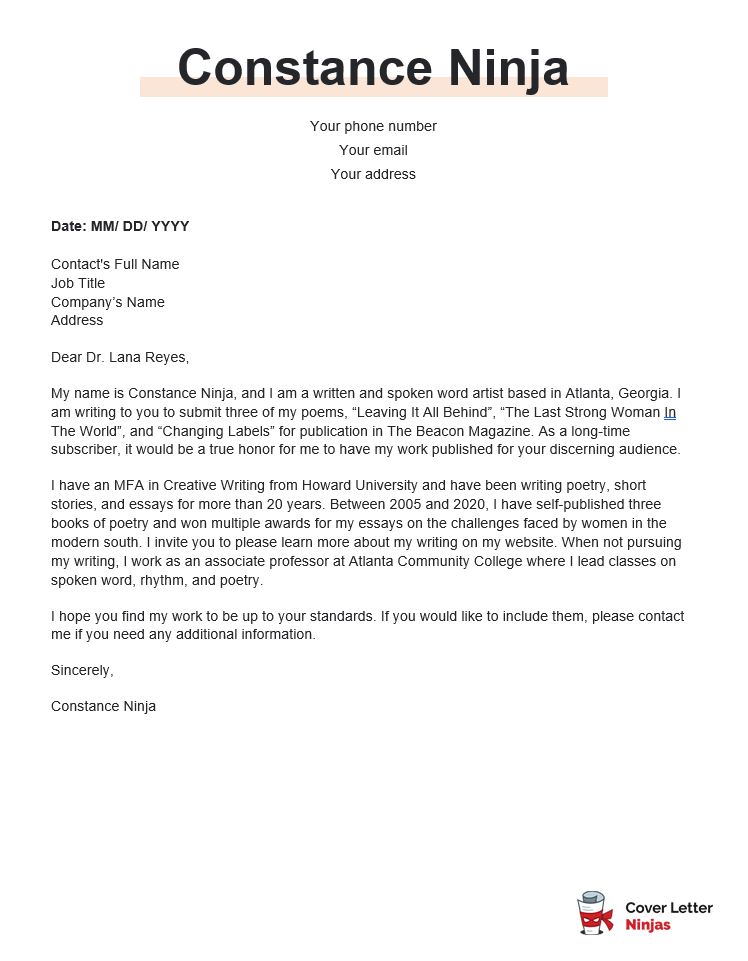 Download example (Word version)
Poetry Submission Cover Letter Example – Text Format
Dear Dr. Lana Reyes:
My name is Constance Stevens, and I am a written and spoken word artist based in Atlanta, Georgia. I am writing to you to submit three of my poems, "Leaving It All Behind", "The Last Strong Woman In The World", and "Changing Labels" for publication in The Beacon Magazine. As a long-time subscriber, it would be a true honor for me to have my work published for your discerning audience.
I have an MFA in Creative Writing from Howard University and have been writing poetry, short stories, and essays for more than 20 years. Between 2005 and 2020, I have self-published three books of poetry and won multiple awards for my essays on the challenges faced by women in the modern south. I invite you to please learn more about my writing on my website. When not pursuing my writing, I work as an associate professor at Atlanta Community College where I lead classes on spoken word, rhythm, and poetry.
I hope you find my work to be up to your standards. If you would like to include them, please contact me if you need any additional information.
Sincerely,
Constance Ninja
How to Write a Cover Lette for Poetry Submission
Loved the above cover letter example? Great, here's how to craft a similar entry for yourself! As a rule of thumb, it's best to stick with a general business letter structure:
A compelling opening, explaining who you are and what made you apply
The body, detailing your creative and professional experiences
Concluding paragraph offering the reader to stay in touch.
The goal, however, is to keep all of these paragraphs short, on-point, and compelling. Here's how.
Follow The Instructions to a T
The first thing to do is read the submission guidelines carefully. Next, commit to treating these as hard and fast rules. Before you do anything, ensure that the poetry you intend to submit is within their parameters. Use the file format they request, and submit per their instructions. If they want it emailed, do that. If they prefer you upload it through a website, then that is what you should do. Nothing will get you removed from consideration faster than failing to follow basic instructions.
On a related note, pay attention to open submission dates. Not all publications accept individual submissions year-round. You may have to wait for the next calendar opening.
ADVICE FROM OUR EXPERT
---
If you are submitting poetry writing to multiple publications, double check each publication's requirements. Some may require your cover letter to include a bio or specific information about yourself before they accept your submission.

Debi Douma-Herren
Senior Certified HR Professional & Career Coach
Help The Audience Learn More About You
Include all the information the reader might need to learn more about you — background, accolades, awards, other places that published you. Be descriptive and provide a quick snapshot of your artistic or journalistic career so far. 
Don't forget to add your contact information, links to your social media, and your portfolio.
Write To The Editor
Unless you have been given other instructions, address your letter to the editor of the publication. You should be able to find their details online. Do a bit of research, in some cases, there may be an editor who has been assigned to work with poetry content. If you are submitting your work to multiple publications, double-check to ensure you haven't mixed any names up.
Keep Everything Relevant
The contents of your letter should only contain information that is relevant to your pitch. There's no reason to provide a life history, your resume, or other information. However, it is okay to add information that you believe helps to further your case for being published. For example, positive critiques, awards, or other bylines.
Manage Your Expectations
The larger the publication the longer you will wait for any feedback. Worse, many larger magazines simply won't respond to you, unless they plan to use your work. The same rules also apply should you try to submit your work to a major book publisher. Unfortunately, some large publishers simply won't accept work that they do not receive from a literary agent. For example, a now-published author Daniel Wallace has been pitching New Yorker for 30+ years before seeing any success.
Be Prepared To Pay
The truth is that many writing competitions are basically raffles. You pay some money, submit your work, and hope to get selected. The upside is that your work is almost always published in the sponsor's literary magazine or an annual book of poetry. After that, you will at least be able to say you have been published. Additionally, a smaller magazine may request a small donation to defray the costs of reading and publishing your work.
Final Tip: Stop Fawning
Yes, it's okay to say you are a loyal reader and admire the publication. However, you should also display some restraint. Fawning over the reader, or peppering your letter with a bunch of over-the-top superlatives won't help you get your poems published. It will just make the recipient uncomfortable.