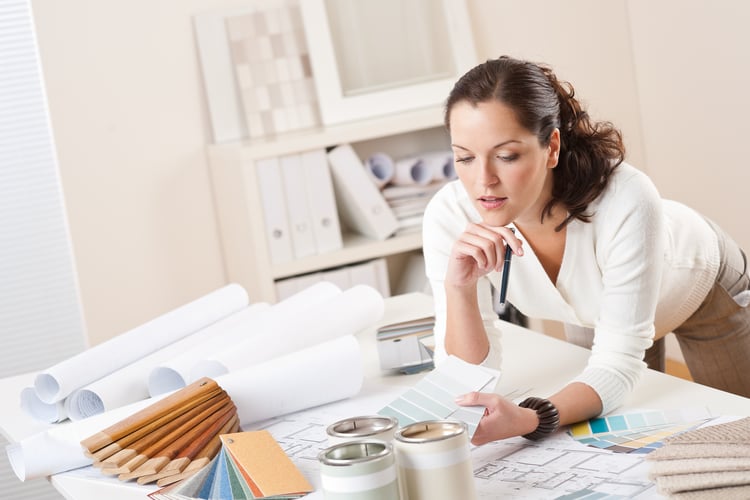 Interior designers use their skills to make offices, homes, and other spaces attractive and functional. But this job requires much more than the ability to coordinate colors and fabrics. An interior designer must ensure that spaces work well for their intended purposes, that they match the clients' aesthetics taste, and are on-brand with other assets the company has.
If you have the skills and experience, this can be a lucrative career. Interior designers take home a median salary of $55,350 per year. But it's pretty common to be independently employed for this profession and approach clients directly.
However, you must be able to impress employers and potential clients first. Your portfolio will speak a lot about your talents, but don't neglect to file a cover letter too. Why? Because it's another "touchpoint" with a prospect you can leverage to make a solid impression. Keep reading for an awesome interior design cover letter example and helpful writing tips.
Cover Letter Example for an Interior Designer – .docx Format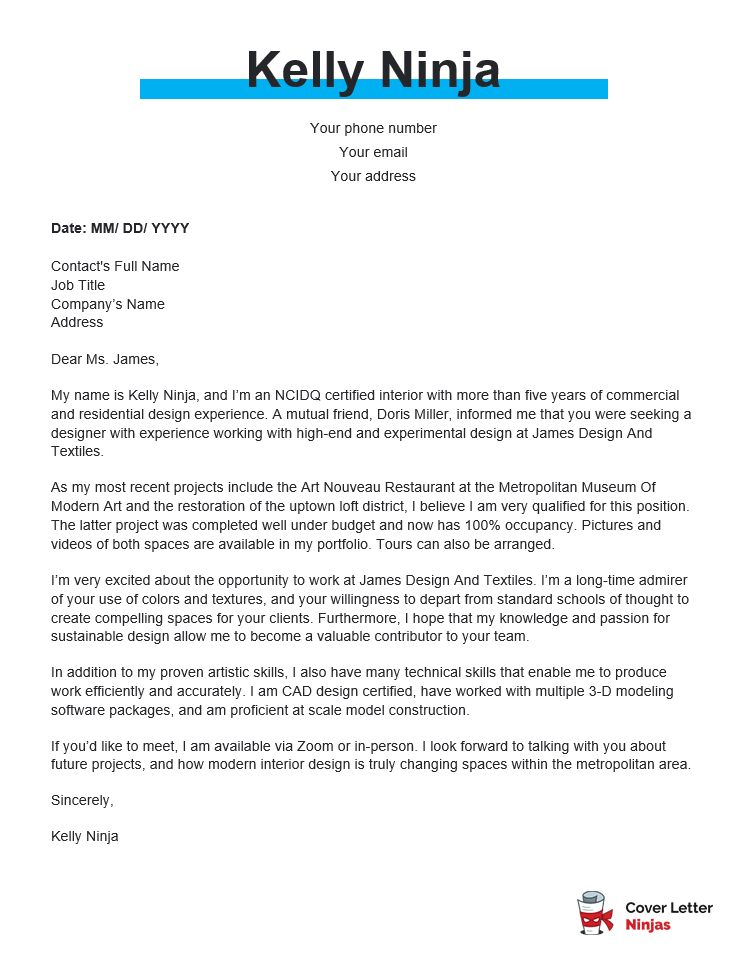 Download example (Word version)
Interior Design Cover Letter Sample – Text Format
Dear Ms. James,
My name is Kelly Ninja, and I'm an NCIDQ certified interior with more than five years of commercial and residential design experience. A mutual friend, Doris Miller, informed me that you were seeking a designer with experience working with high-end and experimental design at James Design And Textiles.
As my most recent projects include the Art Nouveau Restaurant at the Metropolitan Museum Of Modern Art and the restoration of the uptown loft district, I believe I am very qualified for this position. The latter project was completed well under budget and now has 100% occupancy. Pictures and videos of both spaces are available in my portfolio. Tours can also be arranged.
I'm very excited about the opportunity to work at James Design And Textiles. I'm a long-time admirer of your use of colors and textures, and your willingness to depart from standard schools of thought to create compelling spaces for your clients. Furthermore, I hope that my knowledge and passion for sustainable design allow me to become a valuable contributor to your team.
In addition to my proven artistic skills, I also have many technical skills that enable me to produce work efficiently and accurately. I am CAD design certified, have worked with multiple 3-D modeling software packages, and am proficient at scale model construction.
If you'd like to meet, I am available via Zoom or in-person. I look forward to talking with you about future projects, and how modern interior design is truly changing spaces within the metropolitan area.
Sincerely,
Kelly Ninja
Interior Design Cover Letter Tips
Want to craft a similarly compelling cover letter? In that case, we have a quick blueprint to follow.
Show Your Style
Interior design is a field that embraces creativity. A client seeking the services of an interior designer wants someone who has developed their own sense of style and artistic vision. Are you a designer who prefers sleek modern design, colorful and Avant-garde spaces, or homey comfort? What inspires you? Which artist styles and mediums do you favor? Share these things in your cover letter, so the reader knows your personal design style.
ADVICE FROM OUR EXPERT
---
When applying for an interior designer role, make your application stand out by including specific achievements such as client satisfaction or adherence to project deadlines. Additionally, point out your ability to stay on top of trends and specific design research or work you have conducted.

Debi Douma-Herren
Senior Certified HR Professional & Career Coach
Talk About Your Certifications
People live and work in the spaces that interior designers create. These spaces must be safe, attractive, and functional. Because of this, there are some certification processes that can prove you are capable of doing work that complies with basic safety and regulatory standards, especially if you also stand in as an architect sometimes. The most common is the NCIDQ. If you have earned any such certifications, include them early in your cover letter.
Give Some Project Examples
Your cover letter should mention at least one important project. That project should be representative of your talents, be very successful, and exemplify the attributes the hiring manager is looking for. Be sure to link examples of the work you mention in your portfolio. These visuals are absolutely key to showcasing your talents.
Strive to Make A Connection With The Reader
Have you worked with the hiring manager in the past? Do you have a professional associate in common, or do you have membership in the same organizations? Have you worked in the same areas of the city? If you are can find any sort of connection to the company or hiring authority, mention that. This personalizes your application, and will often make the person reading your cover letter that much more interested.
Don't Forget About Your Tech Skills
Interior designers aren't just creatives. They are professionals who have technical competencies such as familiarity with graphic design principles and software (e.g. CAD and 3D modeling tools), drawing, and draftsmanship skills. Technical skills also ensure that you can work collaboratively with architects, engineers, and other designers using the same tools that they do. List the most important technical skills in your cover letter. Then, save the remaining items for your resume.
Final Tip: Get The Next Step Started
End your cover letter with a powerful push in the right direction. Don't simply state that you would love to meet for an interview. Provide details that make it as easy as possible for the manager to pencil you into their schedule.