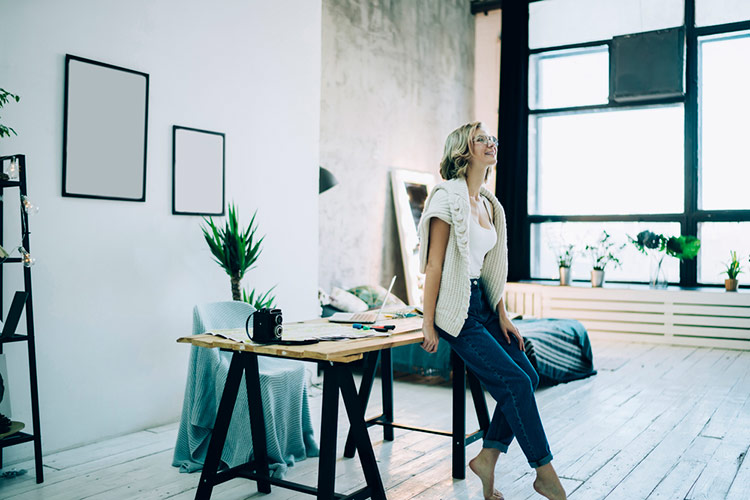 You're a skilled designer with experience, technical skills, and creativity. Of course, you've put together a stellar resume and a great project portfolio. Now it's time for the final touch. A personalized cover letter helps get the attention of hiring managers and shows how interested you are in the presented opportunity. To help with that, we're presenting some cover letter tips followed by a designer cover letter sample.
Show Your Style, But Keep it Low Key
It makes sense that you want to show your creativity and style at every turn. In fact, it's a great idea to do so since it helps the hiring manager better visualize where you are coming from as a designer. On the other hand, you'll need to balance your creativity with professionalism and common sense.
However, there's a fine line between using a cover letter design that is professional and creative and one that is cutesy and over the top. So subtly show your design capabilities and opt for a creative, yet subtle cover letter design template with an attractive font and color scheme.
ADVICE FROM OUR EXPERT
---
Given you are targeting a role within a creative field, don't be afraid to leverage your cover letter's formatting, design, and content to demonstrate your high-level creative thinking. Unlike other industries, cover letters for designer roles can be used to show, as well as tell, your potential new employer what innovative design aspects you'll bring to their team.

Claire Webber
Career Consultant, CPCC, CPRW
Match Your Skills and Personality to The Position
Before reading your resume, the manager will look for two items in your cover letter. The first is an indicator that you have the skills and experience they need. So pack mentions of these into your letter. You can take some of the in-demand competencies directly from the job listing. Later, you can include other important skills in your resume.
The second indicator they will seek is whether you will fit into the company culture. Don't forget to address this in your letter. Think of this as a two-phased approach.
First, show your personality! If you are applying to a company that is a bit 'buttoned-down', keep things formal. Use impeccable grammar. Scrub out any use of slang. Of course, if you're applying to a hip, young firm, you can keep things a bit more fun and casual.
What's the second phase? Be direct! Talk about your approach to design, and the work environment that best suits you. Here's an example:
"I really believe that the best designs are the result of a collaborative process. That's why I work so well in an open office space where designers and developers can freely exchange ideas with one another."
Link to a Specific Project in Your Portfolio
Hopefully, you've published your design portfolio online. Now, you should link it to your email cover letter. There's just a small extra step to take. Rather than linking to the first page of your portfolio site, select a specific project. Then, link to that page. The project you choose should be relevant to the position. Pick something that showcases a particular skill or style.
Eliminate Extraneous Language
Your cover letter should never be more than a page long. It shouldn't take more than four paragraphs, perhaps five to express your interest in the job, list some qualifications, and close the deal. More importantly, hiring managers are busy folks. Don't subject them to a rambling letter. Get to the point, and don't waste words. Here are a few words and phrases to ditch as you write:
Needless qualifiers: Definitely, very, surely, sort of, basically, actually, etc.
Too many modifiers: Think of a phrase like 'predict the future'. You can't predict the past or the present. Just use 'predict' on its own.
Passive voice: 'My team designed the product' is better than 'The product was designed by my team'.
Redundancies: 'Each and every' is redundant. Eliminate, and choose one or the other.
Adverbs: If you've used an adverb, you have likely used two words where one will do. For example, 'drew casually' can be replaced with 'sketched'.
Cover Letter Sample for a Designer in .docx Format
Here is a brief sample of a cover letter from someone seeking a position as an interior designer.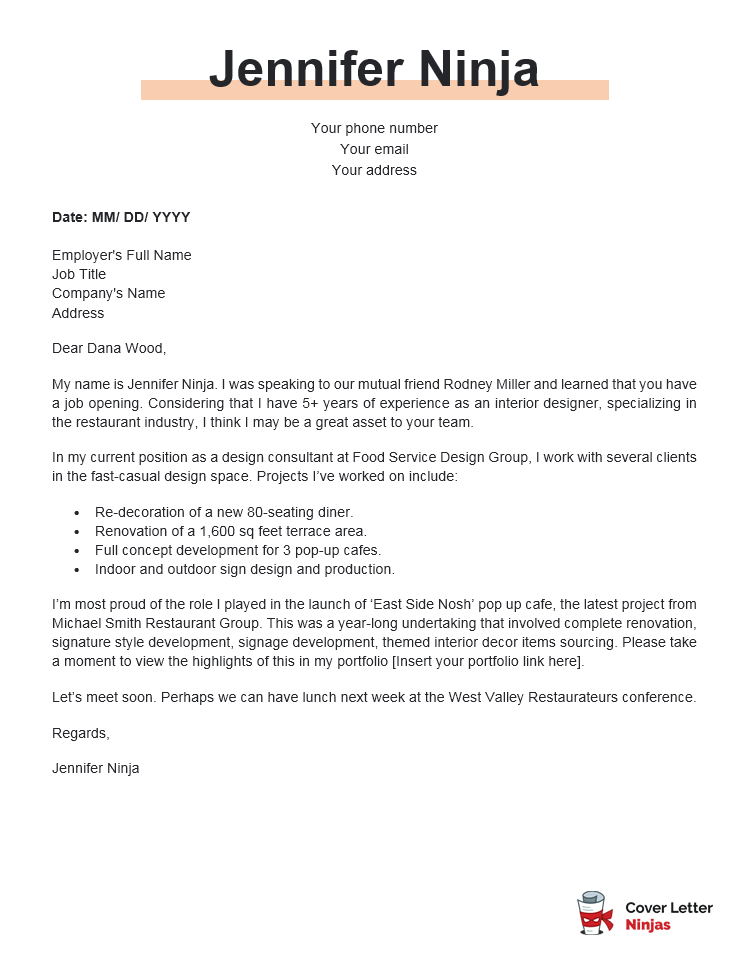 Download example (Word version)
Designer Cover Letter Example – Text Format
Dear Dana Wood,
My name is Jennifer Ninja. I was speaking to our mutual friend Rodney Miller and learned that you have a job opening. Considering that I have 5+ years of experience as an interior designer, specializing in the restaurant industry, I think I may be a great asset to your team.
In my current position as a design consultant at Food Service Design Group, I work with several clients in the fast-casual design space. Projects I've worked on include:
Re-decoration of a new 80-seating diner.
Renovation of a 1,600 sq feet terrace area.
Full concept development for 3 pop-up cafes.
Indoor and outdoor sign design and production.
I'm most proud of the role I played in the launch of 'East Side Nosh' pop up cafe, the latest project from Michael Smith Restaurant Group. This was a year-long undertaking that involved complete renovation, signature style development, signage development, themed interior decor items sourcing. Please take a moment to view the highlights of this in my portfolio [Insert your portfolio link here].
Let's meet soon. Perhaps we can have lunch next week at the West Valley Restaurateurs conference.
Regards,
Jennifer Ninja
Final Tip: Don't Forget The Other Skills Required
Your design skills are the most important, but there are other items to emphasize as well. Show that you are a team player, prioritize customer service, and are familiar with design software found in the typical workplace!
Check Other Relevant Cover Letter Examples for More Inspiration