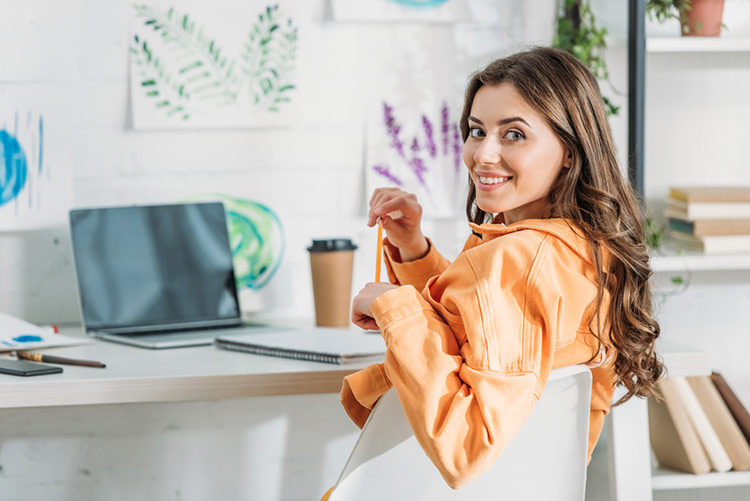 So, you've decided to join Upwork or a similar freelance marketplace. That's a great idea! The gig economy is booming and the compensation reflects that. Freelancers providing skilled services tend to earn 70% more per hour than their cubicle-dwelling counterparts.
But, you have to be mindful of competition too. As many as 57 million workers in the US alone freelance part-time and full-time. And Upwork has some 12 million registered users. Thus, to get your piece of the pie, you really need to make Upwork 'work' for you.
That starts with having a well-optimized personal profile and learning to write great bidding letters for projects. This post offers some tips for that. Plus, we've included a quick Upwork cover letter sample you can use as a reference. Keep in mind that this post will mostly reference Upwork, but could really apply to any freelancing platform.
Start With Optimizing Your Profile
You can bet that anyone interested in your proposal is going to check out the information in your profile before they even consider you for the job. So be sure that your profile includes the following:
A rockstar profile title that summarizes what you do.
Crisp and professional profile picture
Detailed profile overview that explains your professional background and highlights your skills.
You can also spice it up with testimonials/quotes from your past clients and portfolio pieces. Lastly, add extra credibility by completing several competency tests.
ADVICE FROM OUR EXPERT
---
Use your previous freelance gigs to gain credibility in your cover letter. Describe 1-2 previous projects in detail that show your experience, including any positive feedback. Include a link to a portfolio or previous work if possible.

Mary Ford
Executive Career Coach
Be Specific in Your Proposals
In most cases, you will be applying to do a very short-term, very specific task. In your cover letter (project proposal) don't go around the bush too much and succinctly state what makes you a good fit for that job. Include your resume only if the job posting specifically instructs you to do so.
Here's a quick example to illustrate the point further: imagine you're a freelance graphic designer. If you apply for a gig to design a set of landing pages, don't waste time discussing any other skills or experience (e.g. your amazing illustration talents). Instead, write only about your experience with landing page design and perhaps conversion optimization.
Speak in Terms of The Clients Needs
Keep in mind that many of the jobs posted on Upwork are time-critical. The person who needs the work done likely has little time to train someone, or even provide a bunch of clarification. That's why a person who can say something like: "Look, I understand what you want. Here is how I will do it. It will be done quickly. I'm ready to start immediately.' is going to earn a second look.
To help build even more confidence in your abilities, consider including a testimonial or reference from another client. If you can show that you've completed similar work in the past, that will work in your favor too!
Focus on Skills, Not Personality
Normally, your cover letter is the perfect vehicle to show your enthusiasm for the company mission, and that you will fit in with the company culture. Here, none of that matters. So keep the focus on your skills and experience, not personality traits.
Answer Their Questions
Sometimes, a potential client will post a pretty detailed list of questions they want to be answered, and information that they want you to provide. On one hand, that makes it much easier for you to write the cover letter. You simply answer the questions they provide. On the other hand, if you miss anything, it could get your entire proposal eliminated from consideration. So pay attention!
Cover Letter Sample For Upwork in .docx Format
Here is a sample cover letter that you can submit in response to a short-term project on Upwork.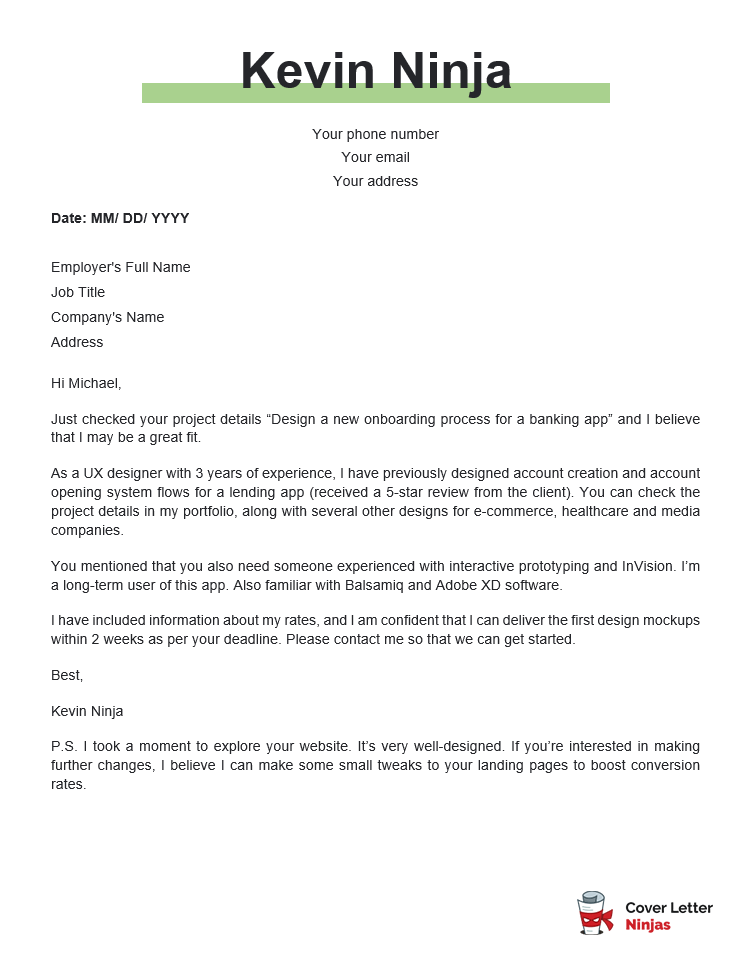 Download example (Word version)
Upwork Cover Letter Example – Text Format
Hi Michael,
Just checked your project details "Design a new onboarding process for a banking app" and I believe that I may be a great fit.
As a UX designer with 3 years of experience, I have previously designed account creation and account opening system flows for a lending app (received a 5-star review from the client). You can check the project details in my portfolio, along with several other designs for e-commerce, healthcare and media companies.
You mentioned that you also need someone experienced with interactive prototyping and InVision. I'm a long-term user of this app. Also familiar with Balsamiq and Adobe XD software.
I have included information about my rates, and I am confident that I can deliver the first design mockups within 2 weeks as per your deadline. Please contact me so that we can get started.
Best,
Kevin Ninja
P.S. I took a moment to explore your website. It's very well-designed. If you're interested in making further changes, I believe I can make some small tweaks to your landing pages to boost conversion rates.
Final Tip: Sell a Bit Further
Treat your cover letter as a marketing document. Work mostly to sell your clients on the skills they need right now, but don't forget to sell yourself a bit as well. Slip in a postscript or 'aside' to let them know other ways in which you can help!
Discover Even More Releveant Cover Letter Examples!