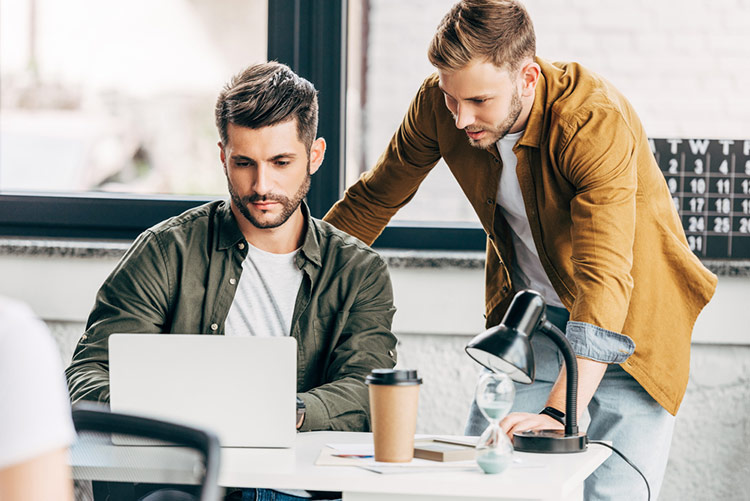 In the job of QA tester, you ensure that end-users receive the best possible software solutions. This can be exciting work, especially if you have a passion for technology since you'll be figuring out how it works all day long. At the same time, QA testers must be natural investigators as they attempt to identify any flaws or weaknesses in the developed product.
Requirements for this job vary, but one thing is guaranteed: you'll need to present potential employers with a great cover letter. This is your 'tool' to convince them that you are worth a shot as a QA tester in their company. Below are several quick-n-effective tips to help you craft a compelling cover letter, followed by a QA tester cover letter sample.
Outline Your Approach to Testing Processes
Start your cover letter by explaining how you work. Do you prefer to write unit test cases first or start by exploratory testing? What about automated tests? Are you comfortable working alongside the development/design teams? What's your stance on CI/CD?
ADVICE FROM OUR EXPERT
---
Often QA Testers operate within technical capacities to ensure quality across systems and software platforms. When creating a technical cover letter, do not feel obligated to include excessive language around your experience. Likely your prospective employer will be interested in understanding your qualifications, experience, training, and past successes within a similar role or field.

Claire Webber
Career Consultant, CPCC, CPRW
Also, this is the point in your letter where you may mention the tools you use during the testing process. Of course, if there are any brought up in the job listing, you should include those as well. Take a look at this snippet:
"When I test software, I take a three-phased approach. First, I go through a series of developer-created test cases. This is to identify any technical issues and to ensure that every click or keystroke has the intended result. Next, I use customer personas to evaluate user experience. Finally, I validate that all regulatory criteria have been met. In most cases, I find A/B Deluxe to be the most comprehensive testing utility for that purpose."
Demonstrate an Understanding of Industry Standards
In many instances, a QA tester must take two things into consideration. First, they must determine if the product will work for the user. Second, they have to identify any potential violations of industry standards or regulations.
So consider the industry that you are in as you write your cover letter. Then, show that you have the skills and experience to identify any issues that could be a sign of compliance or regulatory issues. For example:
"I have completed training, required for ISO: 8782121 certification. This allows me to identify any issues that could result in software that is not compliant with financial services regulations."
Share How You Are Familiar With The User
You can't be a good quality assurance tester if you don't understand a company's target audience. Your job is more than determining whether something works without error. You'll have to answer the question: "Does this product successfully solve the user's problem?"
This is why your cover letter should include a discussion of the company's customer base and how you understand their needs. If you were applying to a FinTech company you might write:
"As someone who struggles to understand online investing, I rely on apps and tools to help me manage my small portfolio. I believe that perspective helps me to understand what newbie investors seek in a financial app."
Mirror Culture and Values
Did you know that influential people connect with others by mirroring their behavior? In-person, they do that by matching the tone and body language. You can do the same in your cover letter. The difference is that you will write in a tone that mirrors the company's culture and values. Basically, if you're applying at an organization that is youthful and laidback, reflect that in your letter. Take a more formal approach if the company is a bit more conservative.
You can learn more about this by doing some research. Check out the following to learn more about company culture and values:
Company website
Social media pages
Job listing
Articles and press releases
Cover Letter Sample for a QA Tester – .docx Format
Here is an example of a cover letter written by a QA tester in the video gaming industry.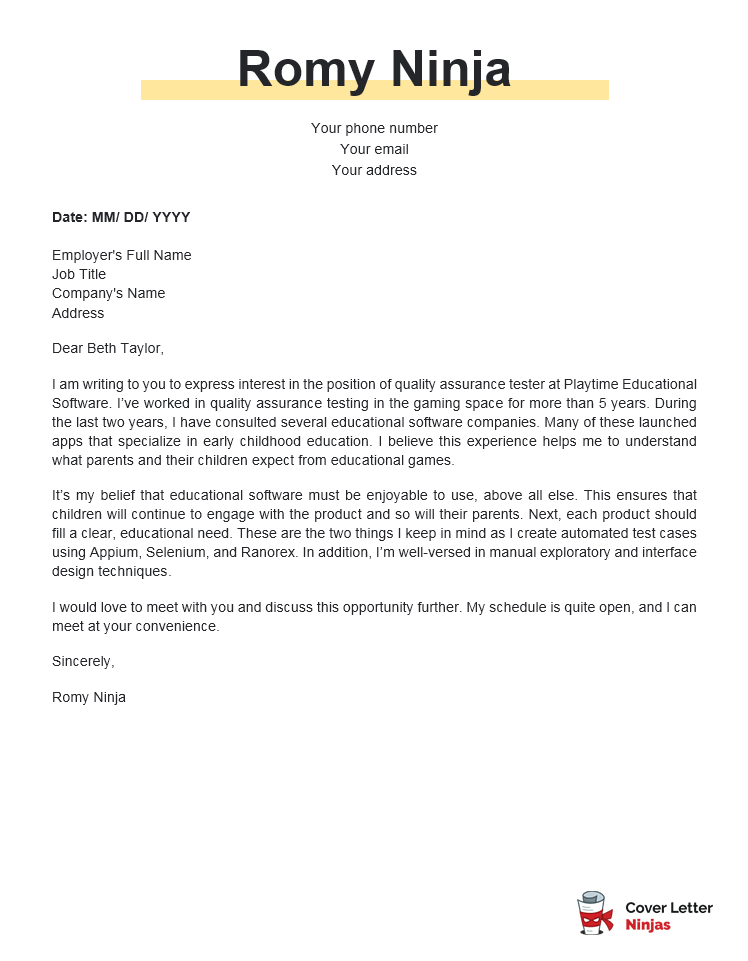 Download example (Word version)
QA Tester Cover Letter Example – Text Format
Dear Beth Taylor,
I am writing to you to express interest in the position of quality assurance tester at Playtime Educational Software. I've worked in quality assurance testing in the gaming space for more than 5 years. During the last two years, I have consulted several educational software companies. Many of these launched apps that specialize in early childhood education. I believe this experience helps me to understand what parents and their children expect from educational games.
It's my belief that educational software must be enjoyable to use, above all else. This ensures that children will continue to engage with the product and so will their parents. Next, each product should fill a clear, educational need. These are the two things I keep in mind as I create automated test cases using Appium, Selenium, and Ranorex. In addition, I'm well-versed in manual exploratory and interface design techniques, as well as
I would love to meet with you and discuss this opportunity further. My schedule is quite open, and I can meet at your convenience.
Sincerely,
Romy Ninja
Final Tip: Use a Template to Stand Out
The content of your letter is the most important. That doesn't mean looks aren't also key. A cover letter that is attractive and easy to read will get more attention than one that isn't. Fortunately, this tip is easy to cover. Just use a professionally designed cover letter template. Ours are free to use and guaranteed to make your letter more memorable!