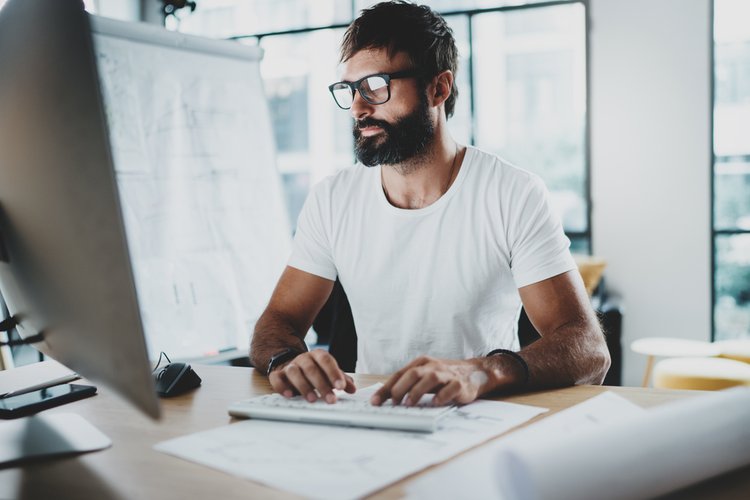 To land a great job as a web developer, you'll need an up-to-date skillset and first-hand coding experience. Granted, with the variety of e-courses, tutorials, and all sorts of coding education, it's not really hard to earn some credentials. As for the experience, you can always gain it fast by doing tutorials, working on small gig projects, or freelancing on the side.
All of the above makes web development a hot entry-level job in IT. While there's plenty of work opportunities right now, you'll still need to make a good impression on your job application. That starts with filling a professional cover letter. You can learn how to write a solid one by checking out the tips below and reading our web developer cover letter sample.
Match Your Web Development Skills With The Job Requirements
Technical competencies are going to be the main focal point for all types of software engineers. Web developers are no exclusion. So don't waste lines in the first paragraph on general small talk. Instead, jump right in with a few of your most important qualifications.
You can start your cover letter with the following opening:
"I'm a web developer with three years of experience developing websites in the e-commerce sector. I have completed several projects using Ruby on Rails, and understand how to create sites with exceptional user experience (UX)."
Think of your letter opening as your hook. Once the hiring managers know you are qualified, they are more likely to continue reading. For more ideas on effective cover letter openings, browse other cover letter examples in our growing collection.
ADVICE FROM OUR EXPERT
---
While it can be easy to use your cover letter to zero in on your core technical skills, be sure to emphasize your softer skillsets as well. Hiring managers often screen for communication, collaboration, problem solving, and analytical thinking, even within technical industries.

Claire Webber
Career Consultant, CPCC, CPRW
Talk About Business
Once you've noted that you are technically competent, it's time to show that you're also a business-savvy professional. To be successful at nearly any job, you'll need to understand the "why" behind any business decisions and how your actions contribute to meeting those goals. In web development, that means knowing how your code contributes to other business processes.
So use your cover letter to describe the tangible ways in which your web development has helped businesses meet their objectives. For example:
"After I redesigned the online checkout processes, shopping cart abandonment rates decreased by 65%" or "After it was published, the new website earned an increase in traffic of 25%"
Show That You are a Competent Communicator
Web developers are regularly asked to communicate with business users and consumers regarding web design. This means you have to speak to people using words and phrases that are familiar to them and simplify technically complex topics. At the same time, you must also be able to take their business requirements, and translate them into technical ones.
That's why web developers often need to have solid verbal and written communication skills. Use your cover letter as a tool for leaving a great first impression of your writing abilities. Have a trusted friend review it to ensure that it's clear and easy to read.
Cover Letter Sample for a Web Developer in .docx Format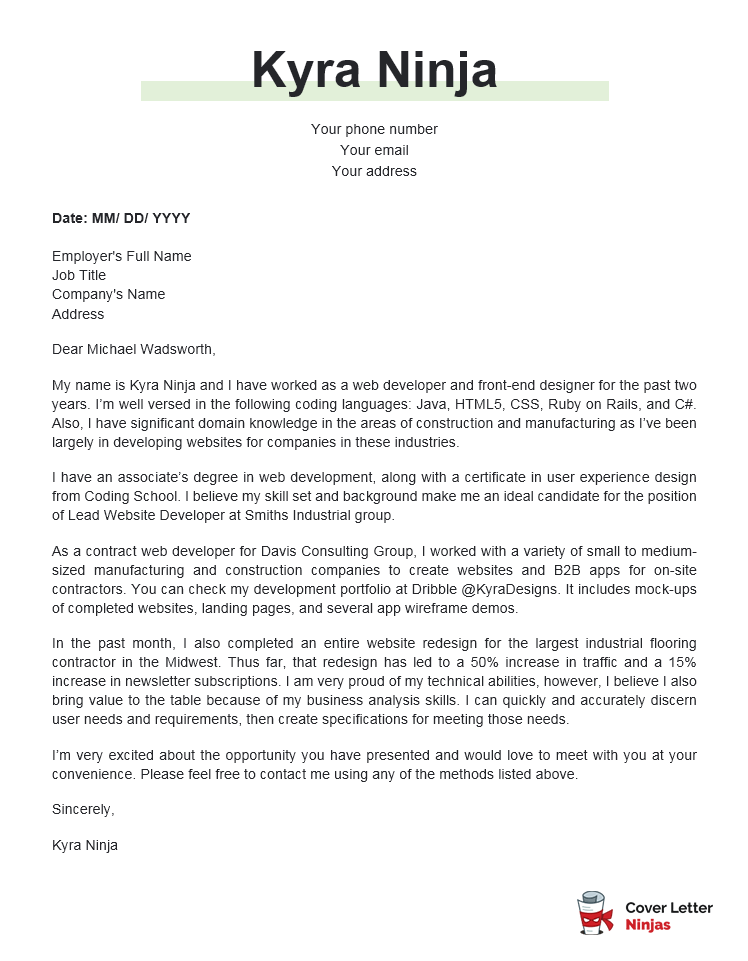 Download example (Word version)
Web Developer Cover Letter Example – Text Format
Dear Michael Wadsworth,
My name is Kyra Ninja and I have worked as a web developer and front-end designer for the past two years. I'm well versed in the following coding languages: Java, HTML5, CSS, Ruby on Rails, and C#. Also, I have significant domain knowledge in the areas of construction and manufacturing as I've been largely in developing websites for companies in these industries.
I have an associate's degree in web development, along with a certificate in user experience design from Coding School. I believe my skill set and background make me an ideal candidate for the position of Lead Website Developer at Smiths Industrial group.
As a contract web developer for Davis Consulting Group, I worked with a variety of small to medium-sized manufacturing and construction companies to create websites and B2B apps for on-site contractors. You can check my development portfolio at Dribble @KyraDesigns. It includes mock-ups of completed websites, landing pages, and several app wireframe demos.
In the past month, I also completed an entire website redesign for the largest industrial flooring contractor in the Midwest. Thus far, that redesign has led to a 50% increase in traffic and a 15% increase in newsletter subscriptions. I am very proud of my technical abilities, however, I believe I also bring value to the table because of my business analysis skills. I can quickly and accurately discern user needs and requirements, then create specifications for meeting those needs.
I'm very excited about the opportunity you have presented and would love to meet with you at your convenience. Please feel free to contact me using any of the methods listed above.
Sincerely,
Kyra Ninja
Final Tip: Show Your Work
Web developers are at a bit of an advantage when compared to those in many other fields. You can share live examples of your work to demonstrate how your skills translate into tangible products that delight users.
If you have created working websites, add a link or two to your best works in your cover letter. Another option is to link to your web developer's portfolio. This should be an online collection of work that you've done. You should include fully developed websites in your portfolio, but it's also okay to include snippets of work as well.
Need Extra Help? Browse More Examples: