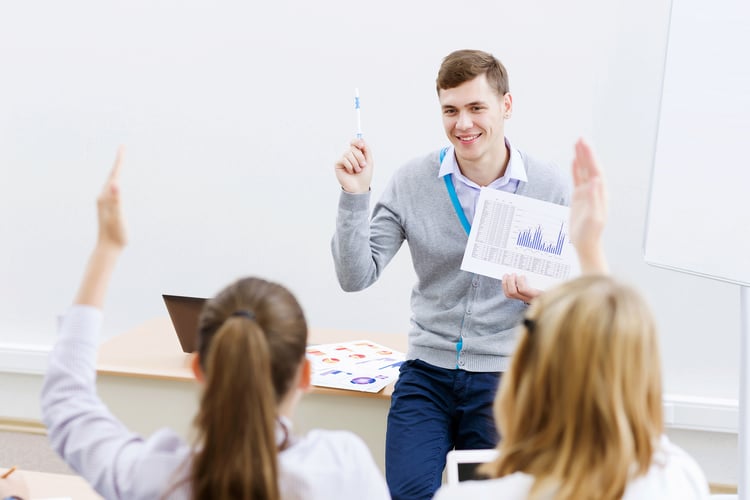 Substitute teachers are in high demand across the country as the latest PEW research indicates. So if you are interested in part-time work or progressively returning back to the workforce, this can be a great gig to look into.
As a sub, you only accept work assignments that fit your schedule. The pay is often quite good and you don't necessarily need teaching experience. Many graduate students substitute teach. So do stay-at-home parents. Though this depends on the school.
Of course, you still have to get through the application process. Also, keep in mind that schools often reserve the best jobs for substitutes they believe are most capable. You'll need a great cover letter to introduce yourself. To help with that, take a close look at our substitute teacher cover letter example. Then, check out our helpful writing tips.
Substitute Teacher Cover Letter Example in .docx Format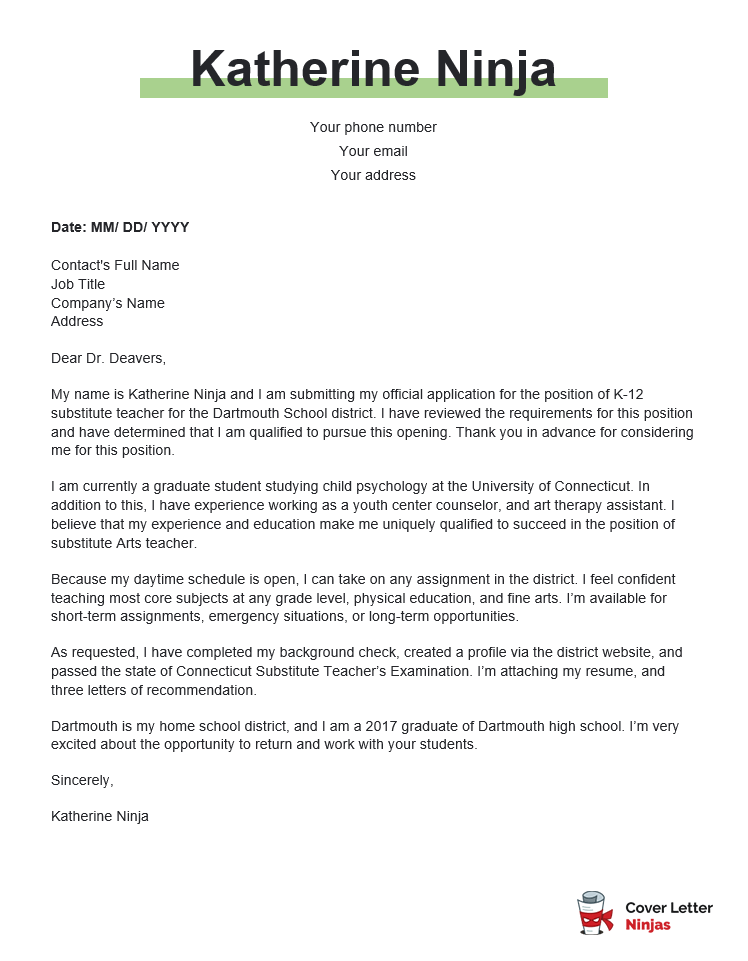 Download example (Word version)
Substitute Teacher Cover Letter Sample – Text Format
Dear Dr. Deavers,
My name is Katherine Ninja and I am submitting my official application for the position of K-12 substitute teacher for the Dartmouth School district. I have reviewed the requirements for this position and have determined that I am qualified to pursue this opening. Thank you in advance for considering me for this position.
I am currently a graduate student studying child psychology at the University of Connecticut. In addition to this, I have experience working as a youth center counselor, and art therapy assistant. I believe that my experience and education make me uniquely qualified to succeed in the position of substitute Arts teacher.
Because my daytime schedule is open, I can take on any assignment in the district. I feel confident teaching most core subjects at any grade level, physical education, and fine arts. I'm available for short-term assignments, emergency situations, or long-term opportunities.
As requested, I have completed my background check, created a profile via the district website, and passed the state of Connecticut Substitute Teacher's Examination. I'm attaching my resume, and three letters of recommendation.
Dartmouth is my home school district, and I am a 2017 graduate of Dartmouth high school. I'm very excited about the opportunity to return and work with your students.
Sincerely,
Katherine Ninja
More Relevant Teaching Cover Letters
How to Write a Substitute Teacher Cover Letter 
Sub-teachers are often called in on short notice. And the openings get closed fast. So it's a good idea to have a generic cover letter at hand. Then customize it to the application. But if you already have a rough draft, here's how to make your cover letter stand out from the pile! 
Be Prepared To Wait
Substitute teaching is a unique position. Most jobs are 'on call'. So, you may not be called in for an interview right away and if you are hired you may simply be put on a list to be called if a teacher is going to be absent or must go out on scheduled leave. However, the more grades you are willing to teach and subjects you can handle, the more likely you are to receive calls.
ADVICE FROM OUR EXPERT
---
Substitute teachers come from a variety of backgrounds. When reviewing your application materials, the reader will want to know what experience you may have with teaching, education, and students. It is also important to highlight your ability to stay organized, follow directions, and communication.

Debi Douma-Herren
Senior Certified HR Professional & Career Coach
State Your Availability and Qualifications Clearly
Will you be available five days each week or only part-time? Are you willing to work short-term assignments, or be available for work the day you are called in? Can you teach AP courses or special subjects like band and orchestra?
Most school districts are willing to add you to their list of substitutes, but they need to know as much about your availability as possible. This will help ensure you are considered for placements that work for you.
Show Your Interest In The Job
Ideally, schools want to work with substitute teachers who are excited to work with students. Do you have any experience volunteering or spending time with kids? Are there subjects that you are really passionate about? Why do you want to be a substitute teacher, besides the pay and flex schedule?
Follow The Instructions
Visit the hiring page on the school district website. You should be able to find detailed instructions on filling out the application and qualifying to become a substitute teacher.
Remember that requirements can vary from state to state, and from one school district to another. Here are some of the steps you will probably have to take:
Obtain a background check
Provide copies of your proof of graduation.
Get fingerprinted.
Show copies of your ID
Provide letters of recommendation
Fill out an application
Send your resume along with your cover letter
Don't forget to follow any technical instructions as well. Be sure to upload documents as directed, and use the right file formats. If you are unsure, go with PDF, as that is easily readable for most devices.
Make A Connection
In the example letter, the applicant mentions having graduated from the school district. This is a small fact, but it helps connect them to their potential employer. See if you can do something similar with your letter.
Final Tip: Spread The Word
If you want steady work as a substitute teacher, you should get on as many call lists as possible. Send out applications to various school districts in your area, if that's possible. Don't forget that private schools need subs as well. Just be sure that you write a personalized cover letter for each one.