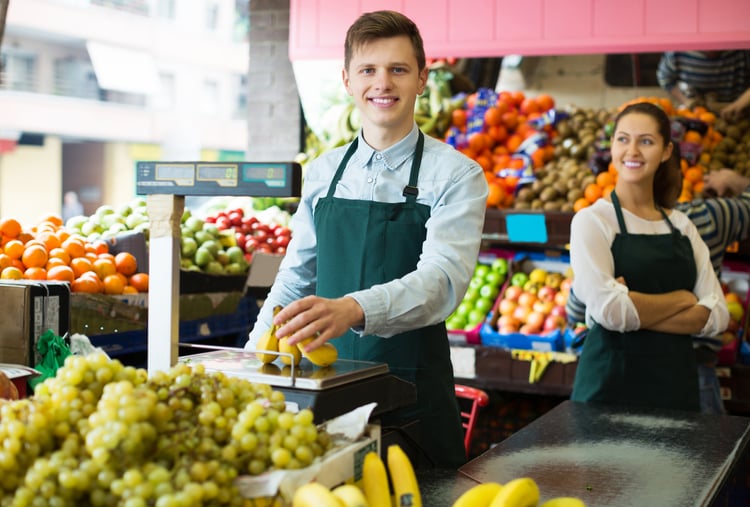 It's just a part-time job. How much effort do I need to put into the application? If you don't believe that you need to write a quality cover letter and resume for a part-time job, you are gravely mistaken! A part-time gig can provide you with a good income, help you develop important work experience, and potentially act as a launchpad for bigger and better things.
If you aren't sure where to begin, keep reading. We've included a cover letter example for part-time job and some bonus writing tips.
Cover Letter Example For Part Time Job – .docx Format
Here is a great example of a cover letter that you might submit if you are pursuing a part-time job. Feel free to reference it in the future.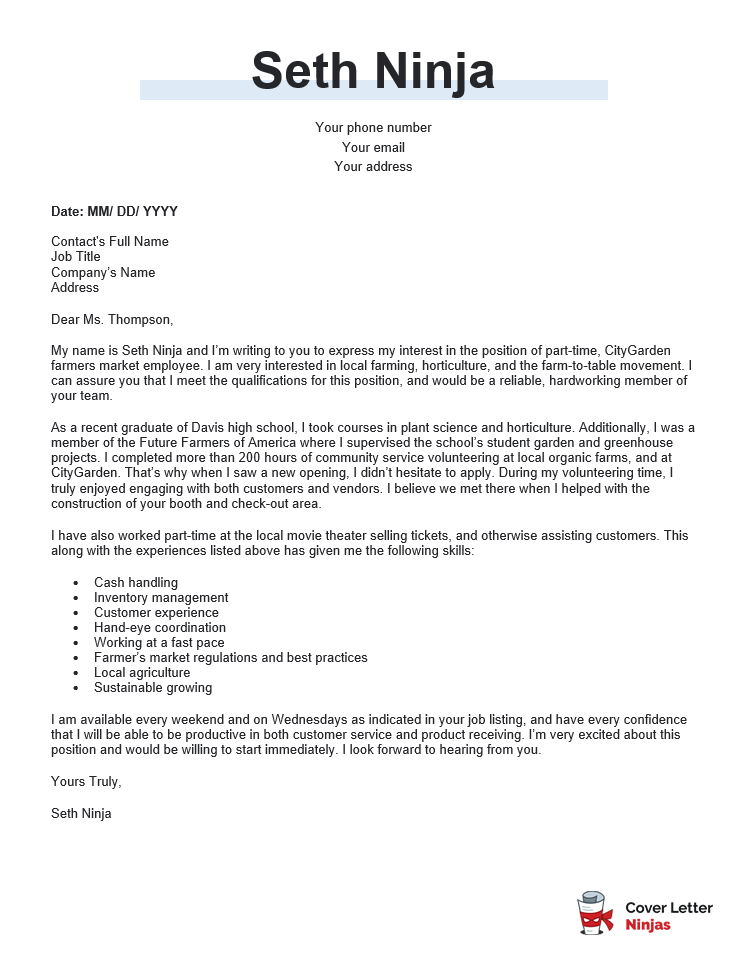 Download example (Word version)
Sample Cover Letter For Part Time Job – Text Format
Dear Ms. Thompson,
My name is Seth Ninja and I'm writing to you to express my interest in the position of part-time, CityGarden farmers market employee. I am very interested in local farming, horticulture, and the farm-to-table movement. I can assure you that I meet the qualifications for this position, and would be a reliable, hardworking member of your team.
As a recent graduate of Davis high school, I took courses in plant science and horticulture. Additionally, I was a member of the Future Farmers of America where I supervised the school's student garden and greenhouse projects. I completed more than 200 hours of community service volunteering at local organic farms, and at CityGarden. That's why when I saw a new opening, I didn't hesitate to apply. During my volunteering time, I truly enjoyed engaging with both customers and vendors. I believe we met there when I helped with the construction of your booth and check-out area.
I have also worked part-time at the local movie theater selling tickets, and otherwise assisting customers. This along with the experiences listed above has given me the following skills:
Cash handling
Inventory management
Customer experience
Hand-eye coordination
Working at a fast pace
Farmer's market regulations and best practices
Local agriculture
Sustainable growing
I am available every weekend and on Wednesdays as indicated in your job listing, and have every confidence that I will be able to be productive in both customer service and product receiving. I'm very excited about this position and would be willing to start immediately. I look forward to hearing from you.
Yours Truly,
Seth Ninja
How to Write A Cover Letter For A Part Time Job
Now that you have an idea of what a good cover letter contains, here are some tips for making sure yours is as good as it can be.
If You Submit A Resume, Also Send A Cover Letter
Should you send a cover letter or not? That depends on the application process. For example, if you are only asked to fill out an online application, you probably don't need a cover letter. However, if you've been asked to send a resume or other detailed information, you definitely should include a cover letter. It gives you a chance to introduce yourself. You can also use it to indicate what other materials you have attached to it.
Show Your Availability
Many part-time jobs are shift jobs, and hiring managers are in charge of ensuring that they have enough workers for each shift. Use a few sentences to mention that you are available to work all of the required hours and days. In many cases, that alone is enough to get you called back for an interview.
ADVICE FROM OUR EXPERT
---
If you are submitting application materials for a part time job, include a cover letter, just as you would for a full time job. Most part time jobs require the ability to work multiple shifts. Emphasize your flexibility and willingness to step up when needed.

Debi Douma-Herren
Senior Certified HR Professional & Career Coach
Make A List Of Skills
The best way to show off your most relevant skills is to include a simple, bulleted list in the middle of your letter. When you format it like that, it stands out. This technique helps to ensure that your most important abilities don't get lost or overlooked. To write your list, use the job listing as a guide. Where possible, match your abilities to the requirements of the position. When you have a match, include it in your list. If you need more guidance, check other cover letters on our website for jobs that often come with part-time availability such as retail, bartending, hotel front desk jobs, etc.
Go The Extra Mile To Impress
There are many small but important steps you can take to impress the hiring manager. Start with the design and format of your cover letter. Consider using a professionally designed template. Your letter will be attractive, and it will give you time to focus on writing. Next, take the time to double-check for spelling and grammatical issues. There are many free tools for doing this. Take advantage of them. Finally, read the instructions for submitting your application carefully. Follow these to the letter to show that you are capable of adhering to directions.
Final Tip: Prove You Can Meet Their Needs
Identify what your potential employer needs, then articulate how you can solve their problem. That should be the focus of your cover letter. For example, in the letter above, it's clear that the company needs reliable help that can cover all aspects of running a stand at the farmer's market. The writer details how they are available at the right times, and how they have the ability to work in front and behind the scenes.
To get an even better sense of direction, browse other role-specific cover letter examples on our website.