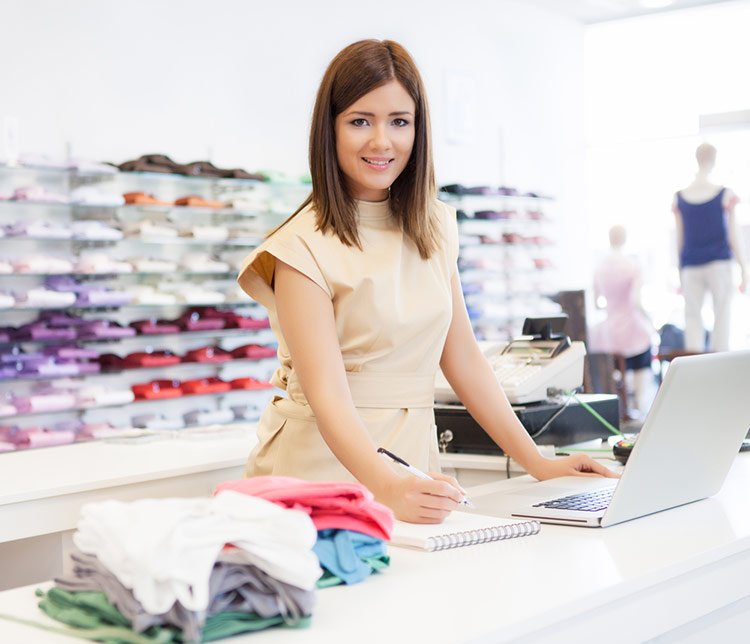 Retail jobs are often wrongly characterized as being easy to get, widely available and kinda underpaid. In reality, many retail positions are quite well-paying, and getting your foot in the door could lead to a lucrative future.
Remember that retail jobs include positions in high-end sales, merchandising, management, franchising, as well as back-office positions. If you want a position that pays well, is at a high-end store or has career potential, you need a great resume and cover letter. Here, we will provide writing tips as well as a sample cover letter for retail.
Start With an Attention-Grabbing Opener
Retail managers receive a lot of applications. After a while, one can begin to look just like the next. you'll need to find a way to make yours stand out. You can do this by writing a memorable and attention-getting opening statement. This statement should always be personalized for the company. For example:
"The Parisian boutique is known for its whimsical store displays and window dressings. I would love to use my six years of merchandising experience and artistic talents to continue this tradition. That is why I am applying for the job of a visual merchandising specialist."
Relate Your Current Experience to The New Job
Even if your experience does not exactly match the job for which you are applying, you should still make connections between your current skill set, and requirements of the new position.
Imagine that you work as a cashier in a cafe, and you are applying for a position in a high-end clothing store. The two jobs may seem largely unrelated. But, upon a closer look, there's plenty of transferable skills that you could bring from one gig to another. For example, you can emphasize your cash handling experience, your ability to use a point-of-sale system, and your willingness to provide attentive and personalized customer service. Here is an example:
"In my position at Grandma's Cafe, I use a cash Max 2000 point of sale system daily. In addition to that, I provide customers with personalized service including fulfilling requests for custom orders."
ADVICE FROM OUR EXPERT
---
The heartbeat of the retail industry is customer care and service. Use your cover letter to speak to your experience delivering exceptional customer results and product knowledge. Research the industry, company, and associated products beforehand, incorporating powerful language that will resonate with your potential new employer.

Claire Webber
Career Consultant, CPCC, CPRW
Show That You'll Fit The Company Culture
In retail, culture is very important. Employees must be able to work with one another without conflict. They must also present a happy demeanor to the public. Branding is also a key part of this. In fact, it is tightly woven in with company culture.
Take Disney as an example. All employees are considered to be cast members, and all of them are tasked with providing guests with an amazing experience. To work there, you have to buy into that culture. With the wrong personality, you would never fit.
Thus, learn as much as you can about the company you are applying to. View their social media pages, and check out employee reviews. Visit the store if possible. Learn with the work environment is like, then showing your cover letter that you can fit into that.
Close as if You Know an Interview is Inevitable
The last thing you should do in your cover letter is emphasize a strong interest in the position. Even more importantly, you should assume that the reader will want to move forward as well. Don't ask if they're interested in scheduling the interview. Instead, indicate where and when you will be available. This gets the reader thinking in the affirmative.
Retail Cover Letter Sample in .docx Format
Before you go check it out our retail sample letter. If you're interested in other jobs we have cover letter examples of all kinds. Feel free to check them out as well. In the meantime here is a short retail cover letter example.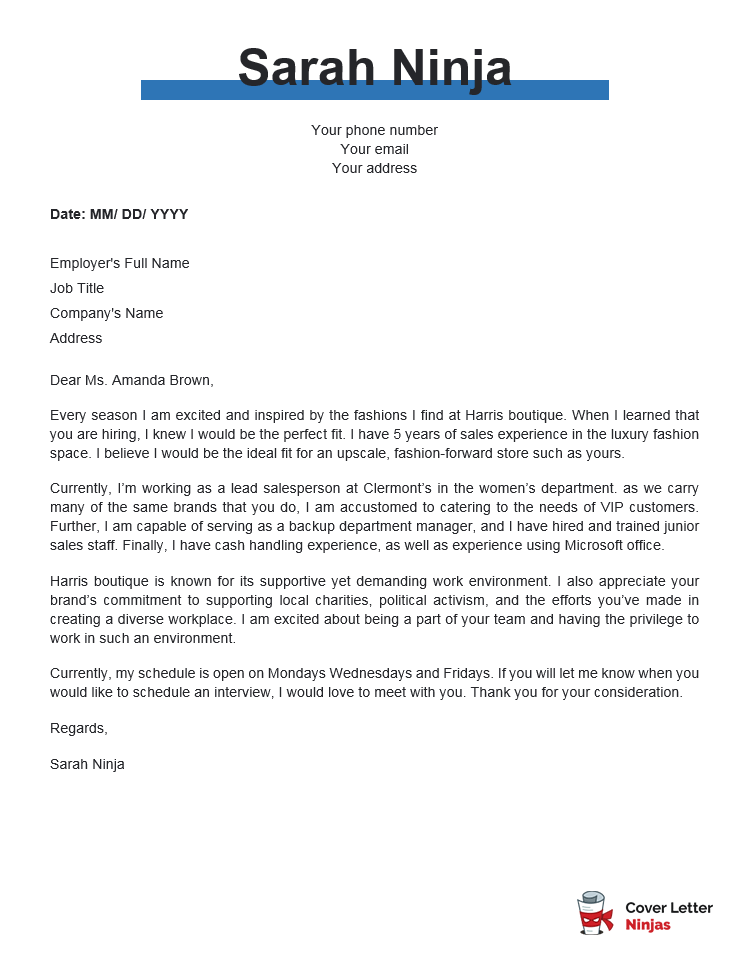 Download example (Word version)
Cover Letter Example For Retail – Text Format
Dear Ms. Amanda Brown,
Every season I am excited and inspired by the fashions I find at Harris boutique. When I learned that you are hiring, I knew I would be the perfect fit. I have 5 years of sales experience in the luxury fashion space. I believe I would be the ideal fit for an upscale, fashion-forward store such as yours.
Currently, I'm working as a lead salesperson at Clermont's in the women's department. as we carry many of the same brands that you do, I am accustomed to catering to the needs of VIP customers. Further, I am capable of serving as a backup department manager, and I have hired and trained junior sales staff. Finally, I have cash handling experience, as well as experience using Microsoft office.
Harris boutique is known for its supportive yet demanding work environment. I also appreciate your brand's commitment to supporting local charities, political activism, and the efforts you've made in creating a diverse workplace. I am excited about being a part of your team and having the privilege to work in such an environment.
Currently, my schedule is open on Mondays Wednesdays and Fridays. If you will let me know when you would like to schedule an interview, I would love to meet with you. Thank you for your consideration.
Regards,
Sarah Ninja
Final Thoughts
Because so many retail positions involve sales, the most successful applicants will be outgoing and committed to selling themselves. Once you've written and submitted your cover letter and resume, follow that up with an email or phone call. There's a good chance your extra effort will be rewarded.