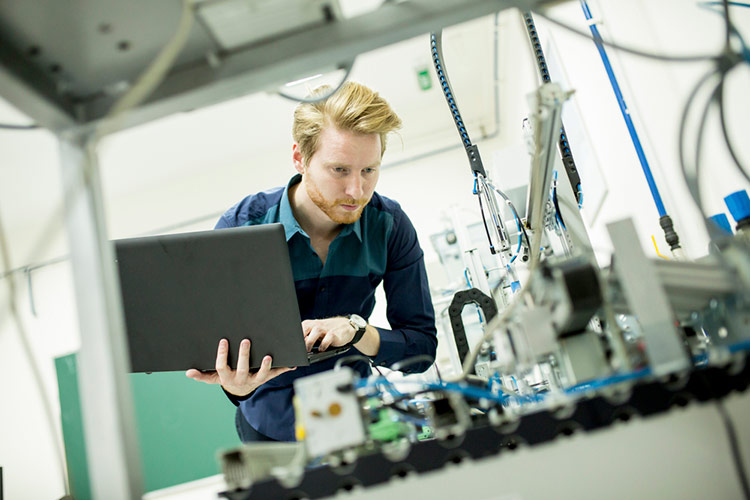 As an electrical engineer, you are in a pretty good position career-wise. After all, your skills are needed anywhere electricity is used. Depending on your preferences, you can carve out a good space for yourself in aerospace, automotive, residential electricity, and telecommunications among other industries.
However, the electrical engineering field is also quite competitive. That's why you need a compelling cover letter to complement your resume. Below are several tips to help you with the writing, followed by an electrical engineering cover letter sample. Use it as a reference to craft your application!
Show That You Understand The Company Mission
As an old ninja adage goes: your priority as a ninja is to win without fighting. And here's a quick trick for that: show that you are an insider. Research the company you are applying to. Read their mission statement and try to find their code of conduct (most have it published publicly). Then try to anticipate what kind of purpose the company pursues and what qualities they try to nurture within their employees. Finally, incorporate those attributes into your cover letter. This way you'll demonstrate that you align with the company's mission.
Emphasize Your Communication Skills
There is an unfortunate, but often true stereotype about engineers: they lack communication skills and social graces. That's why you should use your letter to break that stereotype for good!

Write your letter in a friendly, conversational style. Communicate your experience in a simple to understand manner. Keep in mind that the first people who read your resume and cover letter may not be experts in engineering. Instead, they are more likely to be HR professionals or department managers.
Talk About Continuing Education
Electrical engineering is a field that grows and changes quickly. So if you don't keep your skills up to date, your career can stagnate. Employers are willing to invest in your future, but you should show them some initiative as well! Thus, use your cover letter to mention any continuing education you have completed since graduating and mention any courses you are taking currently.
For example, if you have chosen a specialty or subspecialty, mention this as well. There are many different types of electrical engineers, and if you have specialized skills, hiring managers will be interested in hearing about them.
ADVICE FROM OUR EXPERT
---
Any type of engineering requires a high level of education and expertise. Make sure your cover letter addresses both your academic and professional accomplishments to showcase your well-rounded talent.

Mary Ford
Executive Career Coach
Join a Professional Association
There are several local and national associations for electrical engineers. Consider joining a few of them. There are two key reasons for doing this.
First, as an active member of one of the associations, you will have a built-in source of networking contacts. This will be exceptionally valuable to you in your job search.
In addition to this, these associations require engineers to meet certain requirements before they can become members. Potential employers will know that you are an engineer of good status and reputation based on your membership.
Cover Letter Sample for Electrical Engineering in .docx Format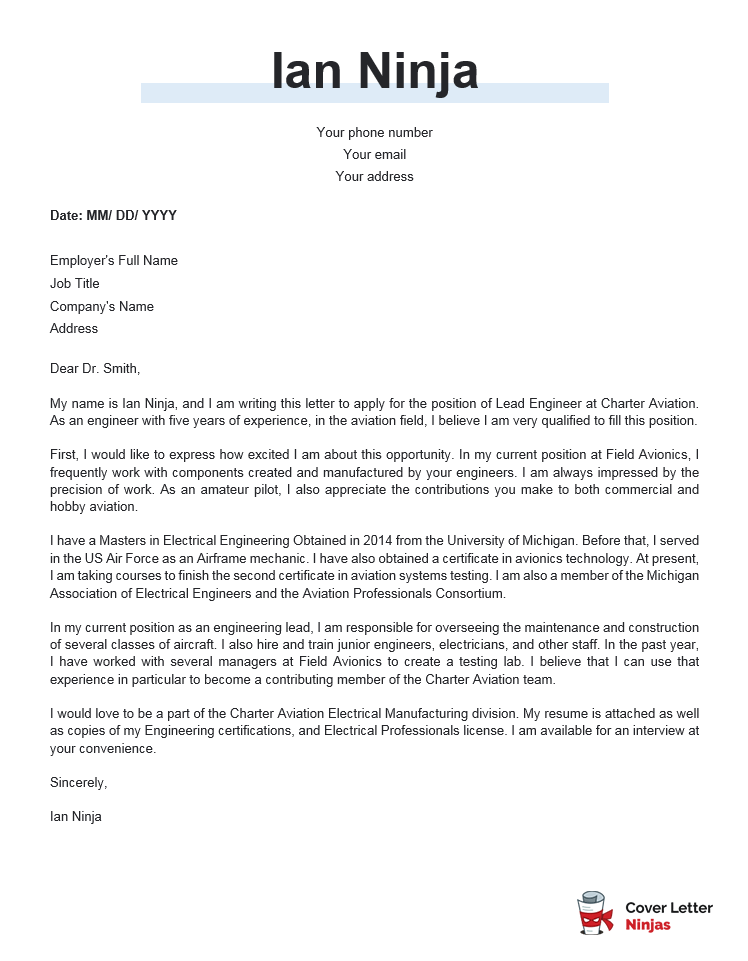 Download example (Word version)
Electrical Engineering Cover Letter Example – Text Format
Dear Dr. Smith,
My name is Ian Ninja, and I am writing this letter to apply for the position of Lead Engineer at Charter Aviation. As an engineer with five years of experience, in the aviation field, I believe I am very qualified to fill this position.
First, I would like to express how excited I am about this opportunity. In my current position at Field Avionics, I frequently work with components created and manufactured by your engineers. I am always impressed by the precision of work. As an amateur pilot, I also appreciate the contributions you make to both commercial and hobby aviation.
I have a Masters in Electrical Engineering Obtained in 2014 from the University of Michigan. Before that, I served in the US Air Force as an Airframe mechanic. I have also obtained a certificate in avionics technology. At present, I am taking courses to finish the second certificate in aviation systems testing. I am also a member of the Michigan Association of Electrical Engineers and the Aviation Professionals Consortium.
In my current position as an engineering lead, I am responsible for overseeing the maintenance and construction of several classes of aircraft. I also hire and train junior engineers, electricians, and other staff. In the past year, I have worked with several managers at Field Avionics to create a testing lab. I believe that I can use that experience in particular to become a contributing member of the Charter Aviation team.
I would love to be a part of the Charter Aviation Electrical Manufacturing division. My resume is attached as well as copies of my Engineering certifications, and Electrical Professionals license. I am available for an interview at your convenience.
Sincerely,
Ian Ninja
Final Tip: Do You Have an Engineering Portfolio?
If not, now is a good time to create one! Set up a simple website to showcase your projects. You can also include any awards you've earned. Link to your portfolio in your resume or cover letter to show hiring managers what you can accomplish!