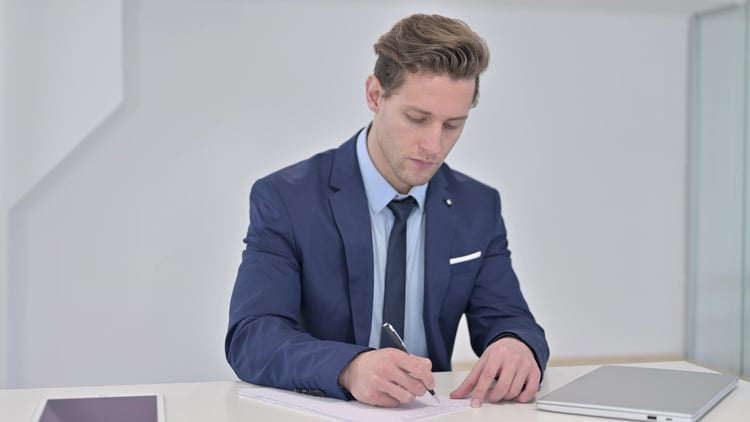 In some fields, your networking skills can determine your success and ability to land an attractive job. Law falls into this category. So, what's the best way for a law student or recent graduate to make those important connections?
You have to get at least one great internship under your belt. This will connect you with professionals in the legal field and give you important practical experience.
But how do you land a coveted legal internship? To do that, you must approach this process like a regular job search. You will need a fabulous resume and some glowing references.
Finally, don't forget about your cover letter. This is more important than most people realize. That's why we're sharing this great sample cover letter for a law internship along with some other tips to help you land the perfect opportunity.
Cover Letter Sample For Law Internship – Word Format
Here is a cover letter example for a law student seeking an internship at a reputable law office.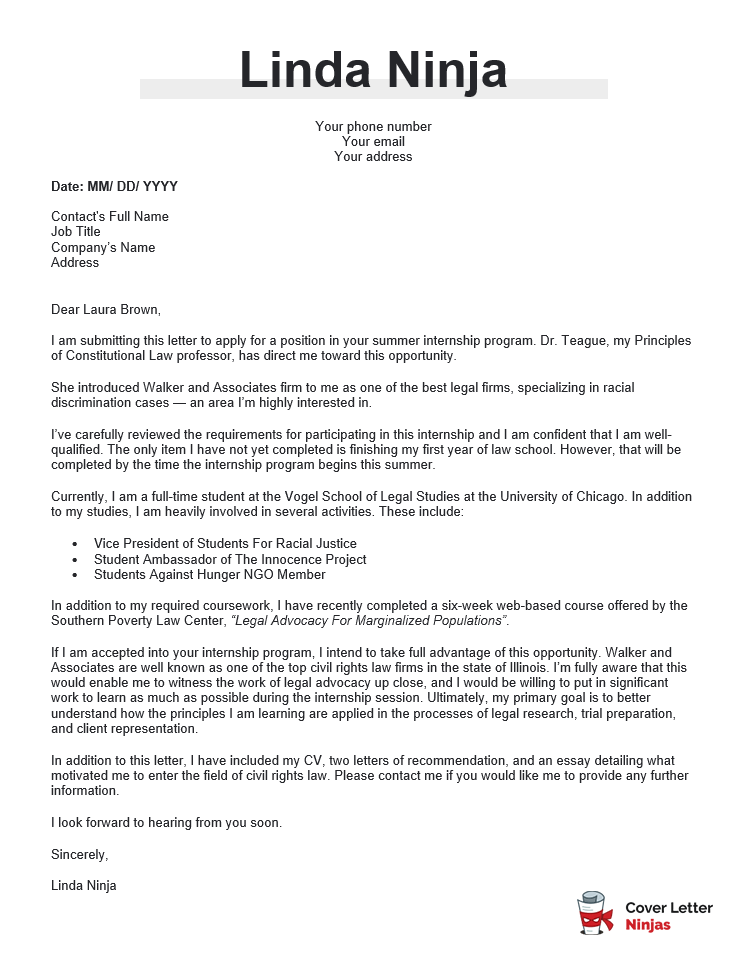 Cover Letter Example For Law Internship – Text Format
Dear Laura Brown,
I am submitting this letter to apply for a position in your summer internship program. Dr. Teague, my Principles of Constitutional Law professor, has direct me toward this opportunity.
She introduced Walker and Associates firm to me as one of the best legal firms, specializing in racial discrimination cases — an area I'm highly interested in.
I've carefully reviewed the requirements for participating in this internship and I am confident that I am well-qualified. The only item I have not yet completed is finishing my first year of law school. However, that will be completed by the time the internship program begins this summer.
Currently, I am a full-time student at the Vogel School of Legal Studies at the University of Chicago. In addition to my studies, I am heavily involved in several activities. These include:
Vice President of Students For Racial Justice
Student Ambassador of The Innocence Project
Students Against Hunger NGO Member
In addition to my required coursework, I have recently completed a six-week web-based course offered by the Southern Poverty Law Center, "Legal Advocacy For Marginalized Populations".
If I am accepted into your internship program, I intend to take full advantage of this opportunity. Walker and Associates are well known as one of the top civil rights law firms in the state of Illinois. I'm fully aware that this would enable me to witness the work of legal advocacy up close, and I would be willing to put in significant work to learn as much as possible during the internship session. Ultimately, my primary goal is to better understand how the principles I am learning are applied in the processes of legal research, trial preparation, and client representation.
In addition to this letter, I have included my CV, two letters of recommendation, and an essay detailing what motivated me to enter the field of civil rights law. Please contact me if you would like me to provide any further information.
I look forward to hearing from you soon.
Sincerely,
Linda Ninja
Need Some Extra Help? Check These Samples Next!
Legal Internship Cover Letter Writing Tips
You must personalize every internship application letter. So before you start writing, get your fact straight. Research the name of the decision-maker, the firm's main practice areas, and any notable cases they have recently pursued.
Once you have these details, think about how to frame your academic interests and professional experiences in relation to them. The following tips should help!
Focus on Your Goals
Many students make the mistake of treating an application for an internship like an application for a job. In reality, these are two very different things. When a company offers an internship, its goal is to teach and nurture new talent. The purpose of an internship is to give you opportunities to develop skills, take part in enriching activities, and connect with professionals in your chosen field.
Because of this, it's okay for you to use your cover letter to focus on your professional goals and your expectations from this opportunity. This is different from a cover letter for a job application, where your focus would be on what you can contribute.
Share Your Motivation
Law offices that offer good internships invest significant time and resources. Naturally, they only want to accept students with the right motivation. Consider the opportunity carefully, and then consider exactly why you want to pursue it. Communicate this in your letter very clearly. This will help you stand out from the students who are simply trying to score any internship available.
Be Selective
You are a busy law student, so it may be tempting to accept the first internship available to you. Don't do this. Instead, bide your time and wait for the right opportunity Remember, your internship will sit on your resume in the future. Shouldn't it offer you experience that is relevant to your career goals? It absolutely must!
Final Tip: Make Your Move as Soon as Possible
Every law student should be aware that the best internships fill up quickly. It isn't unusual for students to start reaching out to law offices, judges, and other groups at least a semester ahead of time. Prepare by lining up your resume/CV ready along with letters of recommendation, background checks, transcripts, and other requested items.