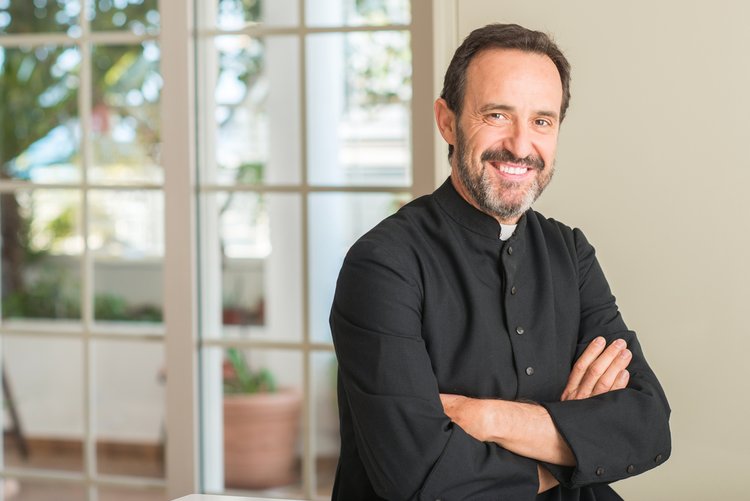 Many people underestimate the amount of education and experience it takes to successfully run a church. If you're applying for a job as a pastor, you have to do much more than prove you have the 'right' beliefs. Instead, you have to show that you can provide the kind of leadership, outreach, and administration that meets the needs of your congregation.
Not only that, but you also need to make a fabulous first impression. In order to accomplish that, you'd got to prepare a convincing cover letter. This piece is written to help you with that. Check out some great tips, then review a sample pastor cover letter.
Reach Out to The Current Pastor
It's always important to personalize your greeting. Doing so leaves a much better impression than beginning with an impersonal 'Dear Sir or Madam' or some other generic greeting. When you're applying for a job as a pastor, you will usually address your letter to the hiring committee. Use the name of the head of the committee if you know it.
Here's where things are a bit unique to your situation. It's considered to be 'proper' to also address your letter to the pastor who is exiting. It's a matter of courtesy. Further, the current pastor often plays a key role in the hiring process.
Your greeting might look something like this:
"Dear UCC Northtown Pastoral Committee, Joseph Williams, and Rev. Edna Davis,"
Detail Your Beliefs to Show They Align With The Church
Hopefully, your beliefs are in line with those of the denomination to which you are applying. However, things can get a bit more complex than that. Not only do various denominations have specific creeds that they follow, each church often has its own statement of beliefs.
Before you apply, visit the church's website. Find their statement of beliefs, and read it carefully. Then, use your cover letter to describe how your own beliefs and style of ministering will fit into those.
ADVICE FROM OUR EXPERT
---
Hiring committees involved with pastor searches are looking for you to highlight your interpersonal skills. Your cover letter is a perfect place to share your ability you work well with others. Include a story on how you effectively organize and collaborate with others towards a collective mission.

Debi Douma-Herren
Senior Certified HR Professional & Career Coach
Briefly Describe Your Education and Credentials
Use a few sentences in the early portion of your letter to share where you attended school, the degree you received, and a bit about your experience in the field. This will give the hiring committee assurance that you meet all of their criteria. This will also show where you stand in relation to other applicants.
Convince That You Can Relate to The Church Community
Churches often serve as social gathering places in the community. Many also offer a variety of services to meet the needs of the people who live in the area, whether they attend or not. Two churches in two different areas may serve very different demographics and provide different types of social services. They will also engage in different types of service and outreach accordingly.
As the hiring committee reads your letter, they'll want to be assured that you understand their church community. For example, if the church body is made largely of low-income seniors, you could write about creating and coordinating a meal delivery service for senior citizens at your current church. If the church serves young, middle-income families with small kids, write about a program you've led to encourage youth to be active in the church.
Pastor Cover Letter Sample in .docx Format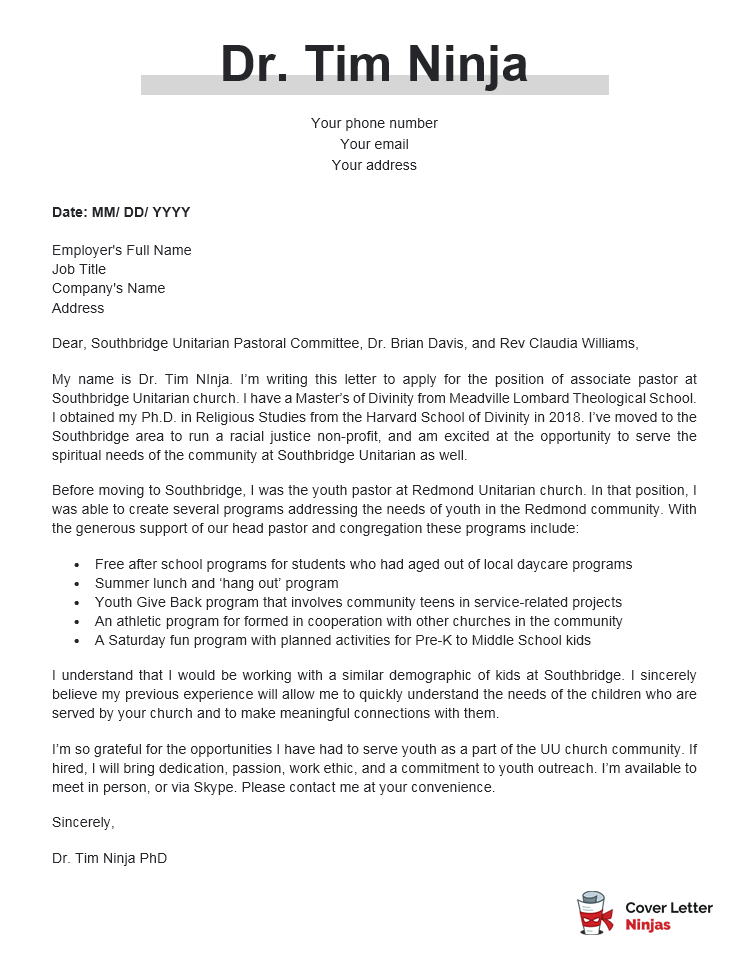 Pastor Cover Letter Example – Text Format
Dear, Southbridge Unitarian Pastoral Committee, Dr. Brian Davis, and Rev Claudia Williams,
My name is Dr. Tim NInja. I'm writing this letter to apply for the position of associate pastor at Southbridge Unitarian church. I have a Master's of Divinity from Meadville Lombard Theological School. I obtained my Ph.D. in Religious Studies from the Harvard School of Divinity in 2018. I've moved to the Southbridge area to run a racial justice non-profit, and am excited at the opportunity to serve the spiritual needs of the community at Southbridge Unitarian as well.
Before moving to Southbridge, I was the youth pastor at Redmond Unitarian church. In that position, I was able to create several programs addressing the needs of youth in the Redmond community. With the generous support of our head pastor and congregation these programs include:
Free after school programs for students who had aged out of local daycare programs
Summer lunch and 'hang out' program
Youth Give Back program that involves community teens in service-related projects
An athletic program for formed in cooperation with other churches in the community
A Saturday fun program with planned activities for Pre-K to Middle School kids
I understand that I would be working with a similar demographic of kids at Southbridge. I sincerely believe my previous experience will allow me to quickly understand the needs of the children who are served by your church and to make meaningful connections with them.
I'm so grateful for the opportunities I have had to serve youth as a part of the UU church community. If hired, I will bring dedication, passion, work ethic, and a commitment to youth outreach. I'm available to meet in person, or via Skype. Please contact me at your convenience.
Sincerely,
Dr. Tim Ninja PhD
Final Tip: Detail Why You Want This Position
Show some passion! What draws you to the work that you do? What is it that you wish to achieve during your term as a pastor? Make it clear to the hiring committee that this isn't just another job, but a true avocation.