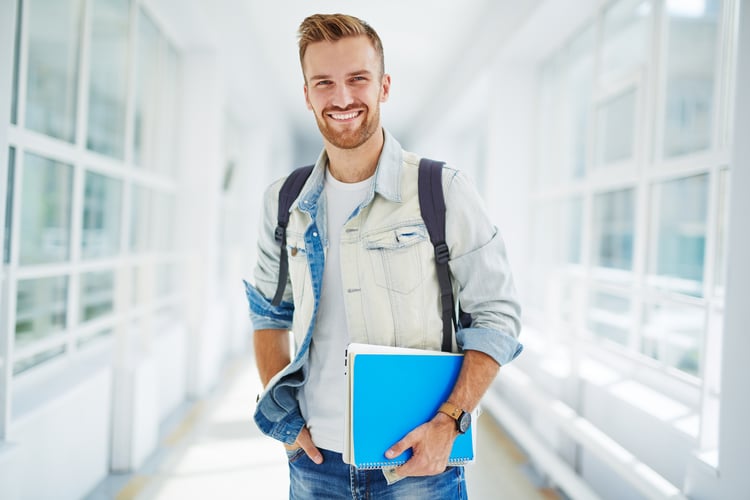 Congratulations on your recent or pending graduation! This is an exciting, but stressful time most likely. You've lived the life of a student, and now it's time to transition to the workforce. If you are like many recent graduates your next job may be your first full-time position. It might also be your first job in your chosen field.
The good news is that plenty of businesses are once again hiring and the job market is entering the rebound. In August 2021, over 235,000 positions emerged on the market and wages grew by 4.3% year-over-year clip. Plus, you now have plenty of remote positions to pursue too.
Still, there are challenges. Certain fields are more competitive than others, and you are a bit light on experience, most likely. Your best chance at success is presenting yourself as a dedicated, hard-working professional who can bring something to the table. Hopefully, you've got a great resume, but you need something else.
You need a cover letter to introduce yourself to hiring managers. Here we have a cover letter for recent graduates and some helpful writing tips.
Cover Letter Sample for a Recent Graduate – Word Format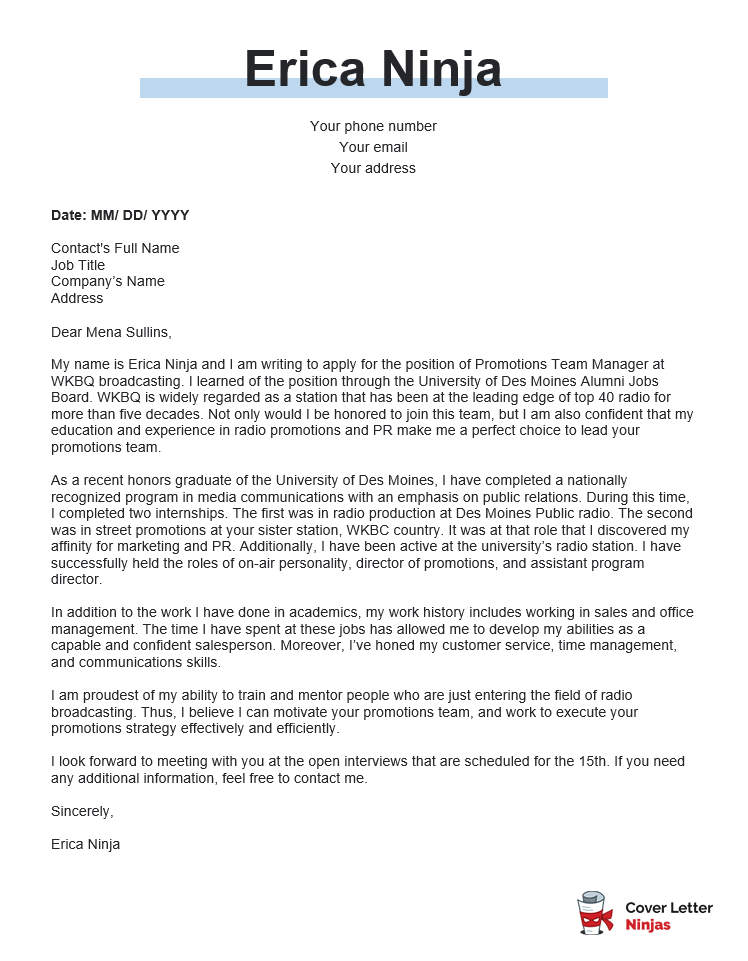 Cover Letter Example for Recent Graduate – Text Format
Dear Mena Sullins,
My name is Erica Ninja and I am writing to apply for the position of Promotions Team Manager at WKBQ broadcasting. I learned of the position through the University of Des Moines Alumni Jobs Board. WKBQ is widely regarded as a station that has been at the leading edge of top 40 radio for more than five decades. Not only would I be honored to join this team, but I am also confident that my education and experience in radio promotions and PR make me a perfect choice to lead your promotions team.
As a recent honors graduate of the University of Des Moines, I have completed a nationally recognized program in media communications with an emphasis on public relations. During this time, I completed two internships. The first was in radio production at Des Moines Public radio. The second was in street promotions at your sister station, WKBC country. It was at that role that I discovered my affinity for marketing and PR. Additionally, I have been active at the university's radio station. I have successfully held the roles of on-air personality, director of promotions, and assistant program director.
In addition to the work I have done in academics, my work history includes working in sales and office management. The time I have spent at these jobs has allowed me to develop my abilities as a capable and confident salesperson. Moreover, I've honed my customer service, time management, and communications skills.
I am proudest of my ability to train and mentor people who are just entering the field of radio broadcasting. Thus, I believe I can motivate your promotions team, and work to execute your promotions strategy effectively and efficiently.
I look forward to meeting with you at the open interviews that are scheduled for the 15th. If you need any additional information, feel free to contact me.
Sincerely,
Erica Ninja
Cover Letter Writing Tips for Recent Graduates
As a recent graduate, you don't have a plethora of accomplishments (yet). Still, your education, part-time work experience, and internships are worth a lot too! Here's how to make the most out of these in your cover letter.
Don't Apologize for a Lack of Experience
In fact, you shouldn't even mention it. Yes, the hiring manager will notice that you don't have years of work experience. That's fine. Instead, focus on the marketable skills you do have from different "walks of life".
ADVICE FROM OUR EXPERT
---
If you are a recent graduate, show the hiring manager how you would fit into the company by describing how your skills can help the company with their goals. Weaving in an example of where your unique skills were utilized in a student event or helped out a group project will help paint that picture.

Debi Douma-Herren
Senior Certified HR Professional & Career Coach
Use your Academic Work to Your Advantage
Chances are, you didn't just spend the last four or more years sitting in a classroom and listening to lectures. Today, college graduates complete internships, double as research assistants, volunteer, and are active in student associations. That's not even counting any jobs you have held in the meantime.
Remember the mantra: academic experience is a real experience. It's perfectly acceptable to present your school achievements in your cover letter as long as they are relevant to the position you pitch for.
Focus on Relevant Skills
Pick three! That means choose three of your skills that are most related to the job. These are skills that you should absolutely highlight in your cover letter. Save everything else for your resume.
Not sure which skills would make you stand out? Check other cover letter examples for specific roles. Also, use the job listings themselves as a prompter. The "Requirements" section provides plenty of keywords and industry buzzwords you could incorporate in your letter.
Show That You've Done Your Research
Before you apply for any job, do your research. Learn as much as you can about the company. What do they do? What is their history? Has the company made news lately? Are they facing any new challenges? Mention an interesting tidbit in your letter to show that you understand the company mission, then segue into how you can help achieve it.
Final Tip: Use Action Words
Make your cover letter stand out by using action-oriented verbs to indicate your eagerness and add extra dynamics to your writing. Instead of using plain "did/made", try more descriptive alternatives like "achieved, delivered, supervised, organized," etc. Such power-words help the reader envision you taking action, and accomplishing things.