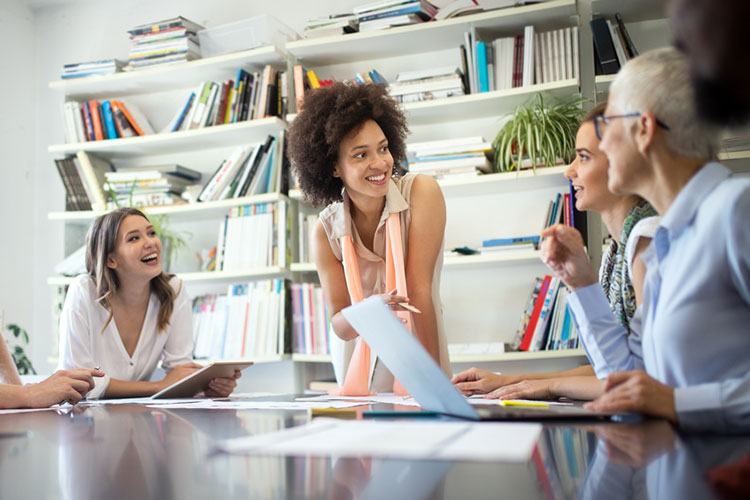 Did you know that it takes three years of training to become a ninja?
In layman's terms, that means three years of harsh 'interning' before you can earn a professional title. Now, in the real world, you don't need to sidekick that long to earn some tangible experience.
Most internships only last 12 weeks or so. If you'd rather be a ninja intern than just a ninja, you will need a great resume, a solid academic background, and a compelling cover letter. We're here to help with the latter.
ADVICE FROM OUR EXPERT
---
When you're applying for an internship, there is a chance you may have limited experience in that particular field. As you are developing your cover letter, provide examples of any relevant past or present experience that mirrors transferrable skills in your target industry.

Claire Webber
Career Consultant, CPCC, CPRW
Here are your pro tips for writing a banging cover letter, and a sample cover letter for internship applications to swipe and adapt for your needs!
Work Keywords Into Your Cover Letter
Let's face it: internships are competitive, especially if you are after a high-profile one at the likes of Google, Facebook, Goldman & Sachs and other 'big guns'.
On the other end of the screen, you have a 'gatekeeper' responsible for reviewing dozens (or even hundreds!) of similar internship applications. No fun job, eh? So, of course, they will want to get it over with as quickly as possible and weed out the candidates who are most likely to benefit from their program. That's why many HRs will first skim your resume and cover letter for specific keywords (or use some fancy software for that).
So your first task is to mine relevant keywords and other 'power words' from the original internship posting. Usually, they are a mix of soft and hard skills.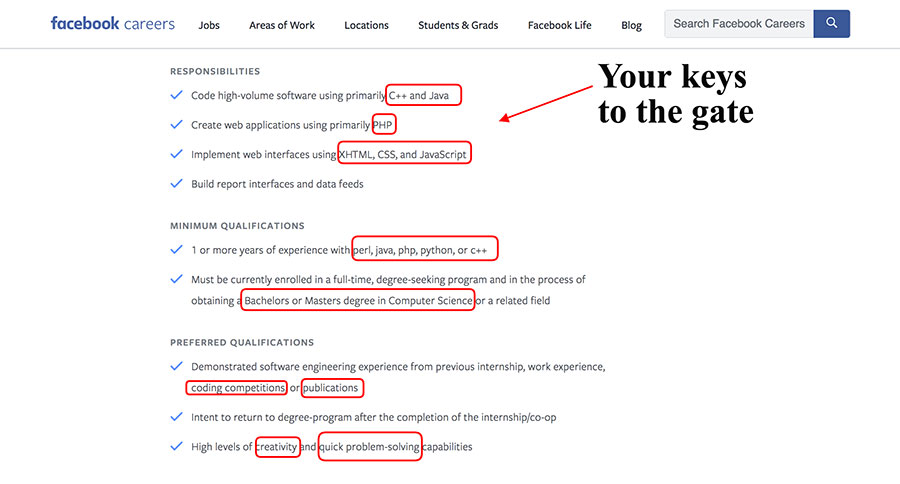 Tell The Reader What You Will Gain From The Internship
With most job applications, you focus on what you can bring to the table. Internships are a bit different. Companies create these roles to specifically mentor and develop talent. That's why it's perfectly okay to use your cover letter to communicate what you would like to learn as an intern and why.
Be Specific About The Role You Want
A single corporation may have multiple internship openings. These could be specific to different business areas. They can also vary depending on your grade level. For example, one internship may be designed for college juniors and another for students preparing for grad school.
On top of your cover letter, indicate which internship role interests you and back it up with a relevant claim explaining why.
Mention Related Courses You Have Taken
Internships are for learning and development. That doesn't mean your skills and academic background aren't important. Some internships require you to have a baseline level of subject understanding. If you have taken courses that give you meaningful competencies, put them front and center of your application.
Don't be Afraid to Drop a Name
If you have a connection, your chances of getting your foot in the door increase immensely. Mention a person in common, or someone who referred you. Not only can that help you, but it's also only polite to acknowledge the person who encouraged you to apply.
If you don't have a solid connection within the organization, fret not. You can still drop a casual name of someone whom you'd admire from that company. For instance:

"Last year, I read [Company CEO Name] interview at Wired Magazine, where he talked about how your goal is to make banking more inclusive. The idea of leveraging technology for creating a less biased application process deeply resonated with me, and I'd love to see how my data science skills could be put to action in this regard."
This is a quick and easy way to show that you did your research and share the organization's cultural values.
Free Internship Cover Letter Sample in .docx Format
Without much further ado, here's a sample cover letter for internship at a radio station coming from a mass comm or radio broadcasting student.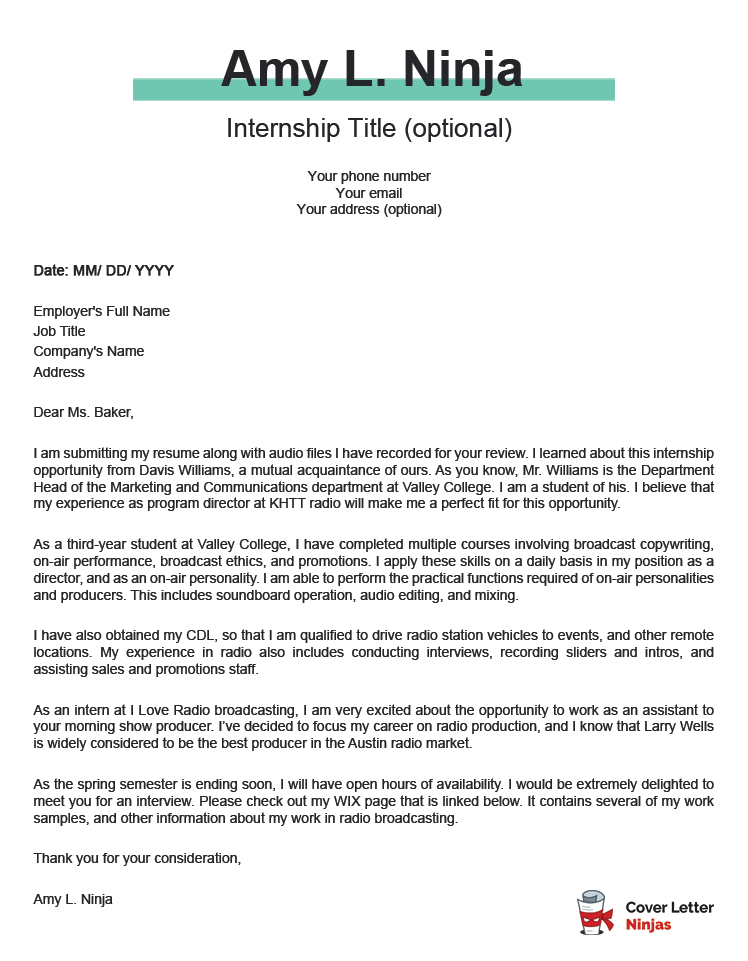 Download example (Word version)
Cover Letter Example For Internship Programs – Text Format
Dear Ms. Baker,
I am submitting my resume along with audio files I have recorded for your review. I learned about this internship opportunity from Davis Williams, a mutual acquaintance of ours. As you know, Mr. Williams is the Department Head of the Marketing and Communications department at Valley College. I am a student of his. I believe that my experience as program director at KHTT radio will make me a perfect fit for this opportunity.
As a third-year student at Valley College, I have completed multiple courses involving broadcast copywriting, on-air performance, broadcast ethics, and promotions. I apply these skills on a daily basis in my position as a director, and as an on-air personality. I am able to perform the practical functions required of on-air personalities and producers. This includes soundboard operation, audio editing, and mixing.
I have also obtained my CDL, so that I am qualified to drive radio station vehicles to events, and other remote locations. My experience in radio also includes conducting interviews, recording sliders and intros, and assisting sales and promotions staff.
As an intern at I Love Radio broadcasting, I am very excited about the opportunity to work as an assistant to your morning show producer. I've decided to focus my career on radio production, and I know that Larry Wells is widely considered to be the best producer in the Austin radio market.
As the spring semester is ending soon, I will have open hours of availability. I would be extremely delighted to meet you for an interview. Please check out my WIX page that is linked below. It contains several of my work samples, and other information about my work in radio broadcasting.
Thank you for your consideration,
Amy L. Ninja
Looking for More Inspiration? Check Other Relevant Cover Letter Examples:
Last Pro Tip
Use your cover letter as a tool for sharing your interest and enthusiasm for the internship opportunity. Show that you are a good fit for the position, and don't forget to mention any connections you have. Then, close by requesting further contact by way of an interview or meeting!