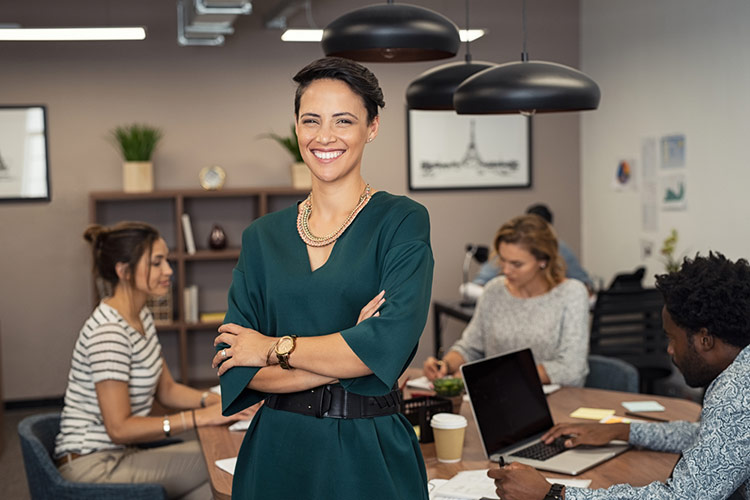 The title "Manager" is one of the most bantered around terms in the business world. In general, however, a manager is someone who develops and oversees the operations of a department, a company, or certain types of businesses, like retail stores and restaurants.
And there are all levels of management. A department manager, for example, reports to a higher-level manager who, if the company is large enough, reports to still another higher manager. Wherever you may currently sit in this "pecking order," if you are ready to move on, you are getting that resume and cover letter together.
While your resume will detail your education and your work history, that cover letter is the first thing a potential employer will see, and it must tell him/her that you are worth looking at. In fact, in a time when there can be hundreds of applicants for a single management position, your cover letter is far more critical than you might think.
Just what should your cover letter look like? Below you'll find a detailed manager cover letter example with bonus writing tips.
ADVICE FROM OUR EXPERT
---
A great manager can be measured by the success of their team. Instead of focusing on personal accomplishments, highlight the results of the teams you have managed. This is the best way to show your leadership capability.

Mary Ford
Executive Career Coach
Place the Company Needs in the Limelight
The focus of your letter should always remain on what the company needs, not on what you want to get out of this new position. Never talk about what the position will bring to your personal career growth. No one really cares. The decision-makers want to know how the company will benefit from your contributions and what particular needs can you fill in. So talk plenty of this instead.
Be Enthusiastic, But Do Not "Gush"
Showing some enthusiasm for the position is pretty acceptable. But using too many superlatives and being overly thankful "for graciously taking the time to consider me" will make your letter sound patronizing and insincere.
Keep your language courteous and professional. Be polite and enthusiastic, but don't go at length to express your "immense gratitude" to the reader.
Use Keywords
Skim the position description for keywords – terms and phrases the HR uses to describe the desired skill set and experience. Write these out and then try to organically incorporate them in your cover letter (in your resume too!). Application tracking software (ATS) is rather common for the initial screening of candidate documents and those keywords are your "key" to making past the "gatekeeper".
Stick with the Standard Format
It might be tempting to "reinvent the wheel" and use a custom cover letter format to draw more attention to your application. In reality, however, most HRs will not appreciate such creativity, especially if they'll struggle to find the key information.
It's best to stick with the standard, 3-paragraph cover letter format – a short opening, main body, and conclusion. Roughly, your letter should be one page long (250-300 words).
However, if you want to pack an extra punch, you should also review cover letters both in and outside of your career field. This will help you gain some fresh ideas!
Cover Letter Sample for a Manager – .docx Format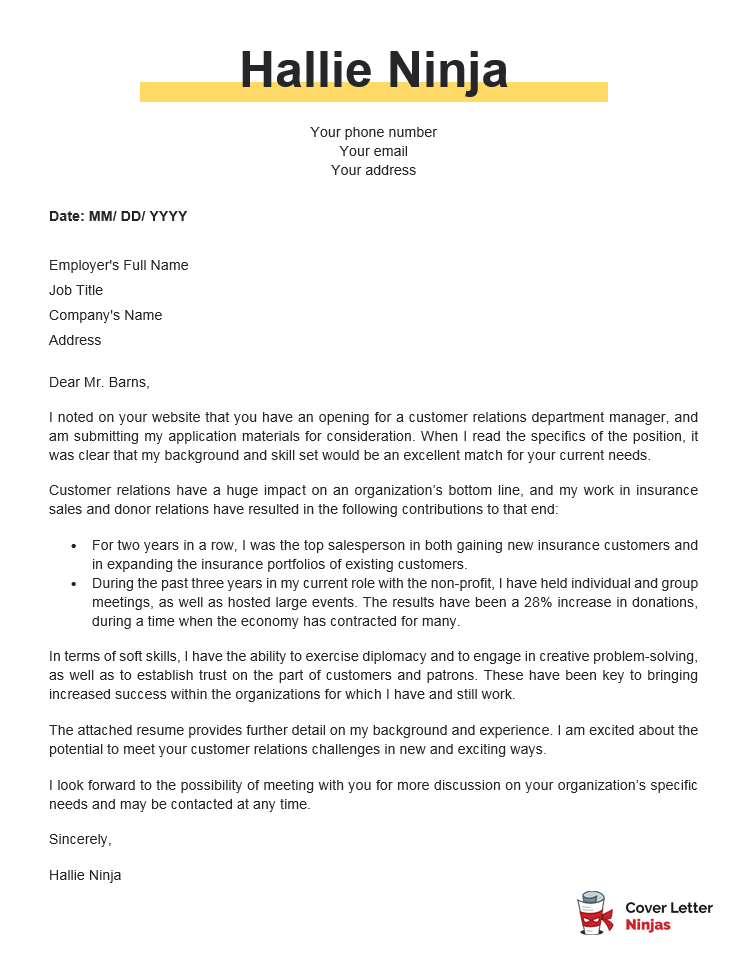 Download example (Word version)
Manager Cover Letter Example – Text Format
Dear Mr. Barns,
I noted on your website that you have an opening for a customer relations department manager, and am submitting my application materials for consideration. When I read the specifics of the position, it was clear that my background and skill set would be an excellent match for your current needs.
Customer relations have a huge impact on an organization's bottom line, and my work in insurance sales and donor relations have resulted in the following contributions to that end:
For two years in a row, I was the top salesperson in both gaining new insurance customers and in expanding the insurance portfolios of existing customers.
During the past three years in my current role with the non-profit, I have held individual and group meetings, as well as hosted large events. The results have been a 28% increase in donations, during a time when the economy has contracted for many.
In terms of soft skills, I have the ability to exercise diplomacy and to engage in creative problem-solving, as well as to establish trust on the part of customers and patrons. These have been key to bringing increased success within the organizations for which I have and still work.
The attached resume provides further detail on my background and experience. I am excited about the potential to meet your customer relations challenges in new and exciting ways.
I look forward to the possibility of meeting with you for more discussion on your organization's specific needs and may be contacted at any time.
Sincerely,
Hallie Ninja
One Final Word – Match Your Language to The Culture
The example cover letter above is a bit on the formal side and is written for a more traditional organization. Before you consider how you word your cover letter, you must do some research on the organization itself and pattern your language around the content on its website and other media you can find. There is a big cultural difference between a conservative financial institution and a new, progressive software development company where everyone works in jeans and t-shirts. Make your language match that culture.
Afte a Particular Role? We Have More Cover Letter for Managers!