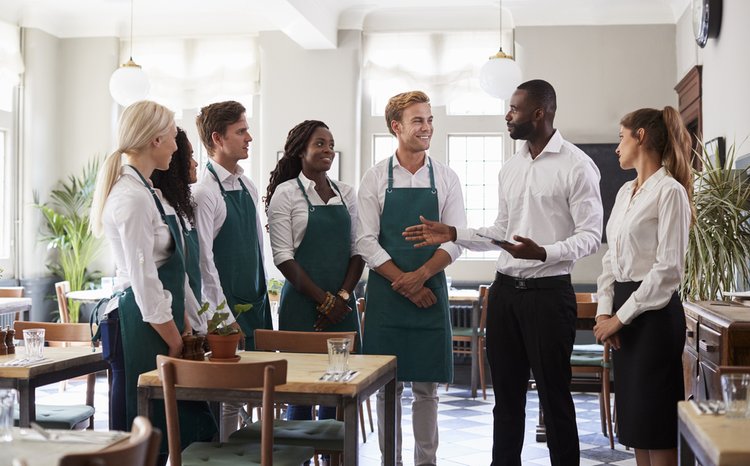 Good restaurant managers are always in demand. Now that's more true than ever. Eateries that have been closed for the past few months are finally reopening, and they need reliable staff. This includes experienced restaurant leadership.
So if you are ready to job hunt after a furlough, here are your tips for composing a cover letter followed by a compelling restaurant manager cover letter sample. Let's jump in!
Know Whether to Emphasize Front or Back of House Skills
A skilled restaurant manager can handle both staff and other duties for the front and the back of the house. However, many job openings focus more on one side of the operations than the other.
Thus, take time to peruse that job listing. Are they looking for a manager who can get a struggling kitchen into great shape, or one who can manage customer relationships at the front of the house? Once you figure out the establishment's need, craft your cover letter around the subject of the required skills.
ADVICE FROM OUR EXPERT
---
Give the reader a taste of who you really are! Be friendly and personable in your cover letter without going over the top. It will go a long way for being selected for an interview as a restaurant manager.

Debi Douma-Herren
Senior Certified HR Professional & Career Coach
Share Numbers to Prove Your Points
You work hard to save money, reduce food waste, and maintain a crew of skilled kitchen, wait, and bartendering staff. That's wonderful. Now it's time to prove it. Make the claims in your cover letter as believable as possible. To do this, use numbers to quantify your accomplishments.
For example, if you increased the number of tables that your restaurant seats each night, share an exact number:
"At my current employer, we seat an average of 200 customers each night. That's an increase of more than 20%."
You might also write:
"I worked with the head chef to make changes to the menu that allowed us to reduce food waste by more than a third. I'm very proud that this saved the restaurant 15% in food costs, and allows us to present a more sustainable menu."
Provide a Teaser via Postscript
If possible, save a small tidbit of information or a promise that will help ensure the hiring manager calls you back for postscript. Here's a great example of that:
"PS: Hey Bill, let's do lunch next week. There's a new gastropub we can try. Over burgers, I can share with you my methods for cutting food waste, and creating a more sustainable menu."
Explain How You Create a Great Experience
When something goes wrong at a restaurant, the customer always wants to speak to the manager. Ultimately, the guest experience is your responsibility. So, how do you work to make sure every diner has an amazing time? That's something you should be prepared to share with the hiring manager.
To communicate this clearly, start by showing that you understand the goals of the restaurant and its target audience. Then indicate how you've worked in the past to create a great dining experience. Take a closer look at this great example:
"Mikey's pizza is a family restaurant that emphasizes fun along with great Italian food. I've worked in a family restaurant for years, and pride myself in training my team to provide enthusiastic, friendly service."
Answer The Question: Why This Restaurant?
Passionate people are preferred in the restaurant industry. Put yourself in the shoes of a dedicated restaurant owner. You've invested money and time into your establishment. Don't you want to hire managers that are also enthusiastic about your restaurant, its ambiance, and the food you create?
Write your resume to show that you get what the restaurant is about and that you'll do what you can to execute the owner's vision:
"I'm very excited to work in a restaurant that is focused on soul food as well as traditional Caribbean cuisine. I was born and raised in South Carolina, and these foods have been part of my diet since birth. As GM, I will ensure that all staff members are familiar with each dish and that they can describe them accurately."
Cover Letter Sample for a Restaurant Manager – .docx Format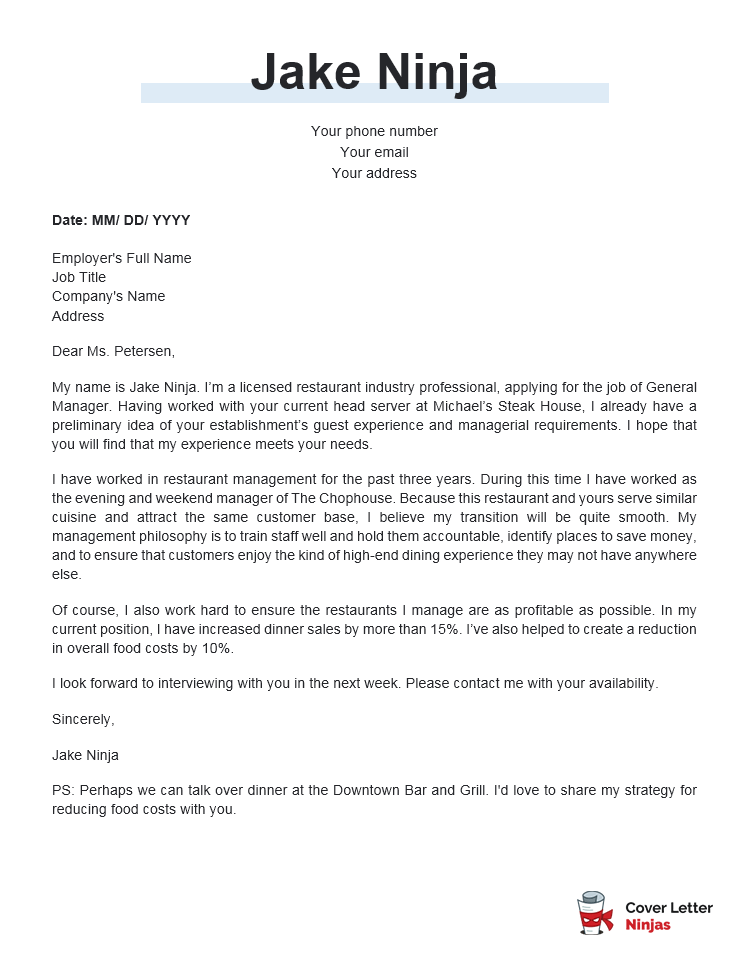 Download example (Word version)
Restaurant Manager Cover Letter Example – Text Format
Dear Ms. Petersen,
My name is Jake Ninja. I'm a licensed restaurant industry professional, applying for the job of General Manager. Having worked with your current head server at Michael's Steak House, I already have a preliminary idea of your establishment's guest experience and managerial requirements. I hope that you will find that my experience meets your needs.
I have worked in restaurant management for the past three years. During this time I have worked as the evening and weekend manager of The Chophouse. Because this restaurant and yours serve similar cuisine and attract the same customer base, I believe my transition will be quite smooth. My management philosophy is to train staff well and hold them accountable, identify places to save money, and to ensure that customers enjoy the kind of high-end dining experience they may not have anywhere else.
Of course, I also work hard to ensure the restaurants I manage are as profitable as possible. In my current position, I have increased dinner sales by more than 15%. I've also helped to create a reduction in overall food costs by 10%.
I look forward to interviewing with you in the next week. Please contact me with your availability.
Sincerely,
Jake Ninja
PS: Perhaps we can talk over dinner at the Downtown Bar and Grill. I'd love to share my strategy for reducing food costs with you.
Final Tip: Emphasize Your Flexibility
You're applying for a job with long and varied hours. So mention your flexibility and willingness to put in extra hours when needed. For instance, you can do so by stating your available hours in your letter or suggesting that you are okay with coming by at after-shift hours.